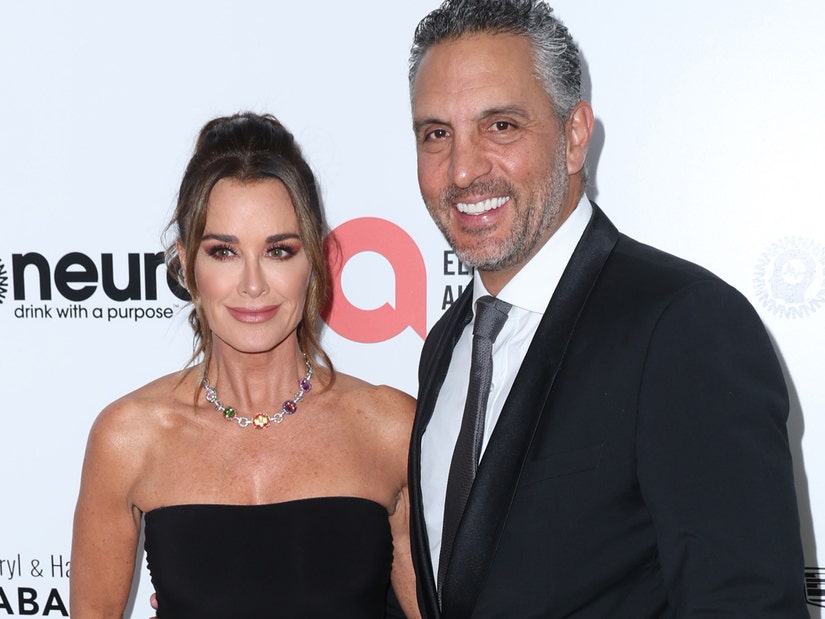 Getty
Real Housewives of Beverly Hills star Kyle RIchards is confronted with the rumor on Bravo's Hot Mic podcast with executive producer Alex Baskin, saying she can't believe people think she'd put her family through all of this just for television.
Kyle Richards looked stricken and taken aback when confronted with the rampant speculation that she's fabricated the marital issues between her and estranged husband Mauricio Umansky for relevancy.
"What human being would create a story like this?" Richards asked in the preview clip. "Who would do that for ratings, put their family through this?"
After 13 years in reality television, Richards declared this the "dumbest thing" she's heard yet. "I'm going to pretend that I'm separated and torture my children so that people tune in?" she said incredulously. "I mean, it's just the dumbest thing I've ever heard."
She also questioned why she should even feel the need to pull a stunt like this for relevance after a baker's dozen years in the spotlight, saying it's a "misconception" that stuff like that matters so much to her.
"I care about being relevant to my friends and family," she explained. "Yes, I'm on television and, you know-- but I'm good. I'm not looking to be more relevant. I'm good. And I would never put my family through this ever for-- I almost said it was a dumb TV show, sorry!"
Baskin said that rumors and speculation like this across the Housewives series, and even other reality shows, comes in part because "the cast could be a little dehumanized to the audience."
"These are real lives that are affected by this," he continued. "I think that's where the audience can just sort of think about the cast as television personalities, and it's not the case."
Richards also took the public to task for some other wild things she's heard going around about her and Umansky, like that they have an open marriage or that she's only with him for the money.
"He had no money when I married him, you idiots!" said Richards. "He didn't have any money. 'She just stays there and puts up with all this so that she can just keep spending his money.' First of all, it's our money that he didn't have before."
While the early stages of their marital troubles continue to play out on new episodes of The Real Housewives of Beverly Hills, Wednesdays at 8pm ET on Bravo -- they first announced their separation over the summer -- the couple continues to navigate what that's going to look like moving forward.
The latest hurdle they encountered was Umansky's time as a celebrity contestant on Dancing with the Stars. As often happens with celebrities and their professional dance partners, romance speculation began to circulate about Umansky and Emma Slater.
Richards also got emotional talking about her marriage during BravoCon earlier this month. She even let slip the word "divorce" at one point, though later clarified that she misspoke.
"I misspoke on the red carpet today. Two times I had to correct someone when they said 'divorce,' I said, 'Separated,' and then I went and said it and then it went everywhere, so that's my bad,'" Richards said during a taping BravoCon Live.
She also added that she still considered their marriage "a success" and "a love story," saying, "I love him very much."
When asked by a reporter at the event whether she felt there was any chance of reconciliation for her and Umansky, she said she was just taking things a day at a time.
"I'm grateful that we get along so well and love each other very much and we're putting our family first," she said. "We're still living together under the same roof and I'm proud of the way that we are navigating through this. I just take it a day at a time."
Richards also admitted that watching the current season -- which will continue to chronicle her decision to separate as it goes on -- has been "really hard" for her, especially "seeing my kids' faces and some of those conversations."