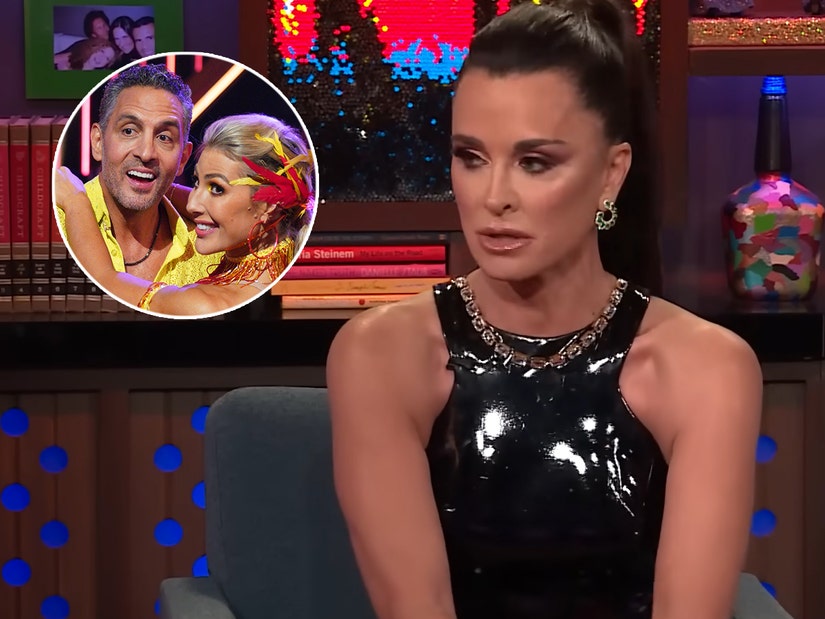 Bravo/ABC
Kyle Richards opens up to Andy Cohen on Watch What Happens Live about estranged husband Mauricio Umansky and his Dancing with the Stars partner Emma Slater getting snapped in Beverly Hills holding hands, and where things stand between them now.
Kyle and Mauricio have been on the rocks and recently separated, but fans will get to see how things got to that point on upcoming episodes. Most recently, though, Mauricio was spotted holding hands with his Dancing with the Stars partner Emma Slater, sparking romance rumors.
Andy didn't hesitate to put the reality star on the spot when he dug into the current state of her marriage, their living arrangements, and -- of course -- her thoughts on those pictures.
As it turns out, Kyle and Mauricio are still living under the same roof. She revealed that she gave him the primary bedroom "because it's very, like, masculine and the upstairs floor is like the glam area." So while they're sharing a roof, they have separate living spaces.
As for the separation itself, Kyle said, "It originated from me," before praising her family for how strong they've been in the wake of the incessant rumors and speculation about their marriage.
"When the news first came out, it was really, really devastating," she said. "My kids were just crying and wouldn't leave the house and it was really, really difficult."
"But now they're much better," she continued. "They're really strong and they're just so together and so smart and they've been my best, best, best friends and I could not be more proud of them; they're amazing human beings."
While Kyle was clearly emotional opening up about such a new and raw emotional chapter of her life, Andy dug even deeper when he asked her thoughts about those pics of Mauricio and Emma Slater holding hands.
"I was, um-- I was taken aback," she said. When he asked if she was upset, she agreed, "Yes, that was very hard to see. That was-- I mean, yes, that hurt my feelings."
He dug a little further yet by asking her if she thought perhaps there was something going on there between the real estate mogul and his partner. Fellow guest Teddi Mellencamp quickly tried to downplay it by noting that it happened in Beverly Hills.
"It's not like they're in some remote location," she emphasized. "They're in the middle of Beverly Hills. You know that photographers are gonna follow you."
According to TMZ's sources, Mauricio told Kyle he was overtaken with emotion talking about "fond memories of getting married to Kyle" and that's why he was holding hands with Emma walking out of a restaurant, but Kyle reportedly wasn't buying it.
On Wednesday, she told Andy that while she doesn't think that anything has happened "yet," she believes "obviously there's something there."
"Listen, I love him very much and we are amicable," she said, "but that really did hurt me."
When asked if that's why she deleted her Instagram post supporting Mauricio on the show, Kyle admitted it was. She quickly insisted, though, that she had still voted for the couple. When asked if he had a chance of winning, Kyle noted his recent scores (all 8's) and said he's a good dancer.
While she has complicated feelings about her relationship, she did want to push back against terrible speculation that all of this is being done for ratings. "What human being would do that to their children or their family?" she asked.
When Andy asked about her relationship with country singer Morgan Wade, which some had been speculating was romantic, Kyle insisted the two were just friends. She added that if Morgan didn't have tattoos, the rumors probably wouldn't have even started. She also noted that she and Teddi Mellencamp were also accused of being an item at one point.
Kyle also pushed back against Allison DuBois' 2010 claim (as a psychic) that Kyle's marriage would end in divorce. "My husband and I were very, very happy. This is not fake," she insisted. "I mean, we really had an amazing marriage for a very long time."
Kyle stands firm that if anything, Allison was picking up vibes from Camille Grammer's marital issues. She and Kelsey Grammer had a very public divorce just one year later, in 2011.