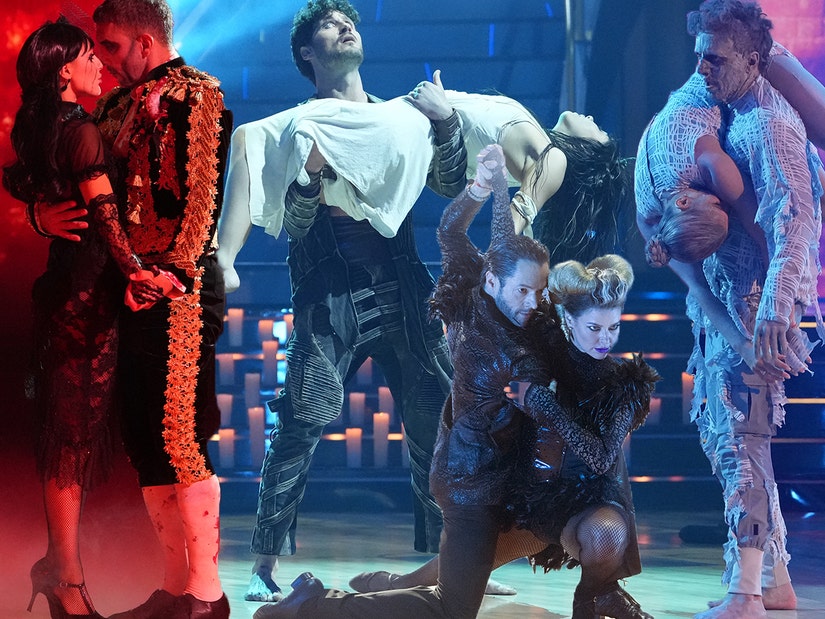 ABC
One scene in particular stands out from this week's Dancing with the Stars rehearsal between Real Housewives of Beverly Hills star Mauricio Umansky and Emma Slater -- and Kyle RIchards isn't going to like this one very much at all!
Dancing with the Stars brought out their scariest for "Monster Night" on Halloween night as Season 10 contestant Niecy Nash joined the judges' panel -- and proved to be tougher than the other three!
It's been more than 13 years since Niecy danced her way to a fifth place finish in Season 10 of DWTS, but she proved that she still remembers what's what. Overall, the judges were a little nicer with their scores, while the critiques were getting a little more pointed as we cross the halfway point.
The big question after last week's shocking elimination of Mira Sorvino, despite being toward the middle of the pack in judges' scores, was if Too Hot to Handle star Harry Jowsey could again avoid elimination -- either by actually improving with the judges or getting saved by his fanbase again.
Waiting for your permission to load the Instagram Media.
The week also saw producers dip a little deeper into their reality controversy with contestant Mauricio Umansky and professional partner Emma Slater. As speculation about a romantic relationship continues to bloom online (and with estranged wife Kyle Richards), the editors had to know what they were doing by showing what they did during rehearsal. And then the judges! Are you trying to get something started?
For the first time this season, there were two rounds of competition, with a dance marathon (monster-thon) wrapping up the night. This saw all of the contestants on the floor dancing at the same time and fighting for between one and five bonus points. Could it upend the leaderboard and change everything? Was another shock in store? Only one way to find out!
Who do I think I am? you ask. Well, I spent nearly a decade of my life sweating and bleeding to the music as a dancer. From a young boy learning a shuffle-ball-change to performing with the St. Louis Ballet Company, I experienced the ups and downs of one of the most difficult physically demanding sports on the planet. During this time, I was also a member of the St. Louis Symphony Youth Orchestra, as well as a gymnast, writer and cartoonist. I had a lot more energy in my younger years. And I've spent the last twenty years analyzing and critiquing reality competition shows for various media publications. I've got this.
Jason Mraz & Daniella Karagach
(Contemporary - "Zombie," The Cranberries) Jason got a little in his own head about that first lift, which saw him stumble a bit position her before he walked with her. From that point on, he was a little more stiff than he'd been prior. Daniella is always so visually creative when given contemporary and this was certainly no different. Even the final lift into a closing pose was fresh and interesting. Prior to the lifts, Jason was perfectly in character and brought to life -- no, that can't be right -- brought to undeath the right blend of staccato movements to mimic a zombie and the fluid grace of contemporary.
Judges Scores: 9, 9, 9, 9
Alyson Hannigan & Sasha Farber
(Paso doble - "Supermassive Black Hole," Muse) This was another huge step forward for Alyson in this competition, who hit just about every mark perfectly. Her precision in the movements was beautiful -- we agree the stairs descent was a bit frantic. Her posture could have used a little more consistency (hold those shoulders back and down!). She was definitely in the character of the piece and Sasha did not hold back, throwing in every element of paso that he could find, with Alyson handling each one ably. The biggest difference might have been her confidence in this. Whether it was the vampire theme or just her growth, she looked like she knew she was going to nail this one, and she did.
Judges Scores: 7, 7, 7, 8
Xochitl Gomez & Val Chmerkovskiy
(Contemporary - "Game of Survival," Ruelle) A little stumble at one point and a lack of finesse coming into and out of the first two lifts marred what was otherwise a very compelling and unique piece of dancing. Val has such a different approach to contemporary and with it we saw graceful awkwardness on beautiful display. Xochitl has beautiful lines and strength, which they used to full effect, including that gorgeous shifting spin move at the end that set up their dramatic final pose. Xochitl continues to impress, with her athleticism and growing gracefulness creating someone who really knows how to use movement artistically. She appeared to get injured, based on Val carrying her down, but it had almost zero impact on what happened.
Judges Scores: 9, 9, 10, 9
Harry Jowsey & Rylee Arnold
(Argentine Tango - "Blinding Lights," District 78) Harry made the mistake of reading the comments, which were -- ahem -- unkind about his performances thus far, and particularly last week. He's doing the best he can and it hurts him that it's not enough. Our observation was that he's been too much in his own head, getting in the way of his potential. You can't let yourself go into a dance if you're worrying about everything all the time, and he's definitely letting all the noise penetrate his performances. He performs out of fear of the next wave of negativity rather than just immersing himself in the moment, commenters be damned, and you can see it.
Rylee's older sister, and Season 25 winner, Lindsay Arnold dropped by rehearsal to help out and she helped Harry to start to believe in himself a little more. He's still got a long way to go, but this was a marked improvement. He had more steps to do and he managed to do them, albeit lacking the precision and sharpness this style needed. It was more lumbering than graceful and he needs to fully extend himself throughout the dance, completing each move. But we have to give credit to some intricate lifts that he handled beautifully. His improvement is slow, but it is happening, and that hasn't always been the case over the past six weeks.
Judges Scores: 7, 7, 7, 7
Barry Williams & Peta Murgatroyd
(Viennese waltz - "It's a Man's Man's Man's World," James Brown) Week after week, Barry comes out here and makes the statement that older contestants are just as capable as their younger counterparts. He has character, grace, precision and beautiful movement every week. Derek wanted a little more precision in the rise-and-fall and waltz movements, but we thought he married style and character perfectly. These are not easy dances, and he was effortlessly graceful across the dance floor. On top of that, he kept in the mood of the piece, bringing his wolfman to life believably. Marrying his acting background with his musical background has really shown that he has what it takes to be a real contender in this piece. On top of that, he's so charming and likable and clearly loving every moment of this, which makes him so easy to root for.
Judges Scores: 8, 7, 8, 8
Ariana Madix & Pasha Pashkov
(Argentine tango - "Bad Guy," Billie Eilish) There was an incredible amount of intricate tango movement in this piece and Ariana was there step by step and flick by flick with Pasha. He did not let her slack off one bit and she looked as if she'd been dancing this style for at least a few years. Her footwork was impeccable as was her hold in lifts (and into and out of them, as well). Her posture slipped just a bit in a couple of places but with this much going on, we have to applaud just how powerful she was and in command of the piece from start to finish. On top of that, they held their intense characterizations throughout all of that. It was impeccable.
Judges Scores: 9, 9, 9, 10
Lele Pons & Brandon Armstrong
(Paso doble - "Bloody Mary (TikTok Remix)," Lady Gaga) Lele definitely had the spirit of the dance, but we needed a little more exaggerated dramatics in her movement. Each extension of the leg and arm, each pop into posture and hold she was giving us about an eight out of ten. She also needs to fully follow through those extensions and lines before quickly moving into the next one. That's what gives the dance it's powerful presentation. Lele was where she needed to be and doing what needed done, but it was lacking ever so slightly in the full level of attack to sell the intensity of style.
Judges Scores: 8, 8, 8, 9
Mauricio Umansky & Emma Slater
(Argentine tango - "Somebody's Watching Me," Rockwell) Well, watching Mauricio tell Emma, "You really look sexy and I look strong," while they're holding a pose during rehearsal isn't going to help the rumor mill calm down. What is you doing, ABC?! Oh wait, you probably know exactly what is you doing. Gotta get eyeballs on the content, right? Later, Niecy said he "definitely manhandled this woman," which only makes things worse. We suspect Mauricio's estranged wife Kyle Richards, who already suspects something is going on here, won't be a fan of that moment.
Unfortunately, Mauricio was a little loose and sloppy in his legwork compared to the sharpness and quick movements of Emma. She was giving tango and he was giving someone still blocking out the movements to make sure he was where he needed to be for the next big moment. It was competent, but had no finesse and character. Also, we're pretty sure he messed up the grab into the final pose, but Emma made it work. Unfortunately, this was a notable step back.
Judges Scores: 8, 8, 7, 8
Charity Lawson & Artem Chigvintsev
(Jive - "Skeleton Sam," LVCRFT) Charity could have gotten a little more lift from her knees in the first half of the dance, but after she slid through Artems knees, she had them back where we wanted to see them. This is a dance that is quick, relentless and yet needs to look light and fun the whole time. We definitely saw that in the piece, which had a lot of fun moves throughout. Honestly, we were hoping for a little more intricacy in the choreography after seeing what she's capable of and more strength from Charity, but this was solid jive content delivered with great timing and precision, so who are we to complain?
Judges Scores: 9, 9, 8, 9
ROUND 2: DANCE MONSTER-THON
(Hustle & Charleston - "Stayin' Alive," Bee Gees & "Grim Grinning Ghosts," Kris Bowers) Like a real ballroom competition at times, the "monster-thon" is basically a marathon where all of the remaining nine couples will be on the dance floor at the same time. They shift from style to style and hope that no one taps them on the shoulder, because as soon as it happens, they're out of the competition. The longer they dance, the more points they get. With that much variance, the whole leaderboard can (and usually does) change. The whole thing runs about four minutes, which is more than any of them have done to this point.
Xochitl & Val (5)
Ariana & Pasha (4)
Lele & Brandon (4)
Jason & Daniella (3)
Charity & Artem (3)
Alyson & Sasha (2)
Mauricio & Emma (2)
Harry & Rylee (1)
Barry & Peta (1)
What's absolutely amazing about this dance marathon is that it changed nothing at all about the rankings on the leaderboard, except that it broke ties. The judges clearly like who they like! In the past, we've seen people toward the bottom really rise up, but that didn't happen much here. Mauricio slipped past Barry to break their tie by one point, while Xochitl took a one-point lead to claim sole overall leadership after winning the marathon.
Harry Jowsey continues to go deeper into the competition than he probably should, and we'd again argue that tonight should be his night to go. Yes, we saw improvement, but he's not given us anything to the level of anyone else still competing on the show. The people closest to him in judges scores were Alyson Hannigan, Barry Williams, and Mauricio Umansky.
All four have tremendous fan bases, so it's really going to come down to who showed up and showed out for their favorites. Could there be another upset in the making as we saw last week when Harry survived and Mira Sorvino was sent packing? We had a feeling Harry's luck might have finally run out.
First to safety was Charity Lawson, followed by Xochitl, Ariana Madix, and Jason Mraz. We suppose it makes sense to send the Top 4 to safety first as leaving them around toward the end is anticlimactic -- we know they're not going anywhere yet!
Next to celebrate were Lele Pons and Barry. That left Mauricio, Alyson, and Harry as the not-necessarily-the-Bottom-3. Actually, Barry was in the Bottom 3 and Mauricio was not. Did this mean he was going to be the surprise elimination?
In the end, this was the final night of the competition for Mauricio Umansky. Just like last week, Mauricio was four points off the bottom, per the judges, and had no reason to be the one eliminated. Perhaps the controversy surrounding him and partner Emma Slater and Kyle Richards was too much for fans.
We did have him as our second-lowest score of the night, so perhaps America has been paying closer attention to what we have to say here than what our fellow judges have to say on the live broadcast. We appreciate your support! But it still doesn't explain how Harry is still around!
The real question at this point is how far can he go? You know if the Judges' Save returns at any point, he'll be gone immediately unless his fans can keep him all the way out of the bottom. You also know that producers are sweating what's happening a bit here.
After Bobby Bones' incredible fan base lifted him atop DWTS back in 2018, producers implemented the judges' save, allowing them to have some say in what America was doing. As we've seen so far this season, America sometimes loves an underdog, and that can send stronger dancers home.
Will it come back to keep Harry from advancing too far? Was the plan always to bring it back so a little curation of the finale can happen with the judges helping America to get it right? Should it be a part of it at all, or should this show just be a popularity contest? Fans can argue this forever -- and have been since Season 27!
Dancing with the Stars welcomes guest judge Paula Abdul for Music Video Night next Tuesday at 8 p.m. ET on ABC and Disney+.