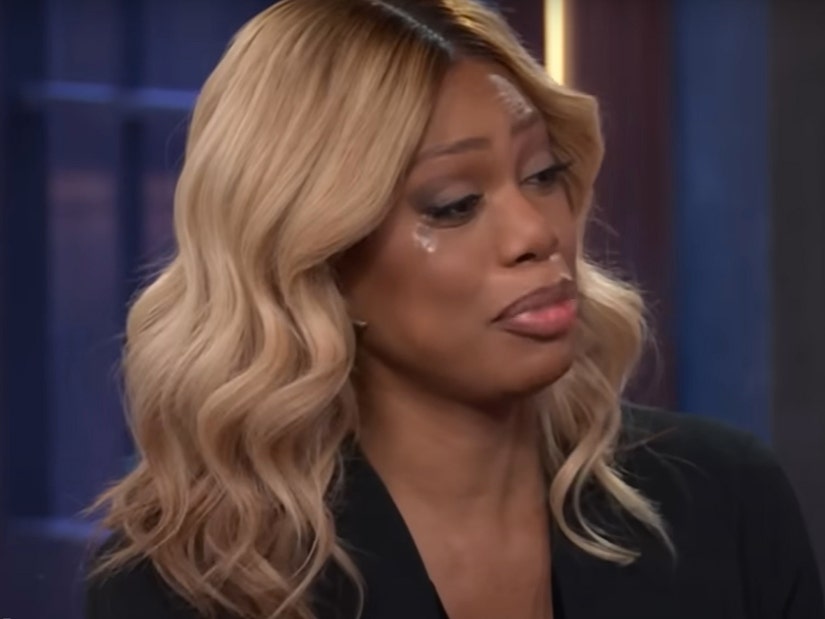 YouTube / CBS
"With the platform I have, this is what I dream of," the actress said. "I dream of having, seeing young people getting to thrive and be themselves and have space and that their parents who will support them."
During the episode, the actress broke down in tears after hearing about the 16-year-old's coming out journey, how she became an advocate for trans rights, and the unwavering support she's received from her dad.
The teen's father, Jeff Walker, came out first, speaking to Kelly and Laverne about his daughter Harleigh.
He recalled how he and his family went to their pediatrician after Harleigh came out as transgender, sharing that their doctor referred them to a children's clinic in Birmingham.
"I tell people all the time, I wish all healthcare in America looked like that first appointment. The doctors were so attentive to Harley," Jeff said. "It was about her. And it was about comforting us and really spending time with us and helping us understand that, Hey, this is very researched medical care. This has got a lot of information behind it. There's a lot of -- all the major American medical associations support and have guidelines for this. And it turned out to be incredible, right? This is my kid, and so I'm here for her."
Kelly, 41, then introduced Harleigh, who joined her father and Larvene on the couch, and explained that the Orange Is The New Black star was one of her "biggest role models" through her transition.
"Whenever I first came out and started looking up trans things, you're one of the first trans figures in the media I met," she said. "And so meeting you, you're one of my biggest role models transitioning. So, it's so awesome."
Harleigh went on to introduce herself, and told her story.
"I'm Harleigh. This is my dad. I'm 16. I'm a junior in high school. And a few things about me -- like I mentioned earlier, I'm a huge Swiftie. I love Taylor Swift," she said, while Kelly showed images of Harleigh with her dad at Swift's Eras Tour concert. "I'm on the debate team. I love to argue so much. That's where I met my big group of friends, and we just hang out around town in Auburn. And yeah, it's a cool time. I'd just like to say that I'm your average teenage girl, and I think that's so important to share my story."
Harleigh added that she came out as transgender at the end of elementary school, and when she got to middle school, she started getting bullied.
"Whenever I would go to school, I was severely bullied for being trans," she recalled. "I didn't really have a big support system from the school either. So it was just, I didn't really have anybody to go to or to talk to or have a resource to talk about these things. So my parents had to pull me out of school that year, and we had to go online in sixth grade. And while that was horrible, I think finding that support system with groups like PFLAG, with GSA -- gender sexuality alliance -- at school, like we have at our high school, finding those resources, led me to be the happy trans person I am today. And I think that's something that also gets lost. We're trans, but we're also happy, thriving individuals. We don't just survive. We thrive."
Jeff chimed in, noting how he's found -- through working with trans youth -- that it's "so far from the truth" when the conservative media claims trans people are "miserable in their lives."
Both Jeff and Harleigh have spoken out about trans rights, with the 16-year-old even testifying before the Senate Judiciary Committee over the summer, becoming the youngest to ever do so.
"It was scary, but also it was where I was almost thriving," Harleigh recalled, adding that she wants to get into politics when she gets older. "So being able to share my story -- because a lot of trans people can't -- at such a national level, and at this show, The Kelly Clarkson Show, being able to share my story has been so rewarding."
Waiting for your permission to load the Instagram Media.
The camera then panned to Laverne, who had tears streaming down her face, clearly emotional over hearing Harleigh and Jeff's story.
"I'm over here crying -- and they're happy tears. They're complicated tears," she said, telling the father and daughter. "I love, thank you so much for sharing your story, and thank you so much for supporting your child.
"Yes, I want to be an actor, but with the platform I have, this is what I dream of," she continued through tears. "I dream of having, seeing young people getting to thrive and be themselves and have space and that their parents who will support them. And when I think about you being bullied -- this beautiful spirit, who would bully this girl?"
"And it's 87% of trans kids are bullied in school. It's horrible and awful. But this light is so beautiful. And when there is love and support, we can do anything," Laverne added. "So it's just like, how can people look at this young person and deny her humanity? And so I just wish that everybody had this."
When Kelly asked if Harleigh -- who was getting choked up herself -- wanted to say anything to her dad, the teen said, "I mean, me coming out and I'm like 10 or 12 years old, saying I'm trans. We didn't really know what that meant at the time. For you to just put your full support behind me, as a parent means so much."
For more information about PFLAG, check out the post, above.