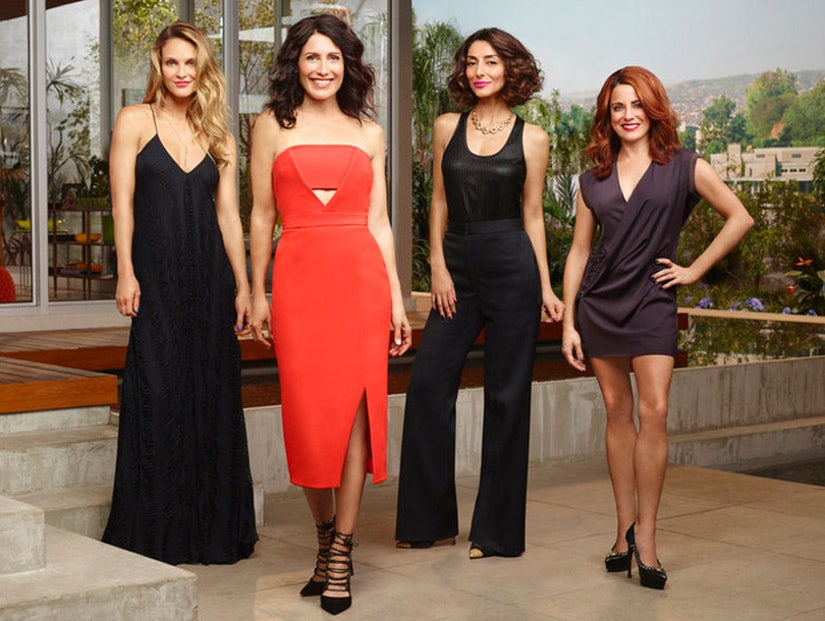 Bravo
"Girlfriends' Guide to Divorce" costume designer Cynthia Summers knows a thing or two about making a woman look sexy. The fashion guru always makes the ladies look effortlessly chic -- even if they're in the midst of a nasty divorce or a tryst with their ex!
During season 2 of the scripted Bravo series, self-help writer Abby McCarthy (Lisa Edelstein) heads back on the dating scene in her 40s. With a new gig as the "face of divorce" for the lifestyle website SheShe, she faces the challenge of having to keep her complicated relationship with her estranged husband, Jake (Paul Adelstein), under wraps. Even through the good and the bad, Abby always has her pals-- Delia (Necar Zadegan), Phoebe (Beau Garrett) and Jo (Alanna Ubach)-- to rely on.
Before you grab your popcorn and wine for tonight's premiere, check out toofab's interview with Summers to get some inside scoop on all the fabulous fashion!
How would you describe Abby's style? What are the key pieces in her wardrobe?
In season 2, Abby has a job and she dresses up to go to work. We had to find a new silhouette for her. What we decided to go with was the new Dior look, which is snug on top and a very full skirt. We've made that more current with full skirts and just a tank top. It makes it a little more California and user-friendly as opposed to being more stuffy and put together. We've done a lot of dresses with an A-line skirt at the bottom and high heels like last season. She got into some booties this season for the first time and jackets are back for her. During season 1, she spent a lot of time in skinny jeans, flowy tops and jackets. We've kept a little bit of that.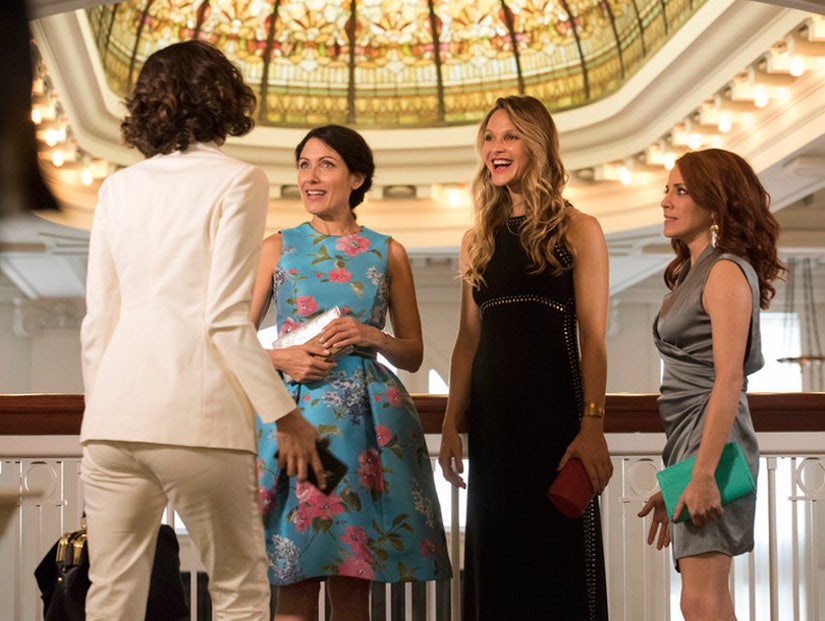 Bravo
What about the Abby's girlfriends? How would you describe Phoebe, Delia and Jo's individual styles?
Phoebe is similar to what she was last season – she's still got the boho chic going on. This year, we've added some tribal into it, which is really current for this season. Her jewelry is a lot bigger – big beautiful earrings, a lot of tassels and color. For her dress-up pieces, we wound up with two iconic Pucci pieces. She still her leather jacket, and always wears her old jewelry and bangles. We've really reached far for her jewelry this year.
Delia has a big story this season. There's an engagement and all the things that might lead up to that. She's also at work a lot. Last year she had a lot of color, but this year, she's toned down just a little bit. We have a few beautiful suits for her that are very colorful and then we pair them with something nude underneath or a contrasting color to keep it interesting. Her silhouette is very fitted, and this year, we've added a little bit of kick to some of her skirts.
Jo came to us as the hard-edged rockstar New Yorker. We've kept a little of that but we've tried to "LA-ize" her. She's adopted some color this season in colored jeans and colored tops. She's got a lot of print tops, tall shoes, short skirts to show of Alanna's amazing legs. Her palate is a little all over the place, like her character this season, but she likes to come back to her basic black.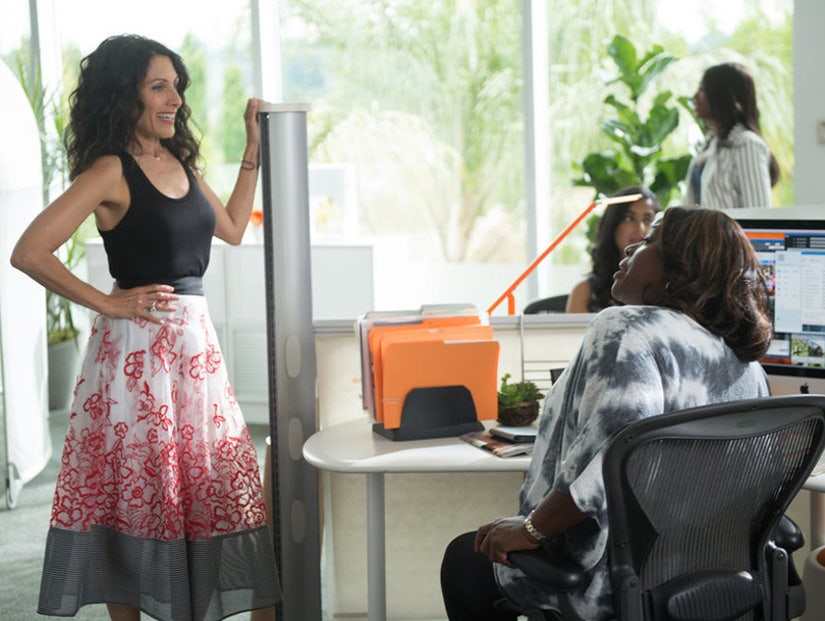 Bravo
Who is the most fun to dress?
They're all so different and I really enjoy dressing them all. I have to say, Abby has become even more fun for me this season because she does have a new look. Last year, her look didn't vary that much. This year, she has three distinctive look; the same look as last year with jeans and jackets, her work look with bigger skirts and her date looks. Those run the gamut from really formal to more playful and youthful but still tasteful for her demographic. She has a real spectrum, so I guess it's Abby.
We love that each character has a distinct sense of style -- just like the characters on "Sex and the City" and "Gossip Girl." What do you think about those comparisons?
I love everything Patricia Fields did in 'Sex and the City.' I admire her for all the trend-setting she did. That would be my take away from the comparison -- maybe we can be trend-setting. I don't know that we're actually identical because our women are all married or divorced and almost all have children. It's a different situation. I think that separates us from the other two shows completely, which is really nice because we have a target audience.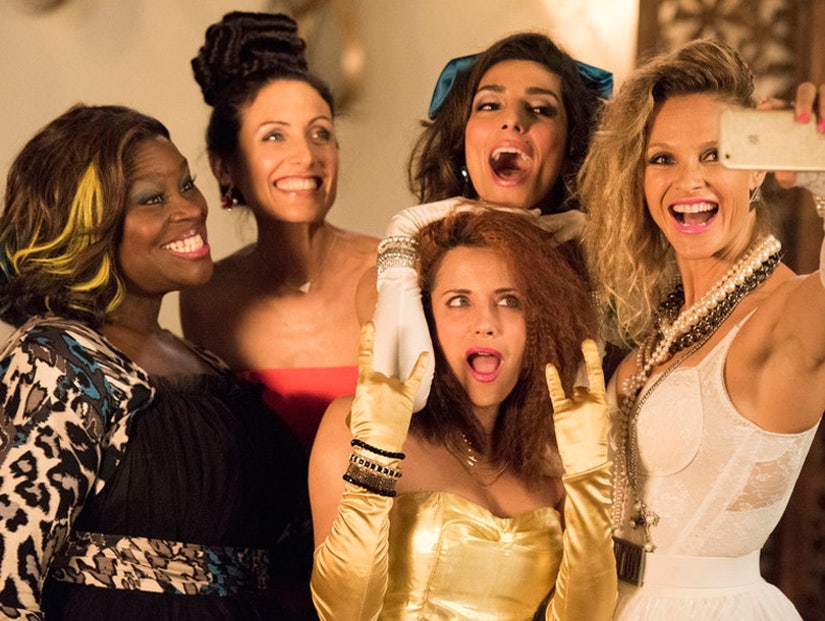 Bravo
Are there any big style moments this season?
The prom was so much fun – we had a lot of fun with that. The girls come as the year they graduated from high school. It was also a "Year of the Dragon" theme. We had lots of places to go with that. The girls' characters drove what they would look like. Jo's was my favorite – it's mind blowing.
Do you collaborate with the stars on their clothing?
At the beginning of the season, I always come to them with story boards and lookbooks for them. I didn't this season because we had established their looks in season 1. That's the great thing about series TV – your character may have a story arc and the wardrobe follows them to some degree. They have a style that stays with them. Whatever is current and is happening in the next upcoming fashion seasons, it's a straight-through for us. There's a little less kick-back from the actors when you get to that point. They get excited about it because now they know their characters.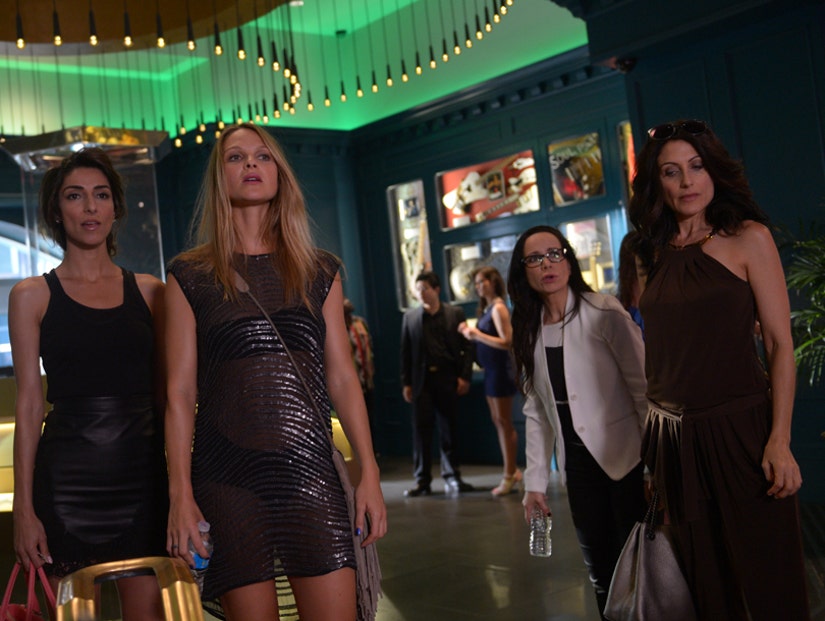 Bravo
What's your favorite outfit you've created so far for the show?
During season 1, it was the Vegas trip –- both leaving for Vegas and their big night out. They all had great dresses. It was so much fun to see them all out in a big, glitzy venue. As for season 2, there's a big event and then the prom. It also just might be dressing Abby for work. I found so many amazing skirts.
Any new style stars to look out for on the show?
"Parks and Recreation" alum Retta definitely has her own style, and she also has a style arc this season. When we first meet her, she is the opposite face of divorce than Abby. The first time we see her, she's dressed in all black. We start there with her and then she gets a little more colorful as she starts to become friends with the girls. She has some pretty great outfits near the end. We see more figure-flattering on her and more print, but she starts out as a blank slate.
Check out ALL of the fashionable moments when season 2 of "Girlfriends' Guide to Divorce" premieres on December 1 at 10pm ET/PT on Bravo.