Two of our favorite women of "The Walking Dead" took center stage tonight, as they faced off with a group of equally-menacing ladies after being taken captive last week.
"The Same Boat" started right where we left off, with Maggie and Carol getting kidnapped by the Saviors, who decided to hold onto them while they figured out what they could get from Rick and the Alexandrians in return.
This group of Saviors was led by Paula, played by Alicia Witt of "Cybill" and "Urban Legend" fame, a wounded man named Donnie (Rus Blackwell), a wheezy older woman named Molly and an unnamed lady missing a pinkie (Jeananne Goosen).
After telling Rick, via walkie talkie, that they'll be back in touch, they take Maggie and Carol to a "safe house" filled with walkers ... which they lovingly refer to as "Growlers."
Once inside, Carol really starts to hyperventilate, as Maggie tries to break free. Something really isn't right about this, and it appears Carol doesn't want Paula to know how much of a badass she really is.
"Are you actually afraid to die? All this and you're scared of getting your ticket punched," Paula asks. "It doesn't matter what happens to me. Just don't hurt Maggie. Don't hurt the baby." Paula then begins to tell Maggie how stupid it is to get "knocked up at a time like this," adding how children are nothing but "bite sized snacks for the dead." That's bleak, right?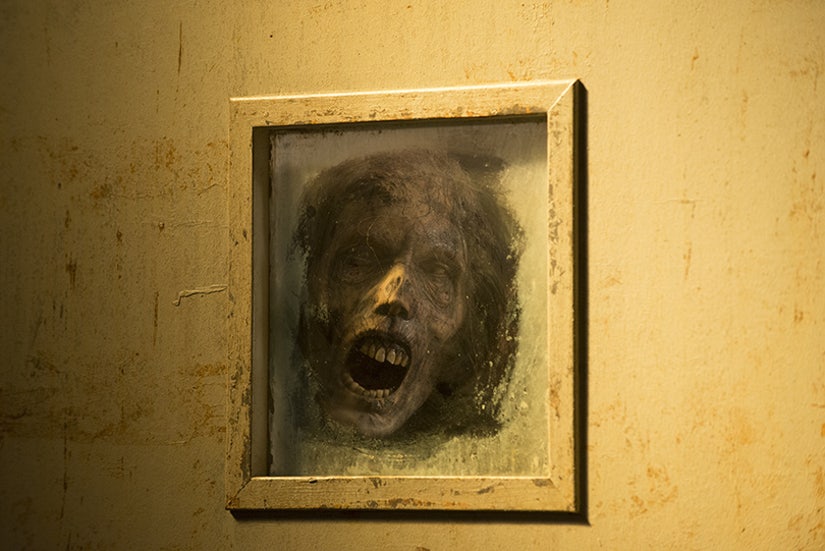 AMC
It's here that Donnie, who's recovering from a wound Carol inflicted, starts getting antsy -- and tries to kill both of his captives. Maggie delivers one epic headbutt to the guy's noggin, before he starts wailing on Carol. Paula, luckily, comes to their rescue and knocks him out with the butt of her gun.
Maggie's taken to an interrogation room, where she doesn't give up anything. Instead, we find out that the woman questioning her is the girlfriend of one of the men Daryl blew up with the rocket launcher a couple weeks back. As for her missing pinkie, it was cut off after she was caught stealing gas from the Savior compound. Something tells us chopping off someone's digits is only the least of the Saviors' atrocities.
"You're not the good guys, you should know that," the woman tells Maggie.
Carol tries to explain to the group that the Alexandrians only attacked in retaliation, after the Saviors threatened to kill Abraham, Daryl and Sasha on the road. When asked why they didn't just stop with those three, Carol added, "They said they were working for Negan. He sounded like a maniac."
"Sweetie, we are all Negan," Molls replied.
Paula then starts to monologue, talking about how she's gotten to a point where she doesn't "feel bad" about killing anymore. Her first victim was her former boss, who she described as "meek and stupid." At this point, she doesn't even know how many people she's taken out since the zombie apocalypse started. "I'm still me, but better. I lost everything, but it made me stronger," she tells Carol. "Your people are killers, that makes you a killer."
Here's where the fire starts to come out a little in Carol, as she tells Paula, "You're the one who's afraid to die. And you're going to. You will die."
After leaving Carol alone, our favorite Alexandrian baker cuts her way out of her binding with a sharpened cross, then finds and frees Maggie. While Carol just wants to get the hell outta Dodge, Maggie wants to "finish this," AKA kill 'em all. They sneak back into the room where Carol was held captive, find that Donnie has died, and prop up his reanimated corpse so it's ready to attack whoever walks in the door next. Cue Molly, who gets a bite taken out of her before Maggie finishes the woman off.
They grab her gun and come face-to-face with Paula, but Carol just can't seem to pull the trigger. The other woman comes out of the darkness and slashes at Maggie with her blade, slicing her shirt open. For a second, it looks like she could have cut open the pregnant woman's belly -- so Carol blows her away.
"You're good, nervous little bird. You were her, but not now, right?" Paula asks, after seeing Carol's badassery. "If you could do all this, what were you so afraid of, Carol?" "I was afraid of this," replies Carol, before Paula attacks. Their scuffle ends with the red-haired foe impaled against another walker, who bites off her face. Brutal!
The two women then take out the group's backup, who find themselves in a room full of flames after walking right into a trap.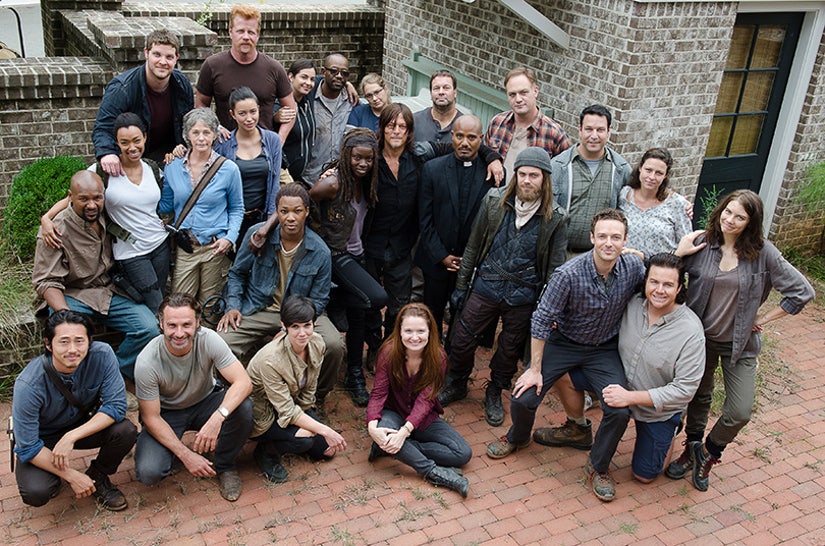 AMC
Maggie and Carol are extremely shaken up when Glenn, Daryl, Rick and Co. show up to rescue them. "You good?" asks Daryl, "No" replies Carol. The hug he gives her looks like the comfort she oh-so-badly needs.
"Your friends are dead, no one's coming for you. You might as well talk," Rick then barks at Primo, their Savior captive from last week. "Was Negan in that building last night or was he here?"
The man's reply: "Both. I'm Negan, s--thead. There's a whole world of fun we can talk about, so let's have a chat." Rick then blows the man's head off.
Warning: Some potential spoiler talk for future episodes to follow.
O.K., now that that's out of the way, let's address the headline of this article. Did Rick really just kill Negan?
The answer, in short, is "No." We know Jeffrey Dean Morgan has been cast as this season's Big Bad and that guy was not Jeffrey Dean Morgan. But, echoing what Molly said earlier in the episode, all of Negan's followers "are Negan." And if these guys are just his lackeys, imagine how brutal the real thing is going to be.
The other big question: Does Rick think he really killed Negan?
At this point, it sounds like the survivors at the Hilltop have never actually seen him before. The way Jesus explained it, Negan sent his minions to negotiate their arrangement. Will they be able to verify whether Rick killed the right guy? And how long until the real one finally shows his face?
In the comics, Negan and his trusty bat, Lucille, are responsible for one of the series' most heartbreaking deaths. So far, it's hard to tell who he's going to be gunning for in the show ... but man, he's got a lot of options.
Who are you most worried about? Sound off below!