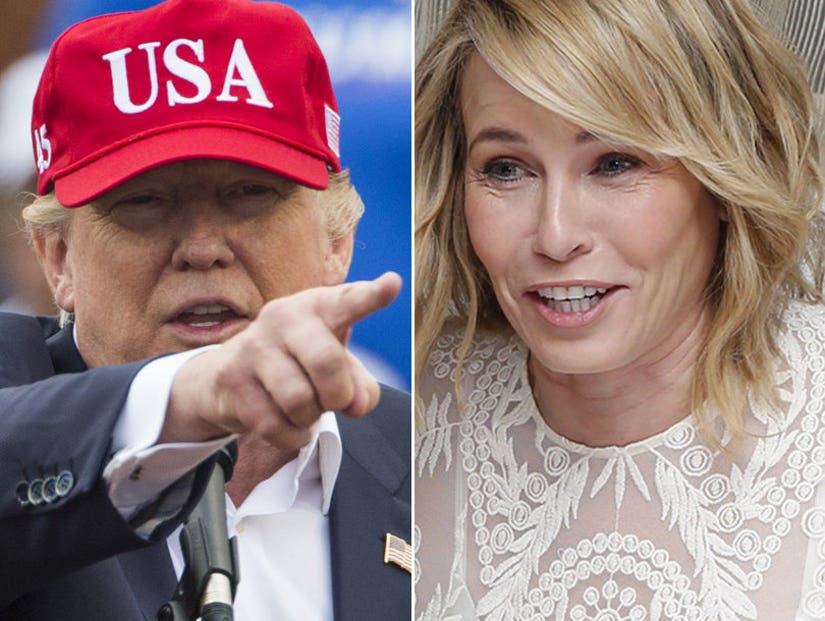 Getty
Chelsea Handler's disdain for The Kardashians and Donald Trump is no secret to anyone. But now she's revealing why she thinks her least-liked reality show family is responsible for putting her least-liked reality show host in the White House.
The Netflix talk show host doubled down on her distaste of The Donald,telling Variety why she'd never want to interview the President-elect.
"Why would I [interview him]? I don't ever want to see him. I don't ever want to interact with him, which won't be a problem," she explained. "Once he came up to me in a restaurant in L.A. to introduce himself — to tell me he's Donald Trump. I said, 'Great.'"
Handler then said she wishes the media covered him differently during his campaign and called out America's first family of reality TV.
"They were treating him as an entertainer first. It was a reality show. We've turned into a reality show," Chelsea continued. "I blame the Kardashians, personally; the beginning of the end was the Kardashians. The way these people have blown up and don't go away — it's surreal. Everyone is for sale. We're looking at a man that gets mad at Vanity Fair for reviewing his restaurant poorly. By the way, have you ever been to that restaurant? It's the biggest piece of garbage you've ever walked into. That place looks like a Southwest airport lounge. It's the worst."
Chelsea's criticism also tricked down to Donald's children, who she called "puppets."
"There's a toddler in the White House, and it's not one of the children. The other thing about his children, they have absolutely no influence over him," she stated. "The idea that Ivanka is going to help women, or do anything for women, is absurd, because she's a puppet. They're all his puppets. They're scared s---less of him, and the fact that they're still around him means they have never stood up to him."
In addition to speaking out about the President-elect in the press, she's also leading a women's march in Park City, Utah during the Sundance Film Festival on Saturday in protest of who she calls the "Predator-in-Chief."