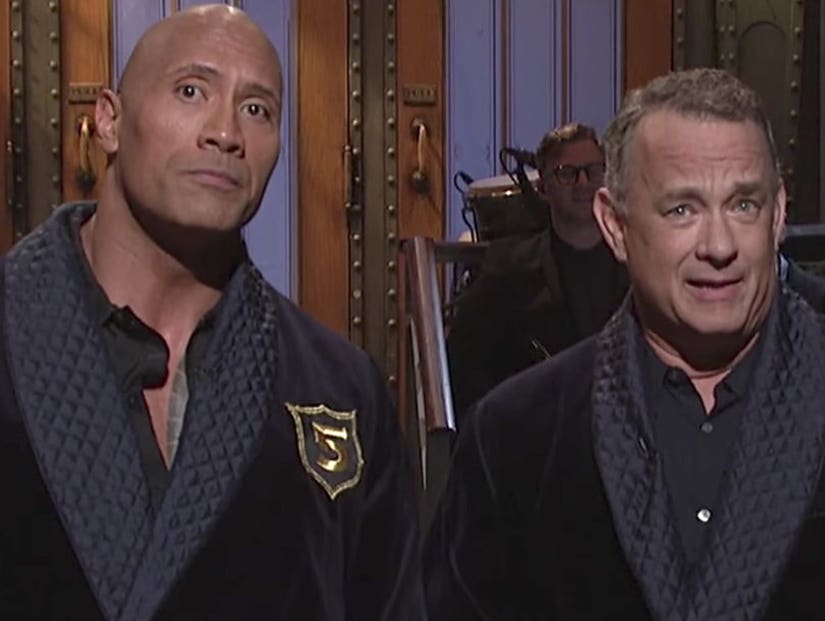 NBC
Once again, proving that a host means everything to the success of this show, Dwayne "The Rock" Johnson returned for his fifth time and brought one of the most consistently entertaining shows we've seen all season. Through sheer charm and charisma, he was able to carry every sketch he was in, and elevated the cast-members as well.
Both Bobby Moynihan and Vanessa Bayer say goodbye to "Saturday Night Live" with this season finale, after nine and seven seasons respectively. Bayer was the longest-tenured female on the show, and Moynihan was only behind Kenan Thompson (14 seasons strong) in duration on the show. Each had a wonderful final episode, with plenty of sketch appearances and genuinely funny moments. Moynihan even got to bring us one last laugh as Drunk Uncle on "Weekend Update."
Bobby Moynihan and Vanessa Bayer, both in their final sketches on "SNL," joined Kyle Mooney and Beck Bennett as high school seniors saying farewell with a skit. Sadly, the sketch didn't really go anywhere and almost seems like maybe it ran out of time as it ended rather abruptly. And for a show where most sketches run way too long, it was rather startling. Whether that's the case or not, Bayer and Moynihan deserved a stronger farewell moment than this.
Kenan Thompson and Vanessa Bayer are joined by Dwayne Johnson and Cecily Strong in a reprise of a bit where Thompson and Bayer play straight to Strong's ("I'm British") Gemma. Bayer played this brilliantly, getting soaked over and over again on the ride. As usual, Thompson starts going along with the insanity. The jokes were a little flat, and technical snafus kept us from getting too invested in the ride aspect of the joke, but it was still an entertaining way to spend a few minutes. The charisma of Johnson seems to be elevating the cast around him, making even subpar material enjoyable to watch.
Bartender Beck Bennett offers to wingman Dwayne Johnson with Cecily Strong, but he keeps inserting himself into the sexual encounters, even though both she and Johnson really just want it to be the two of them. The moral of this story is to fight your own battles, I guess. When she agrees emphatically to a date with just Johnson, Bennett goes so far as to lie about it. It gets even weirder when Vanessa Bayer, Sasheer Zamata and even Bobby Moynihan get involved.
Vanessa Bayer is simply an awful person in this parody commercial, so why not distract her with the best. If she's playing her with her fidget spinner she won't be so obnoxious. A sharp and funny commercial that taps into the current zeitgeist as fidget spinners are having a moment, and it's probably not going to last very long. The narration escalated the awfulness of Bayer's character throughout, culminating in "God, the sex is good." Ah, that makes sense, then.
A new superhero reveals himself to Cecily Strong, who can't believe that he made his costume himself. The sketch becomes all about his costume design and tailoring as Sasheer Zamata and Aidy Bryant join in. Ultimately, he skips saving the day to talk about his suit, and finds his way into a whole new line of work. It's a surprise turn -- and it is a pretty good costume -- that was fairly one-note. It had its charm, but certainly wasn't the strongest bit on the night.
This track has more emcees than "Saturday Night Live" has castmembers, leading to the addition of Katy Perry and Tom Hanks' David S. Pimpkins. It was essentially every cast-member coming in as a different member of the crew, and then an additional crew that showed up. Musical guest Katy Perry joined in, but even better was that she was joined by Aidy Bryant as Kathleen Bell who was a very ordinary mom-type of woman. Kenan Thompson was the main emcee, Big Chris, and he got more and more frustrated as it went on and more people were getting added. It was all very silly, but I'm embracing that this cast is enjoying being together this season, and it was fun to see David S. Pumpkins return with a twist.
A black and white film production is messed up by Vanessa Bayer's out-of-control flatulence. That's it. The sketch was completely juvenile, only made more so when Dwayne Johnson literally squeezed a whole slew of farts out of her. Bayer kept calling her flatulence "mistakes" in a classic old-school-film-star dramatic way. The sketch ended when Moynihan's sound man lit a cigarette, destroying everything. I mean, this was the silliest sketch, but once again it was carried by the strength of performance from its two leads.
COLD OPEN - Trump's "Hallelujah"
For a season finale, it was kind of nice to close the season with a tribute to one of the most poignant moments of the show: Kate McKinnon's Hillary Clinton performing "Hallelujah." This time around, though, it was Alec Baldwin's Donald Trump surrounded by his regular supporting cast, minus Melissa McCarthy's Sean Spicer. Scarlett Johansson did make a surprise appearance to reprise her role as First Daughter Ivanka Trump. It wasn't funny, but a perfect way to honor what has helped catapult "SNL" in the ratings. This show may be ending for the season, but the show in Washington will be running all summer.
Koko Watchout (Johnson) gets a little too personal with his trash talk against Bobby Moynihan's Trashyard Mutt in these wrestling promos, revealing very personal things he learned in private. In fact, he went so far as to hack into Mutt's computer and played a video of him dressed up and singing Katy Perry tunes. Moynihan and Johnson both really went for it in this bit, and then it got really weird when Watchout told Mutt they were "Twins" like the movie and he was the sperm donor that impregnated his wife. Wrestling trash talk is over-the-top, as Johnson well knows, and this got so ridiculous it went from funny to not funny and right back to funny.
While the rest of "SNL" is disappearing until the fall, "Weekend Update" will be making a summer appearance. Unfortunately, this wasn't their strongest outing. The jokes about Trump saying he was the most unfairly treated president ever weren't as strong as most of the ones making the rounds on Facebook. "Update" usually leads the conversation on Trump jokes, but they were a little off their game this week. Their other jokes were much stronger, salvaging the segment. Vanessa Bayer's meteorologist returned for some more "what is she saying?" fun and it was just as funny as her first appearance. As this was Moynihan's last show, Drunk Uncle showed up for one final appearance where he kept it real. It was a great farewell for what has become Moynihan's signature character.
Formatted like a typical erectile dysfunction commercial, the twist here is that the product is made from the same ingredients as meth and Dwayne Johnson's doctor is absolutely horrified by it. But the whole thing is played so earnestly and true to these types of commercials, you almost don't realize what they're saying. The dramatic scene behind the side effects is Johnson beating up his doctor in the office. It was completely ridiculous but once again was sold by the strength of Johnson's commitment.
Another sketch filled with cast-members, with Moynihan emceeing a ceremony seeking the most evil invention of the year. Johnson's Roy one-upped a shrink ray and freeze ray by inventing a robot designed to molest children. This was even too much for the evil scientists in attendance. It's revealed he molested the robot to teach it to continue molesting. He so earnestly and calmly embraces the concept of evil to the horror of the room, and it's a simply marvelous performance. This would have been a tough one to keep a straight face through, but everyone nailed it. And then, out of nowhere, it turned into a White Castle commercial. So yeah, that happened.
MONOLOGUE - Johnson-Hanks 2020
As a follow-up to Melissa McCarthy getting her Five-Timers jacket last week, Dwayne Johnson was awarded his by Alec Baldwin at the top of his monologue. He then officially announced his candidacy for president, bringing out Tom Hanks in a fake-out to Baldwin as his running mate. They acknowledge that they are two of the most beloved celebrities in America, predicting they would get 100% of the vote. Johnson-Hanks 2020. It's official! What a fun way to pull current headlines into the show. "SNL" did a great job on the night of keeping itself relevant. For the first time this season, the monologue was the highlight of the show.
Vanessa Bayer went out with one of her strongest and most dominant nights yet. Moynihan had a great night as well with the return of Drunk Uncle and his wrestling skit, but Bayer shined as the "Weekend Update" meteorologist, a flatulent silver screen actress, an awful woman distracted by a fidget spinner and a put-upon wife soaked on a water ride. Clearly, the writers wanted to make sure both she and Moynihan went out strong.