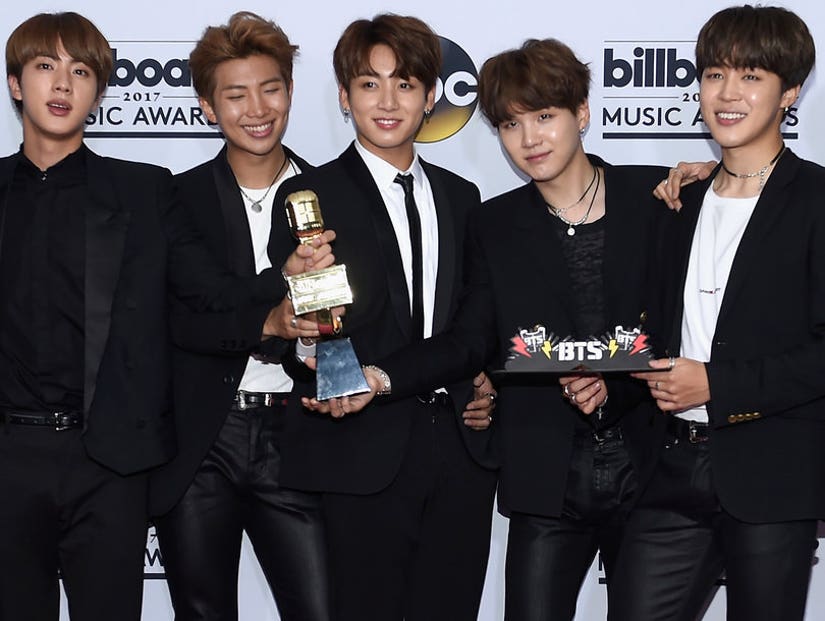 Getty
You may have been one of the viewers at home or on social Sunday night saying 'Who the hell is BTS?" after they bested Justin Bieber, Selena Gomez, Ariana Grande and Shawn Mendes for Top Social Artists. Well, this is who they are.
The seven-member K-pop group known as "Bangtan Sonyeondan" (Bulletproof Boy Scouts) consists of Jin, Suga, J-Hope, Rap Monster, Jimin, V and Jungkook. They are the second ever Korean Pop music winners in Billboard history, following PSY in 2014 who won for his hit, "Gangnam Style."
Here's 3 things you need to know.
Of course, to win "Top Social Artists" the group must have an insane following, especially if they beat out the Biebs. The group has 3.6 million followers on Instagram, and close to 10 million followers on Twitter on two separate accounts. Their fan base is called the "Army" and their win at the Billboard Awards came from more than 300 million votes from their fans, using hashtag #BTSBBMAS
They Are Known For Their Socially Conscious Music
BTS' blend of hip-hop, rock and electronica music is not only entertaining, it tends to have a strong message behind it. The group is known to speak on issues like mental health, stress, bullying and rejecting the ideal of society - they even put out a "female empowerment" anthem.
They Are Killing It On The Billboard Charts
The singing group currently tops the Billboard Social 50 list, and they've held that spot for 31 weeks. The group has released a handful of music in just four years, in both Korean and Japanese. Their biggest hit "I Need U" was on their 2015 album, "The Most Beautiful Moment in Life: Part 1." Though they have no plans to record an album in English, the group has already sold out all of their international tours, including upcoming shows in Newark, Chicago and Anaheim.
Watch the video for BTS' hit "Blood Sweat & Tears" below: