In Vanessa Williams' new VH1 series, the actress stars as a veteran journalist hosting a daytime talk show alongside a group of diverse women who don't always see eye to eye. Sound familiar?
Considering the show is adapted from original "View" co-host Star Jones' book "Satan's Sisters," the parallels to the ABC talker are hard to miss. So, how much did did Jones draw from her real life?
Vanessa Williams broke it down to TooFab.
"She's kind of an open book," said Williams. "So if I had any questions to find out what's authentic, she would talk to me about that. Every story on the show and in the book, she said it's a combo of people she interviewed, people that interviewed her, stories that she prosecuted, cases and, of course, people that she worked with."
"There's a lot of sources that she gets her stories based on and the writers would take it from there," Williams added. "[The writers] were also inspired by the actors and what their strengths are."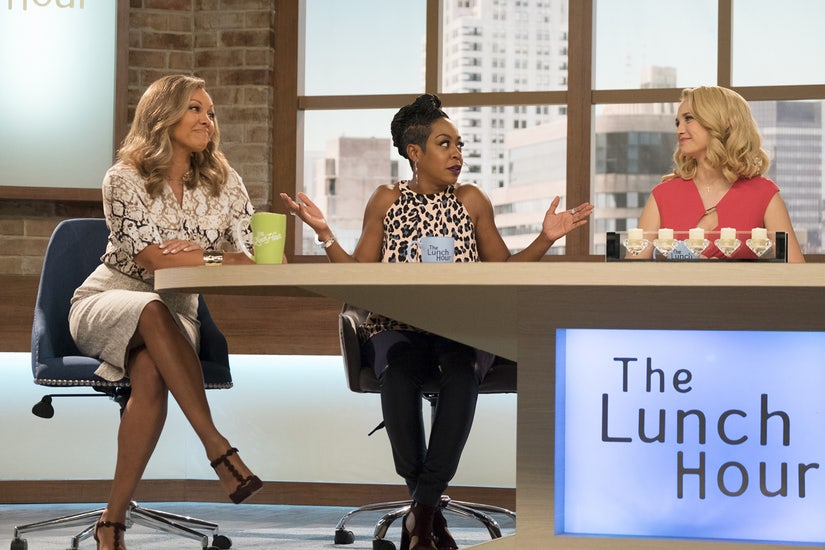 VH1
In the first episode alone, there's a near brawl between Williams' character Maxine Robinson and one of her co-hosts. Of course, "The View" and morning shows like "Today" and "Live" are all known for the stories of behind the scenes in-fighting, where feuds like the one between Rosie O'Donnell and Elisabeth Hasselbeck are a thing of legend.
And the public, they always eat it up.
"I think everybody watches. They've seen 'The View' for 20 years. These are people you see in your houses daily -- they're part of your family," Williams said of the at-home obsession. "People understand the genre. When the whole transition happened with Kelly and Michael, everyone was like, 'What happened? I thought they loved each other!' What happened behind the scenes that made that so difficult and public and all that stuff?"
"It's real life drama because you see them everyday as your friends and you want to know what's going on," Williams told TooFab.
While Williams has been on her fair share of talk shows throughout her career, she said most hosts are great at shielding issues with their co-workers from their guests.
"I think they're pretty good at not showing their regular guests," she said, "but you can definitely feel when there's tension for sure, you can't hide tension in the air."
To play Maxine, Williams is back in familiar territory playing the HBIC ("Head Bitch in Charge"), something she's been doing for years.
"Do I love it? Yeah. I think I do get typecast because they see it," she said. "I think when I did Wilhelmina for 'Ugly Betty' they were referencing the 'Diva's Christmas Carol' because they knew I could play that."
"I don't want to say it's an easy go-to, but I can easily do it," she added. "The issue is writing. It's one thing to play one dimensional, but if you've got material you can work for and make it a real character, that's the most important thing for me. You got to have people understand their journey no matter now despicable or hard-edged they might seem."
And speaking of her infamous "Ugly Betty" role, Williams sadly added that the show's 10-year anniversary reunion at the ATX TV Festival in 2016 didn't lead anywhere in terms of revival talk.
"Nothing," she said. "America [Ferrara's] show got picked up for a third season. Ana [Ortiz] just did a pilot for ABC that did not get picked up. Michael [Urie] did a pilot, he's off-Broadway now. Becki [Newton] is guesting on another show. But no, nothing ever came of it."
"Daytime Divas" premieres Monday, June 5 on VH1 at 10 p.m. ET/PT