Sister Mary Clarence reunited with the women of St. Katherine's Parish on Thursday's episode of "The View."
Whoopi Goldberg hosted a 25th anniversary celebration with the cast of "Sister Act," which became a huge box office success and fan favorite after hitting theaters in May 1992.
Kathy Najimi, Harvey Keitel, Wendy Makkena and composer Marc Shaiman joined Goldberg on the show to reflect on making the film and its legacy.
Najimi revealed she had six auditions before landing the role of Sister Mary Patrick in the movie, sealing the deal when she finally unveiled her character's signature opera voice to Shaiman. For Makkena, she said got the job by having three backup singers burst through the door of her audition to help perform "Please Mr. Postman."
Goldberg added that she "had no intention of singing" in the movie, but eventually got talked off the ledge.
"It was Bette Midler's movie and Bette couldn't do it, so she turned it down and they went to a hundred million people and then got to me," Whoopi added of her infamous role. Goldberg also said she couldn't believe Maggie Smith joined the cast and shared Smith joked, "Darling, I have to eat."
The group also shared some behind the scenes hijinks from the set. "We were put into hotel rooms [in Reno] and Kathy and I, we'd get a little bored," Makkena revealed, "We'd be playing blackjack all day in our habits. And nobody knew who we were."
Najimi also revealed that one night she and Makkena "ordered room service and right before they came up, I put porn on the TV and we were both in our nun outfits." "And this girl, she had parked me on the edge of the bed, watching like this," Makkena added.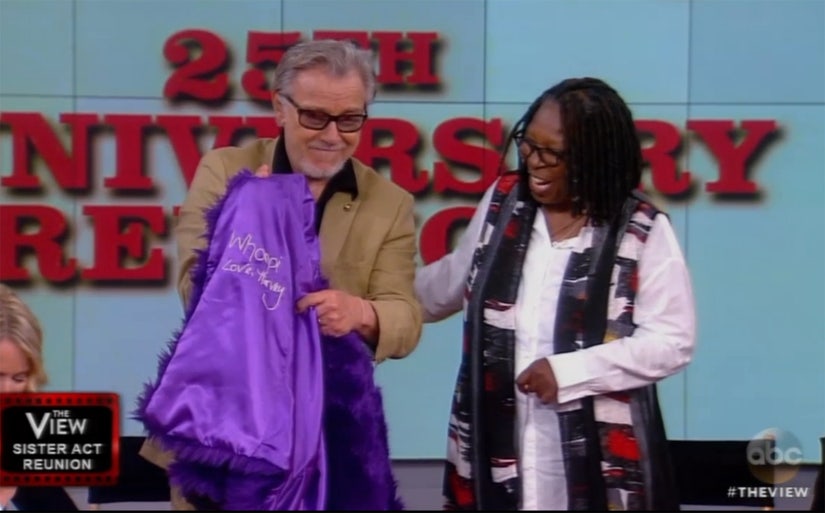 ABC
Keitel also brought Goldberg a special present, a purple coat like the one his character presented her in the movie.
The reunion ended with a performance of "I Will Follow Him" from the women and fellow film nuns Sherri Izzard, Darlene Koldenhoven, Beth Fowler, Andrea Robinson and Prudence Wright Holmes (below).
These days, Najmi has gotten into producing and recently appeared on "Unforgettable" and "Elementary" while Makkena has been on "NCIS" and "The Mob Doctor."