While the British Royal Family is known for their charity work, they're also known for being decidedly non-political. Kate Middleton recently received criticism for opting out of wearing black in support of the #MeToo movement at the BAFTAs. That said, Royal newcomer Meghan Markle may be looking to turn over that apple cart.
What has been recently dubbed the Royal Fab Four made their first official engagement as a foursome on Wednesday to discuss The Royal Foundation, the charitable organization founded by Princes William and Harry. They were joined on the dais by William's wife Kate, and Harry's fiance Markle, for a free-wheeling discussion about their vision for the Foundation moving forward, working together as a family and how the Royal Wedding might impact things. Prince Harry and Meghan Markle are set to marry May 19, 2018.
The foursome looked relaxed and jovial during the discussion, and they expressed well their passion for the charitable work they do through the Foundation. Considering the Royal Family doesn't have a huge role in government anymore in the United Kingdom, the family has taken to charitable work as their primary mission, given their spotlight, influence and affluence. It's encouraging to see the next generation of leaders in the family firmly committed to continuing that mission.
Below are the five biggest takeaways from their first official forum as the new Fab Four.
Meghan Markle Gets Political, Talks #MeToo
Tradition be damned, Meghan Markle is passionate about the #MeToo and Times Up movements sweeping through Hollywood and beyond. As an actress, it's an issue that touches close to her heart, and as a not-quite-yet Royal, she may be able to get away with taking such a direct stance as she did here. It remains to be seen if she'll talk so candidly and openly about such specific things after May 19.
For now, though, Markle wasn't shy about discussing an issue she's been passionate about since she was a child. "I hear a lot of people speaking about girls' empowerment and women's empowerment," Markle said. "You will hear people saying they are helping women find their voices. I fundamentally disagree with that because women don't need to find their voices, they need to be empowered to use it and people need to be urged to listen.
She even raised a few eyebrows by name-dropping the movements when she said, "Right now with so many campaigns like #MeToo and Time's Up there's no better time to continue to shine a light on women feeling empowered and people supporting them." But as her future sister-in-law raised eyebrows by not expressing overt support at the BAFTAs, it looks like people are going to grumble no matter what the family does.
The Royal Wedding Isn't Getting in the Way
While many brides are consumed fully by preparations when their wedding is looming less than three months away, Markle is eager to get started in the Foundation. She gave up her acting career and is stepping down from her existing charitable work to focus on her new Royal role. Even though she won't be an official part of the Foundation until after the wedding, she's eager to get started.
"We're pretty tied up with planning a wedding at the moment but we're really looking forward to working as a pair and as a four going forward and hoping to make as much of a difference where we can," said Prince Harry, to which Markle responded, "We can multi-task."
As she waits to officially be able to work with the Foundation, Markle hasn't been idle. "For me it is very important to want to hit the ground running even if you are doing it quietly behind the scenes, which is what I have focused my energy on thus far -- meeting with the right people and the right organisations," she said.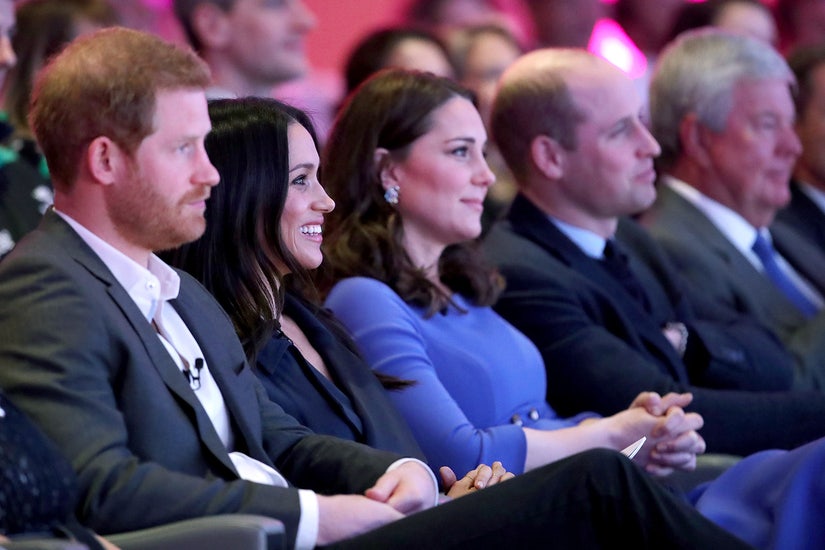 Getty
Strong Personalities Lead to Strong Disagreements
Anyone who's done it can tell you that it's not always easy to work with family. Hell, it's not always easy to just be around family. When asked if there are ever any disagreements among the new foursome, William didn't hesitate to say, "Oh yes!"
The audience laughed at that comment, as he hung his head in mock exasperation.
Harry went on to say it's about dealing with "four different personalities and we all have that same passion to make a difference." Sometimes differences can become strengths. "We have different opinions and they work really well [together]," he continued. "Working as family does have its challenges; of course it does. The fact that everybody is laughing shows they know 'exactly' what it's like. But we are stuck together for the rest of our lives."
Lifetime Positions Means Long-Term Commitments
Being a member of the Royal Family isn't something that goes away, but Middleton sees that as a boon to the charitable work they're embarking on together. "Since our roles are lifetime roles, our commitment to the work we do through The Foundation is genuinely long-term," she explained. "The work we do can, and should, have a long-lasting resonance. For this reason, we are able to support causes which we're passionate about for decades into the future. Rather than just for a few months or years."
That long-term view from its leadership makes The Royal Foundation rare in charitable organizations. "We feel strongly that we have to take a long-term view that is measured in generations," Middleton went on. "This perspective allows us to take time to really learn about and understand the issues, and then assemble the right group of experts and partners to form coalitions to create sustainable solutions."
"It is an unusual and privileged position to be in, but I do think this long-term view will ultimately help us make a difference in the areas that we care so passionately about."
Welcoming Meghan to the Charitable Family Tradition
The three established royals were excited to welcome Markle into the fold as one of their family, and as a member of the Royal Foundation. "Today is a special day for us," William said of having Markle join them on-stage.
He talked about the tradition of serving that is interwoven in the family history. "Ten years ago, Harry and I were still serving full-time in the military, but we were starting to look to the next stages of our lives," he said. "Both our parents had provided for us an example of diligence, compassion and duty in all they did. Our grandparents, The Queen and The Duke of Edinburgh, had made support for charity central to their decades of service to the nation and the Commonwealth."
Harry added that he was "incredibly proud and excited that my soon-to-be wife, who is equally passionate about seeing positive change in the world, will soon be joining us with this work."