June was stressed enough before things got nasty, as she admitted to "puffing out a bit" after putting on some weight. After trying on multiple dresses that just weren't right, June had found a perfect glittery gown. One problem: it was a size 14.
"You have got to get this weight under control girl," pageant coach J.J. Smith warned her.
Despite the dress being a little small, June was still feeling herself when she tried it on. That is, she was until nemesis Deborah came out of another room rocking the same ensemble and declaring that it looked "way better" on her.
"I mean what the f--k are you doing with my motherf--king dress?" June snapped. "I know I look better than your ass does."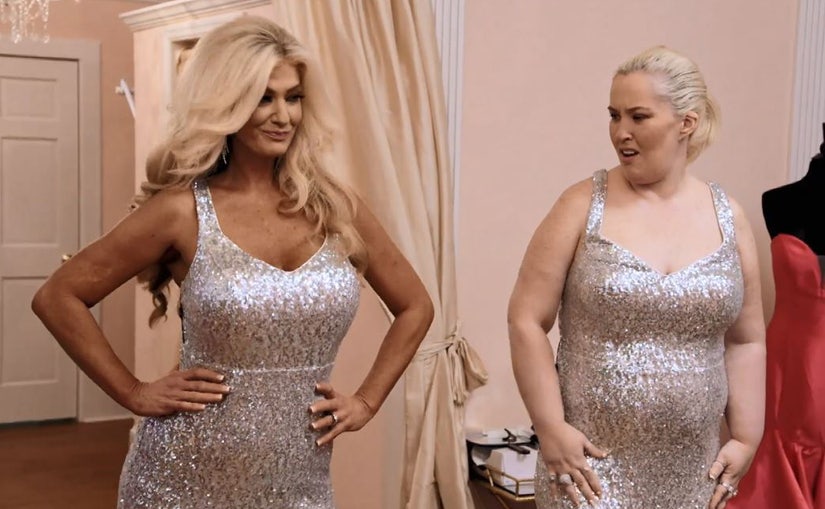 WEtv
"What the hell were you thinking?!" June continued. "I mean we're in the same dress shop that's one thing, but then you pick up the same dress and put it on!"
June then said that maybe Deborah's daughter, Hannah, should match Alana too and they could all be "twinsies." That's when the burns really came out. "Honey if you're gonna twin with me, you're gonna have to lay off the Twinkies," Deborah shot back.
Read on for more highlights from Friday's "Mama June: From Not To Hot."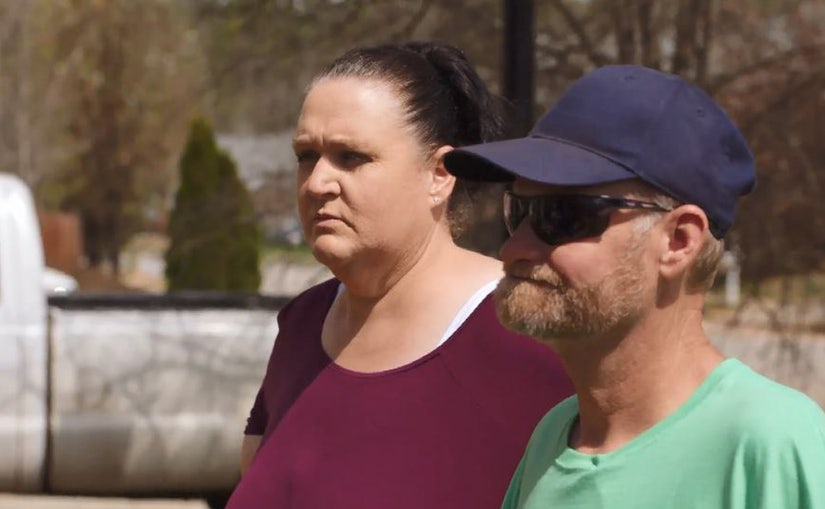 WEtv
While making some dental impressions for "flippers" (fake teeth for pageants), Alana and June heard a knock at the door. Their uninvited guests: Sugar Bear and his wife Jennifer.
June had already been mad at Sugar Bear for doubting Alana actually wrote the letter she read at mediation during last week's episode, so when he arrived "unannounced," she was fuming.
"Sugar has no right turning up after he done made that comment to Alana in her last visit," June said in a confessional.
At the door, June told Jennifer and Sugar Bear that they just "ruined" Alana's $250 impression by showing up. "Shut up June," Jennifer snapped back, "we're not here to see you. We're here to see Alana."
When June pointed out they arrived "unannounced," Jennifer told June to "hush." Sugar Bear's wife continued to use the H-word repeatedly, only invoking more fury from June.
"You're on my property. You do not tell me to hush," June fired back in a confessional.
Turns out, Sugar Bear and Jennifer stopped by to give Alana a locket to apologize for the letter fiasco.
"Oh please," June said in a confessional. "You think a necklace is going to make up for all of those years that you disappointed her? I just hope it doesn't cause a rash on her neck."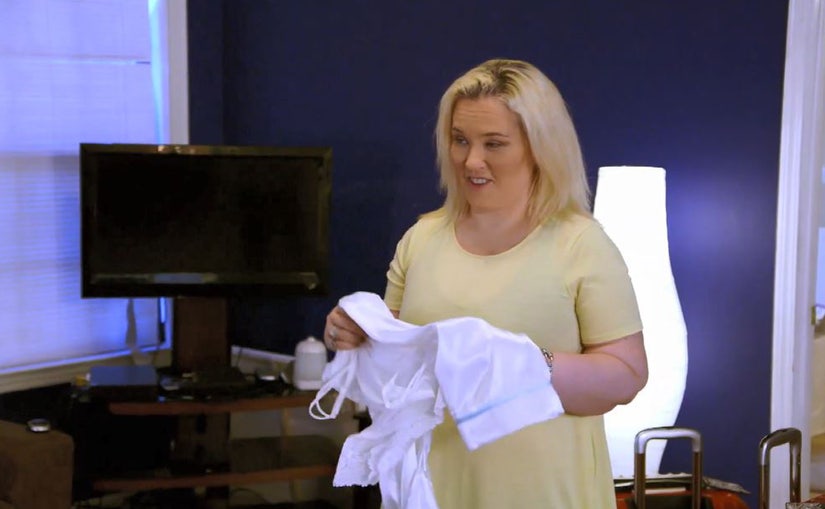 WEtv
During last week's episode, June believed her boyfriend Geno Doak said 'Yes' to her proposal, although he technically never said the word. This week, he went tux shopping, where a friend said he needs to tell June how he really feels.
"I love June, dude, but I don't want to marry anyone," Geno said. "She proposed to me, but I didn't say yes."
Geno better take his friend's advice quick, as June later showed her sister a bridal robe and lingerie she bought for Las Vegas, where Pumpkin and Josh are to be getting married. Oh yeah, June plans to upstage her daughter's wedding with one of her own.
"Vegas is a perfect place to get hitched to my man," June said in a confessional. "Geno loves surprises, so he's gonna love it."
We're not so sure about that one. "Mama June: From Not To Hot" airs Fridays at 9 p.m. ET on WETv.