"I can no longer sit idly by while you mistreat and malign me in such an egregious manner," the reality star says in her lengthy statement.
On Wednesday, JWoww shared multiple videos to her website, including a clip that shows she and Roger arguing in front of their 2-year-old son, Greyson. However, one disturbing clip shows a man, alleged to be Roger, grabbing a woman, who appears to be JWoww, and throwing her on the ground. From the video, it sounds like the man says, "You wanna get violent?" The woman then gets up and throws something at the man and says, "F--k you" as kids are screaming in the background.
Alongside the videos, the MTV star posted a lengthy statement where she addressed their impending divorce for the first time. JWoww went into detail about problems with their marriage and slammed Roger's social media presence, where she claimed he falsely presents himself as a good father and husband. The MTV star even referenced a particular incident where Roger allegedly gave Greyson food he was allergic to and also accused him of teaming up with her ex-boyfriend to extort money from her.
"A message to Roger: I have spent the last few months trying to protect our children from public humiliation, because as parents, WE ARE SUPPOSED TO PROTECT THEM," she began. "I wanted to handle this out of the spotlight because our silence is their greater good. Even when you tried to disgrace my name, make false accusations and even point-blank lie...I still remained silent as challenging as it was...why? Because, greater good."
"I can no longer sit idly by while you mistreat and malign me in such an egregious manner," she continued. "You have presented yourself to the public as a praiseworthy father and a husband who has been suffering by my alleged actions and behavior. The altered perceptions you have created for yourself on social media is truly staggering. Your postings are consumed with inaccuracies, false statements, self-serving comments, outright misrepresentations and blatant lies."
JWoww had posted part of the letter to her Instagram, but it was "too long" to show its entirety, so the reality star redirected her followers to her website. (You can read JWoww's full statement and see the videos here.)
Following the statement and the disturbing videos, many of JWoww's "Jersey Shore" co-stars and other famous friends have reached out to tell JWoww they are there for support.
"Here for you ALWAYS & FOREVER my love," JWoww's BFF Snooki wrote. "I love you so much J!! Your [sic] an amazing woman and mother! I'm so lucky to call you my sister," Deena Nicole Cortese commented.
Ashlee Malleo, who has appeared on "RHONJ" alongside her mom Jacqueline Laurita, voiced her support in a long comment. "FINISH HIM. You are an amazing, hardworking mother," she wrote. "One day your kids will be grown and they'll know better all on their own. Don't worry about them. You're doing what you need to do. They'll see Daddy's immaturity and disrespect one day and it will be no ones fault but his own."
"And all of the people commenting for you to keep things to yourself...you're damned if you do and damned if you don't," she continued. "Those are the same social media trolls saying shit like, 'This is what you sign up for being on a reality show' when they talk sit [sic]. At least now your truth has been spoken. Hang in there Mama. you're very strong."
See how people are showing their support for JWoww in the comments below.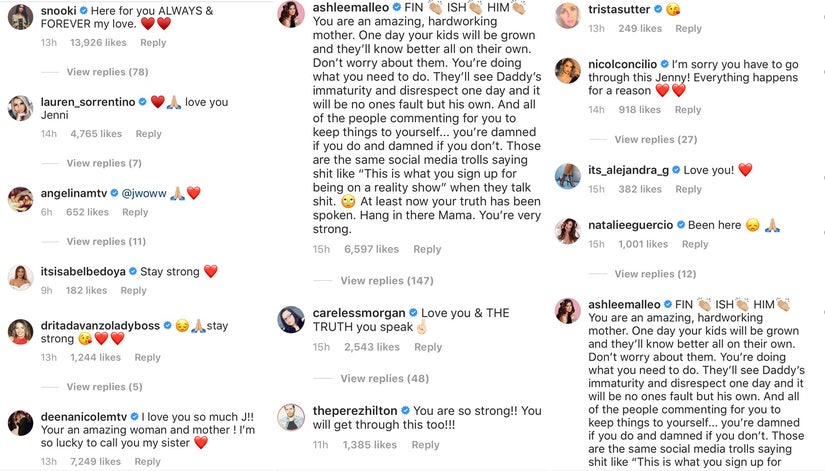 Instagram