With so much wild material coming straight from the real news cycle, "SNL" is able to bring its strongest satirical episode of the season into sharp focus.
It's always a crap shoot when a musician with no formal acting experience hosts "Saturday Night Live," but we needn't have worried about Hasley, who did a great job on an even better night of comedy.
As a satire show, "SNL" works best when there is good material in the real world to riff off of, and they got so very much these past two weeks, with the Virginia blackface scandal, National Enquirer blackmail allegations and the State of the Union women in white.
As a result, we were treated to a brilliantly sharp installment, with sketches hitting on each of these things and more, from general humor like the foibles of parents and sororities to more specific topical commentary like Black History Month and the sad state of modern journalism.
It's always good when "SNL" brings it and proves why it's one of our most important television institutions. Comedy can be as important as news in shining a gentle, if biting, spotlight on our collective failings as human beings in a way that no other medium can properly express.
Also, our respect to Halsey for two great musical performances as well, including one she spent painting a woman's face while singing. We're giving the benefit of the doubt that she wasn't lip-syncing and therefore are doubly impressed at her dual artistic abilities.
As usual, we're ranking all the sketches from worst to first, including the Cold Open and the regular "Weekend Update" segments. We'll skip the musical guests, because they're not usually funny - unless Ashlee Simpson shows up. We wrap up with a look at the cast-member who had the strongest week.
Halsey went with a utilitarian approach to her monologue, basically introducing the audience to who she is and where she came from. She got to drop in a New Jersey accent to talk about her hometown and spotlighted her real name of Ashley Nicolette Frangipane to prove she's from Jersey! And that was about it. Oh, and she's very excited to be there. Everyone says it, but she definitely seems to really mean it. So it was cute enough, but mostly it just told older viewers who the hell this was.
Halsey joined Aidy Bryant and Kate McKinnon for a holiday-themed song trying to teach all of your family members, bosses and friends that Valentine's Day isn't about you sending them flowers and cards; it's for their significant others. The joke is they don't want to think about you while thinking about their boo. We get it, but sometimes it's just kindness, isn't it? And is that so wrong? Learn how to compartmentalize, Karen, and appreciate that your mom or child loves you.
Them Trumps: State of the Union
On a slightly more subdued take on this recent sketch, this focus didn't have Darius Trump (Kenan Thompson) getting arrested for doing the things alleged against the Trump family. Instead, they opted for Trump talking about how impervious he was to the law and then getting pulled over and pulled out of the card for passengering while black. And basically that was the whole point of the sketch; it remains dangerous to do anything while black and what better way to emphasize that than show how even presidenting while black would change nothing.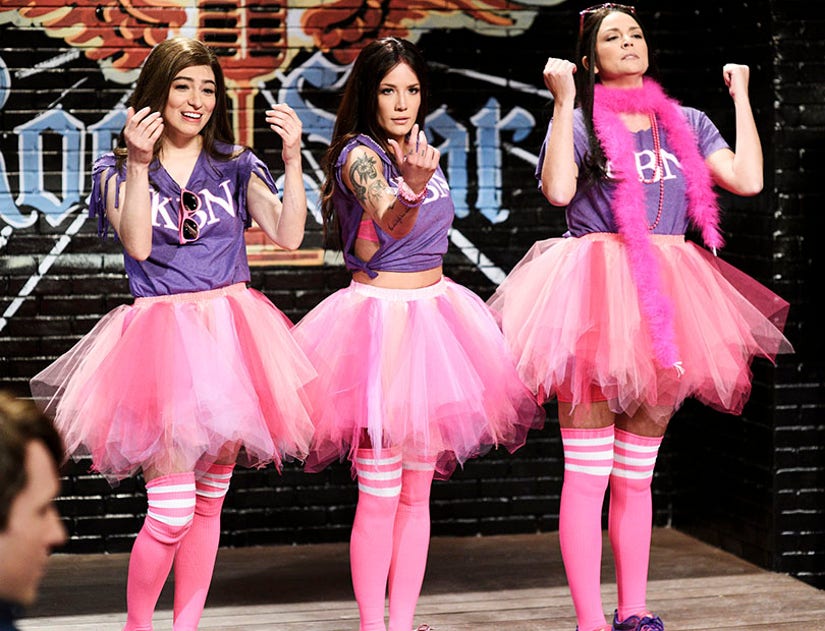 NBC
Another sketch missing from the online archives, this time because Melissa Villasenor, Cecily Strong and Halsey's sorority pledges kept singing 4 Non Blondes' "What's Up?" The sketch itself was typical sorority prank silliness and didn't really have a point other than that, unless the point was that sometimes the pledge list requirements border on the cruel and insensitive, like cutting a guy's hair or slowly knocking his dinner on the floor. But hey, it's college, so who cares, right? Not their strongest sketch but for pure silliness, it had its moments.
Reimagining the women of Congress who wore white to Trump's State of the Union address as a dramatic, action-packed "Charlie's Angel"-type show. But they focused on the one part of Trump's speech where he touted the record number of women in Congress as if it was an accomplishment of his administration. It's totally a result of it, but considering those gains were basically all on the Democrat side, it's more to spite him than anything. And we kind of loved how Alec Baldwin called in like Charlie as Trump to say that and they just lost their minds. We get it, ladies, we get it.
Pete Davidson showed some real acting chops as a corpse ... go figure. He usually plays a variation of himself, but he really went for it as an over-the-top thespian overacting the role of a corpse while filming the "Riverdale" finale. The show didn't really matter, it was just thrown in as a hip pop culture reference, it was just about Pete blowing it with what should be the easiest job on television, but his death twitches/convulsions were still hilarious.
So this took an odd turn, and we can see why it was late in the night. Kenan Thompson played a father who got a side gig doing amateur porn (but weird stuff like sitting on a cake real slow), while Leslie Jones was his stunned wife at first who got on board when she saw how much money he was making. His kids (Chris Redd and Ego Nwodim) were horrified as various restaurant patrons dropped in to express their appreciation. Yeah, this was weird but everyone was so committed to the bit that it worked, even when Ego was reading too hard from the cue cards and we could even see them for a few moments behind Leslie.
Blackface and blackmail, it was certainly a wild week in the news. Michael Che got into the best way possible, by combining Liam Neeson, 21 Savage and Virginia blackface into one wild mess of a story just to show how crazy this week has been. Colin Jost then broke down the quagmire in Virginia, ultimately concluding they should make Kevin Hart the governor there. It was almost too much for the guys to keep up with, as if they were shocked at how much stupid we could get so fast.
We then got Melissa Villasenor with her Grammy picks ... which was more an excuse for her to do a Lady Gaga impression, and it was pretty rock solid, to be honest. Mostly, she sang a whole lot of "Shallow," and even got a wild assist from Kyle Mooney as Bradley Cooper. But Melissa is one of the strongest impressionists on the show, so any excuse to see her do her thing is alright by us.
Onto more silly news, we got jokes about Apple's new emojis and Delta's bathroom windows: "Unfortunately, they face into the cabin." Oh and they definitely were not done tearing apart Virginia Governor Ralph Northam for his blackface scandal, and we are here for every callback.
If you didn't already hate every Instagram couple in the world, Heidi Gardner and Mikey Day's Brie Bacardi and Nico Slobkin are here to remind you that you really, really, really should. Their relationship is tenuous at best, and an absolute disaster in reality but it was pretty funny watching just how close they each were to the edge of breaking up and their sanity.
"I'm here to teach you how to score some 'giny while keeping your tiny heiney on this side of the liney," Guy Who Just Bought a Boat (Alex Moffat) kicked off his respectful Valentine's Day and this may be the best we've ever seen him. The #MeToo movement gives him a point of view -- the wrong one decidedly -- and makes his stupidity much better in context. In fact, the take was so strong he didn't even need the tiny penis jokes, but don't worry, he still made them.
Black History Presentation
In honor of Black History Month, the current black cast-members took a few moments to talk about and honor those who came before them on the trailblazing show ... at least until Kyle Mooney showed up to interrupt everything and take part and ultimately whitesplain black entertainment history in front of four black entertainers. It was brilliantly uncomfortable as that was the whole point, and only Kyle and later Beck Bennett -- with their clueless but sweet persona -- could have pulled this off.
COLD OPEN - Meet the Press
Kyle Mooney took on Chuck Todd to tackle the allegations of blackmail levied against the National Enquirer by Jeff Bezos and focus on the issue at the heart of it for journalists: What will Bezos' penis look like? They even got Kate McKinnon's Wilbur Ross back for his hilarious take on penises while we got the debut of Aidy Bryant's Matthew Whitaker, which was so perfectly sullen and cranky. But the real question of the sketch is what is happening to journalism and it's an important and great question. The show did a great job of showing what it should be by emphasizing what it appears to be instead.
Anyone who has parents could totally relate to this sketch, even if it did suffer a minor technical mishap. Halsey and Beck Bennett portrayed Mikey Day's parents who called him at work to ask about the grill they got him, while only passively mentioning those things that really mattered like how his legs are shattered and she got shot. And that was just the opening salvo. It was such a relatable piece and only escalated -- or is that elevated (no, they changed their minds) -- from there. Universal truths for the win.
Virginia Blackface Crisis
What if everyone in Virginia state government wore blackface that one time in college for Halloween? Well, according to this sketch at least, they all did. And it was up to Kenan Thompson to try desperate to educate them on why this was wrong then and it's certainly wrong to still do it now. Hilariously, no one was getting his point, including Halsey who proudly only did half-black as a costume that was both eras of Michael Jackson. Jumping off of real news, this sketch was another brilliant takedown of a depressing reality. "SNL" certainly had a lot of material to work with this week.
We're not sure if it was because of Black History Month, but there was a large focus on the black members of the cast this week, with Kenan and Leslie playing a couple twice, sparring journalists once and themselves, while the newer cast-members flanked them throughout. As such, we got to see what both of them do so well many times.
The edge, though, goes to Kenan for the range and variety of characters her portrayed throughout the night, including a black version of Trump, an amateur porn star dad, a frustrated director, government official and even himself. We're not sure how much longer Kenan is going to want to do this show, but he is by no means phoning it in and his absence will definitely be felt whenever he does go.
"Saturday Night Live" airs Saturdays at 11:30 p.m .ET on NBC.