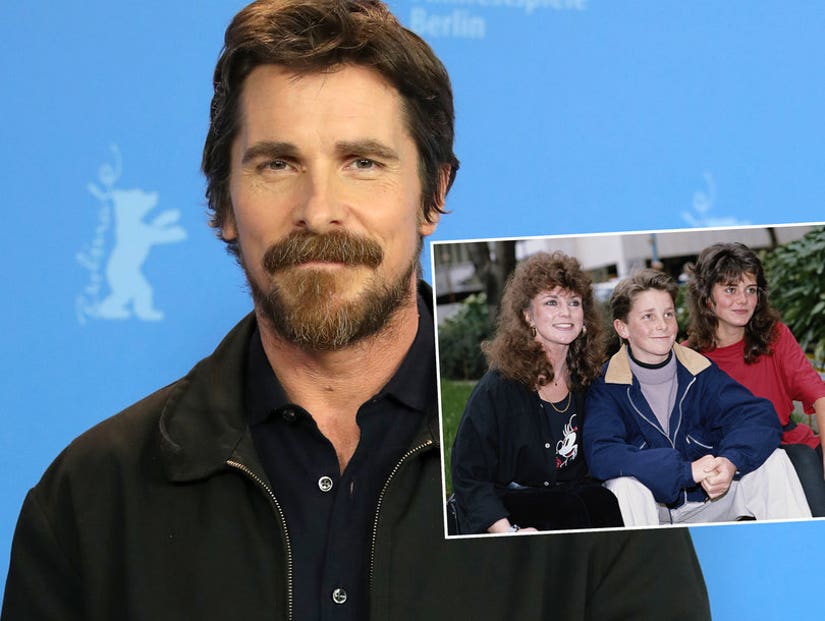 Getty
She had him arrested after accusing him of assault in 2008. But that may be all water under the bridge now, according to Jenny Bale.
Christian Bale may be one step closer to ending a decade-long feud with his family, according to his mom.
Jenny Bale told UK publication The Mirror: "Yes, we are talking. I know Christian is in London."
It comes 11 years after she had him arrested in that very city, after he allegedly assaulted her and his sister Sharon.
In July 2008, the "Batman" star was detained by police following an incident at the The Dorchester hotel; he was accused of lashing out at his family in front of his three young nieces, even shoving his mother.
The row allegedly stemmed from a disagreement months earlier between Jenny and Bale's wife Sibi Blazic, in which the former hung up the phone on the latter.
After voluntarily presenting himself to police the following day, Bale was subsequently held for four hours before being released on bail.
His mom and sister withdrew their statements the day after that; the following month authorities declared that no further action would be taken, and all charges were dropped for lack of evidence.
Bale has always insisted no assault occurred. But ever since the incident, all communication between him and his family has been severed.
Over the years Jenny, a former circus performer, insisted she had tried to reach out, but he never responded. Any essential communications went through his agents.
While she has never fully elaborated on what exactly transpired, she did tell the Mail On Sunday in 2012: "He just went for us. We didn't say anything or do anything. We thought he was joking at first and tried to laugh it off but that only seemed to make things worse."
It wasn't the only time Bale's apparent temper fell under the spotlight; the very same month as the alleged incident, Bale was caught on tape launching into a blistering rant against a crew member who dared walk across his line of sight while shooting a scene for "Terminator Salvation."
This occurred just six months after his "Dark Knight" co-star and friend Heath Ledger died of an accidental overdose.
Bale's parents divorced in 1991, when he was 17. His mother and sister stayed in England, while he moved to Los Angeles with his father David.
He and wife Sibi have been married since 2000; they share 13-year-old daughter Emmaline, and four year-old son Joseph.
Bale was indeed in London this week as his mom claimed, for the BAFTAs. He was nominated for Best Actor for his portrayal of Dick Cheney in "Vice," but lost out to Rami Malek for "Bohemian Rhapsody."