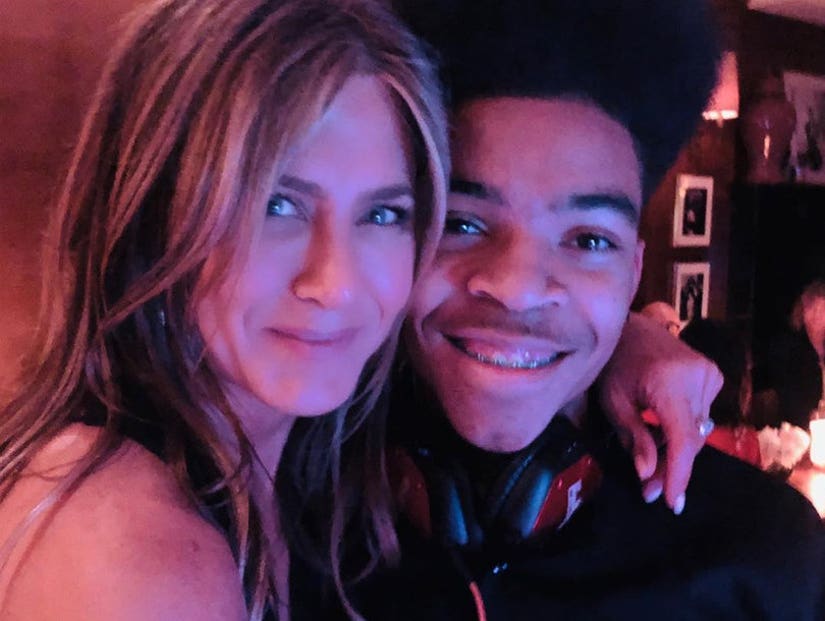 Instagram
Yes you read that correct — he's 17.
He was just two-years-old when the "Friends" finale aired in 2004.
Which might explain why Ryan Anthony Robinson — AKA DJ Prince — doesn't sound like he's grasped the magnitude of DJing for Jennifer Aniston's 50th birthday at the tender age of 17.
However the Indianapolis native is well aware the actress is one of the biggest stars on the planet... he just sounds super cool when he talks about it.
"Someone from Jennifer's team reached out via direct message on Instagram asking if I wanted to do the party. They told me when and where — but they never told me who it was for,' the teen told TooFab exclusively. "Next thing I knew I was on a flight to LA."
When he discovered who his mystery client was just two days before the gig, he was "ecstatic". Despite his tender years (and not even existing for all the "good" seasons of "Friends") he is a Jen fan.
"I knew who she was from watching 'Friends,' seeing her in different movies, 'Just Go With It', 'We're The Millers'," he assured.
And if he was a Jen fan before, he's an even bigger one now.
"She was super nice, had a great spirit," he said of the birthday girl. "Just a lot of hugs, very bubbly, energy, she was great overall."
"She told me that I did a great job and that she was very happy I kept her dancing, and that I kept everybody on the dance floor all night. She danced with me too!"
While spinning for five hours straight as the sole source of music on the night, Prince shouldered alone the responsibility of entertaining some of the world's greatest entertainers, including Katy Perry, Pharrell Williams and the deity herself, Barbra Streisand.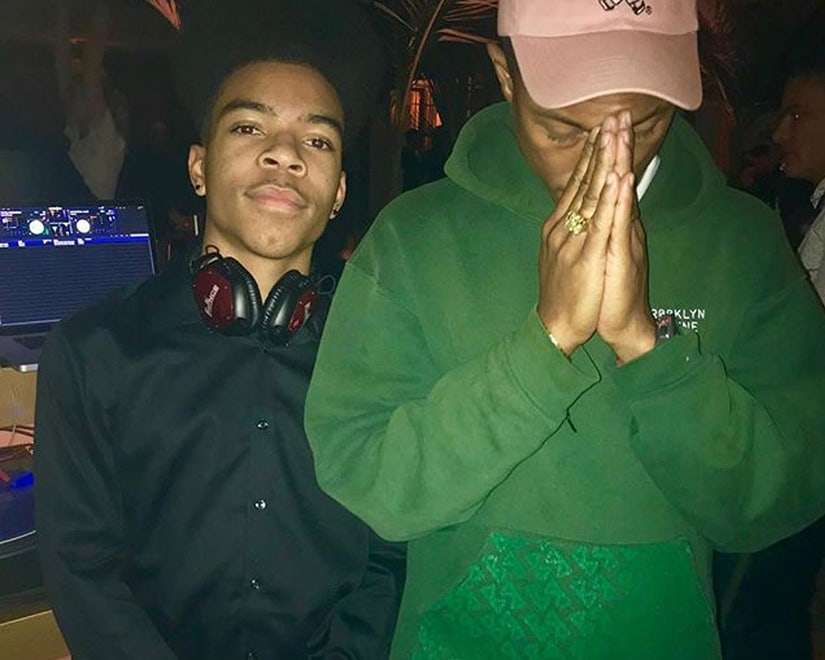 Pharrell / DJ Prince
"Everybody was dancing, having a good time, eating, drinking," he said. No-one was drinking too much of course, and if there were any hook-ups witnessed, Ryan displayed professionalism beyond his years by keeping it to himself.
As for any interactions between exes Jen and Brad, Ryan insists he was too focused on keeping the dancefloor moving to notice anything else. Brad did tell him though that he was "rocking it" and that he was having a really good time.
"Nothing really shocking, just a normal party with family and friends," Ryan smoothly added.
He did however notice that Ellen was probably the best dancer at the Sunset Tower Hotel on the night, closely followed by Pharrell. And the worst? "I couldn't tell, floor was too packed," he expertly sidestepped.
The music, he reveals, was everything from 70s, 80s, 90s, all the way up to today. Jen's team provided a general idea of what she liked "and I just took it from there". The actress did however make specific requests for Duran Duran and Wham.
He most definitely did not, he assures, play The Rembrandts' "I'll Be There For You."
And as for payment? "I was compensated pretty well, I'll just say that," he smiled.
Ryan has been DJing for the past six years; he got into it when his dad — who possesses an enormous collection of music — told him he didn't know what was going to happen to it when he died. Ryan told him: "I'll play it." So he went to DJ school. (Dry those eyes — Ryan's dad isn't dead or even dying).
He says he listens to J Cole, Calvin Harris, Chainsmokers, Stevie Wonder, Earth Wind & Fire, Ice Cube, and "just about everything — my music genres are all over the place."
While he says Jen's birthday bash was one of the highlights of his career so far, he also respectfully lists the times he's spun for heroes like DJ Jazzy Jeff, Big Daddy Kane, DJ Scratch, Bell Biv DeVoe, and Jermaine Dupri was up there with it.
He admits his all-time dream gig however is to DJ for Jay Z. And last weekend he surely got several steps closer.
"I did get a few phone numbers," he admitted. "I think I might have a few gigs in future."