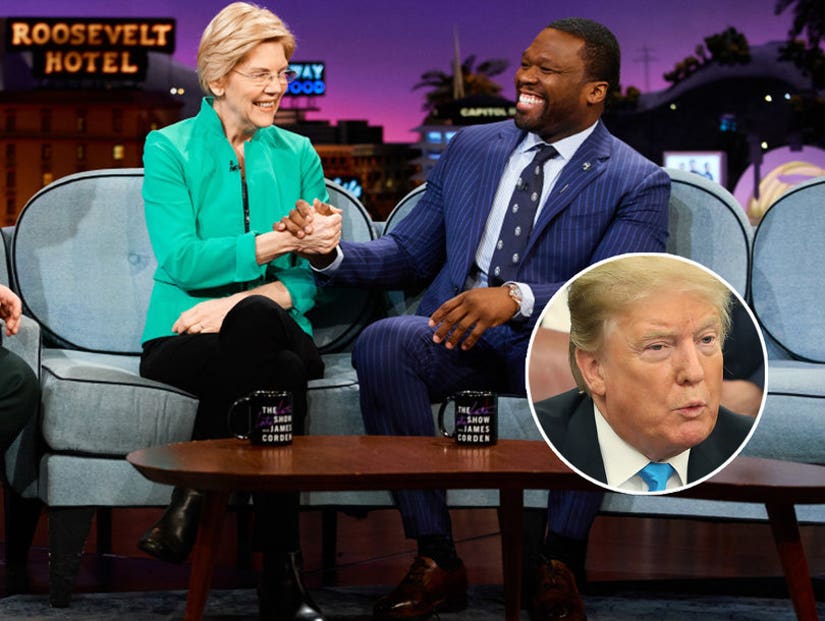 CBS / Getty
He was offered exactly one million 50 cents... and he turned them all down.
Even declaring bankruptcy didn't make him desperate enough to accept THAT cash.
50 Cent has revealed Donald Trump offered him $500,000 just to turn up at his inauguration — and he refused.
The rapper was asked by "Late Late" host James Corden — while unusually juxtaposed with Senator Elizabeth Warren on the couch — if a politician had ever tried to get his support or court him in the past.
"Trump, during inauguration," he revealed. "They offered me a half a million dollars to go."
The rapper clarified that the six-figure sum wasn't to perform at the event: "No, just to come."
"I didn't do it because I didn't know if I could fix the damage,' he continued, breaking into a huge smile.
"To be honest with you, all money is not good money. You gotta be careful what you're doing publicly because... I don't know how you fix that, I'm just like 'woah'."
He added, laughing: "Don't bring me to fix the African American vote! Bring somebody else!"
The "In Da Club" hitmaker did however have advice for his Democratic hopeful co-guest on how to connect with young voters ahead of her presidential run.
"Just relax, you gotta loosen up," he directed, showing her how to unwind her shoulders as she followed suit.
"Hip hop is connected to youth culture... so hang out with me when you the President," he concluded.