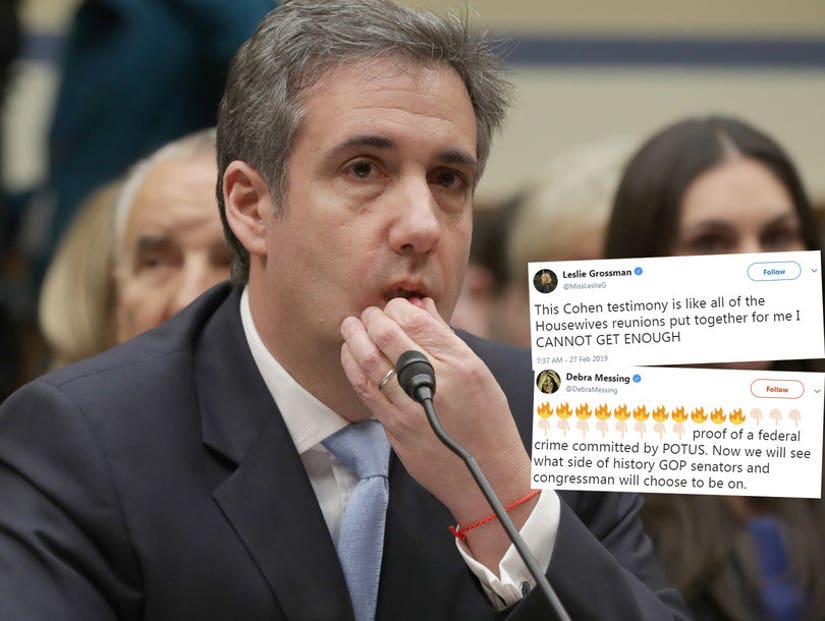 Getty
The president's former fixer and personal lawyer finally gave his public testimony, and Twitter couldn't get enough of it.
The President of the US is currently meeting with a nuclear power he recently called a suicidal rocket man... and that's not even the biggest Donald Trump story of the day.
Michael Cohen, the president's former fixer and personal lawyer, is at Capitol Hill this morning to give a public testimony before the House Oversight Committee, where the words "racist," "conman" and "cheat" featured prominently.
Debra Messing posted a link to the documents Cohen provided — with a dozen fire emojis — calling them: "proof of a federal crime committed by POTUS. Now we will see what side of history GOP senators and congressman will choose to be on."
She continued: "Chilling. Trump saying, 'This campaign will be the greatest infomercial in history.' Can't get clearer than that."
Chelsea Handler was relishing the testimony: "I plan on coming home, taking edibles with my house guests, and all of us getting into bed to watch Michael Cohen testify. Yummy."
So too did Leslie Grossman: "This Cohen testimony is like all of the Housewives reunions put together for me I CANNOT GET ENOUGH."
"The republicans are biffing this so so badly and honestly it's fantastic to watch," she continued in her live tweeting session. "The republican strategy here: YELL LOUDLY IN A SOUTHERN ACCENT."
She also couldn't help having a jibe at Rep Paul Gosar's vicious barb: 'Liar Liar pants on fire!' is literally the best the republicans have and it's pathetic and wonderful."
After tweeting "man these f--ks are already at it. #CohenTestimony" Aubrey O'Day, who was alleged to have an affair with Donald Trump Jr, herself claimed during the testimony: "Cohen came to me also".
She also called out Cohen's interviewers for using victim-shaming techniques: "'if it was so bad, why did you stay?' is not a viable argument of someone's honesty or credibility. Moreoften it is used as a classic mechanism to shame victims," she posted. "Find another area of argument guys... I'm bored."
Amber Portwood claimed the hearing wasn't very balanced: "I'm all for listening to both parties however this is very one sided at the moment! Not very happy with our Congress right now," she tweeted. "And I am a proud liberal who only wants the best candidate, no matter what party to win!! That is how it should be!"
Lots of Twitter users, including Yvette Nicole Brown, were irritated at Republican Representative Jim Jordan branding Cohen a "Patsy" for the Democrats to get at the President.
"What does Trump have on Rep #JimJordan? Look up Trump Lackey in the dictionary and it's that fool," she tweeted. "sheesh Further, he's SO upset about lies and crimes yet supports Tang?! How does THAT work?"
Josh Gad was another incredulous at the Republicans' attack on Cohen's credibility: "How hard do you think it must be to keep a straight face while saying that Michael Cohen is a liar while defending Donald Trump who literally cannot breathe without lying?" he tweeted.
Bette Middler agreed, screaming in all caps: "THE #RIGHTWINGERS ON THE COMMITTEE SEEM DETERMINED TO DISCREDIT MICHAEL COHEN; THAT'S ALL THEY HAVE. THEY DON'T GIVE A DAMN ABOUT THE TRUTH...CIRCLING THE WAGONS, AND IT LOOKS LIKE THEY WANT TO THROW THE AMERICAN PEOPLE ARE UNDER THE BUS AGAIN."
Alyssa Milano made the point: "Michael Cohen is going to jail because he lied to Congress. The Republican angle is, 'he's a liar! How can we believe him?' My question to the Republicans: Do you think he'd lie to Congress AGAIN and risk longer jail time? Also, how dumb do you think the American people are?"
George Takei pointed out: "The GOP wants desperately to remind us that Cohen is a liar, but newsflash: Every single witness who ultimately will testify from that campaign and administration is, too. And guess who's surrounded himself with those fine people? The liar in chief."
He went on to challenge the President: "I dare Trump to swear under penalty of perjury that the testimony Cohen gave—about what Trump knew from Roger Stone about Wikileaks, about hush money payments he authorized to women, and about how he kept Trump Tower Moscow talks secret—was false. Actually, I double dare him."
Takei continued: "It's interesting to watch the GOP turn against all the men they used to hold up as heroes but who have flipped, like Cohen to Flynn. Remember that these fellows were all lying with full knowledge of the President. It's only after they're caught that they become scum."
Patton Oswalt meanwhile retweeted TV writer Mike Drucker: "there is nothing funnier than the 72-year-old millionaire president being worried about his SAT scores."
Comedian Tim Young wrote: "Michael Cohen's expression looks like my friend's dog when it gets yelled at for eating out of the trash."
Variety's Kristopher Tapley opined: "Michael Cohen is spilling so much tea Lipton is out of business."
Stormy Daniel's lawyer Michael Avenatti cried hypocrisy: "I can't help but think back to Trump on AF1 last Spring directing everyone to "ask Michael Cohen" for the answers about what happened re the NDA and payments," he wrote. "Now, we are all being told not to ask Michael Cohen..."
Stormy herself, who Cohen claimed he paid hush money to hide her affair with Trump, shared a statement thanking Cohen: "Michael, I'm proud of you for finally beginning to tell the truth about what you did, and trying to repair some of the harm you have caused. I can hear the pain and regret you feel for betraying your family and your country. My heart goes out to you and your family."
"You spoke about how the president and his attorney put you and your family in danger by calling you a liar and a rat and disparaging you in public,' she continued. "I understand your fear, Michael. I have a family too. Do you believe now that when you and the president called me a liar, when you were his attorney and you insulted me, threatened to bankrupt me and worse, that you put me and my family in danger? I remember the fear you feel. I still feel it."
"Thank you for having the courage, at long last, to begin to tell the truth. I hope that someday soon your family and mine can both leave this nightmare behind."
Trump supporter Geraldo Rivera challenged: "Don't bury the lede on @MichaelCohen212 testimony before Congress: He has No-Zilch-Zero evidence that @realDonaldTrump ever colluded with #Russia to fix the 2016 elections."
Finally Donald Trump himself tweeted:" Michael Cohen was one of many lawyers who represented me (unfortunately). He had other clients also. He was just disbarred by the State Supreme Court for lying & fraud. He did bad things unrelated to Trump. He is lying in order to reduce his prison time. Using Crooked's lawyer!"
In his explosive testimony, Cohen made a number of damaging claims against his former employer, including that he knew about his son Don Jr's meeting with Russians — whom Trump Sr has continuously denied colluding with — at Trump Tower ahead of his election. He claimed Donald Trump was aware of negotiations to build a Trump Tower in Moscow were ongoing during his presidential campaign.
Cohen also claimed the President was aware ahead of time that Wikileaks intended releasing a dump of documents potentially damaging to the Democrats and Hillary Clinton, saying it would be "great".
Cohen claimed he paid hush money to cover up Trump's affair with porn star Stormy Daniels, and was reimbursed with personal checks signed by the president.
"He once asked me if I could name a country run by a black person that wasn't a 'shithole'," Cohen said. "This was when Barack Obama was President of the United States."
"While we were once driving through a struggling neighborhood in Chicago, he commented that only black people could live that way," Cohen continued. "And, he told me that black people would never vote for him because they were too stupid."
Cohen also alleged he, at the President's behest, threatened his former schools with legal action if they ever released his test or SAT scores.