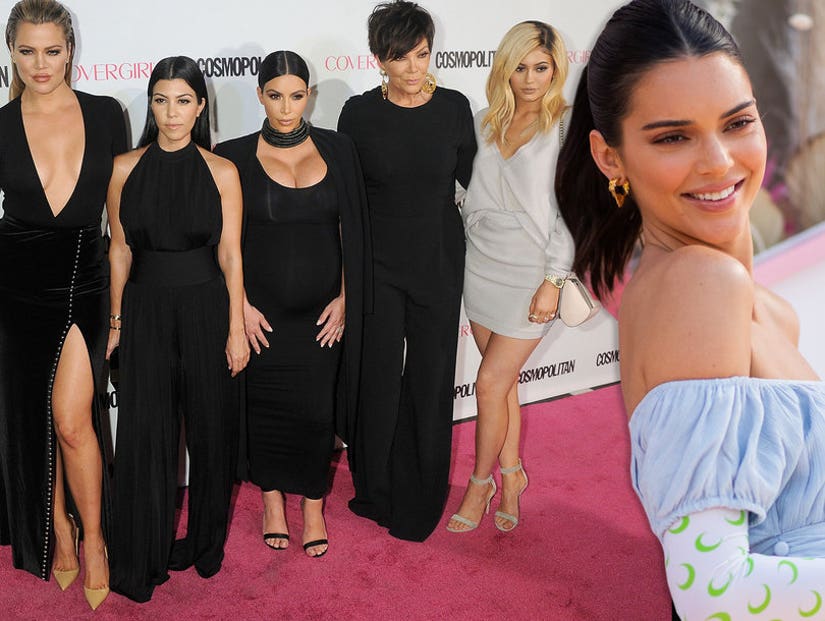 Getty
"I'm not necessarily a lot like them."
Kendall Jenner is the least sexy sister — according to Kendall herself.
The 23-year-old admitted to the Telegraph she always felt different from Kim, Khloe, Kourtney and little sis Kylie growing up because they had "curves" and "boobs".
"My sisters are a lot curvier than me," she said. "They have boobs and I don't have boobs. Growing up being this little twiggy girl, I saw my sisters and always thought 'oh no am I supposed to be more sexy like them?'"
She added: "I almost felt like I didn't fit in for a part of my life."
Kendall differs in many ways from her KUWTK siblings; she gravitates more toward the runway side of modelling, is certainly less vocal about her romantic relationships, and remains the only one without children.
"I'm not necessarily a lot like them," she said. "I like that I have a different vibe to everyone. I like to do different things. And that's OK."
According to the interviewer, questions about Kendall's personal income was "firmly off the cards"; however she did admit she has no problem spending her hard-earned cash.
"We're a very female-heavy, work-driven family. We all work really hard," she said. "It's an empowering feeling to be able to give yourself a little gift that you know you'll love for a long time."
"I love learning from other women and feeding off each other and supporting each other," she continued, adding her most treasured possession is her "female relationships."
"To have women around me now – whether it's friends or family – it's super important for me."