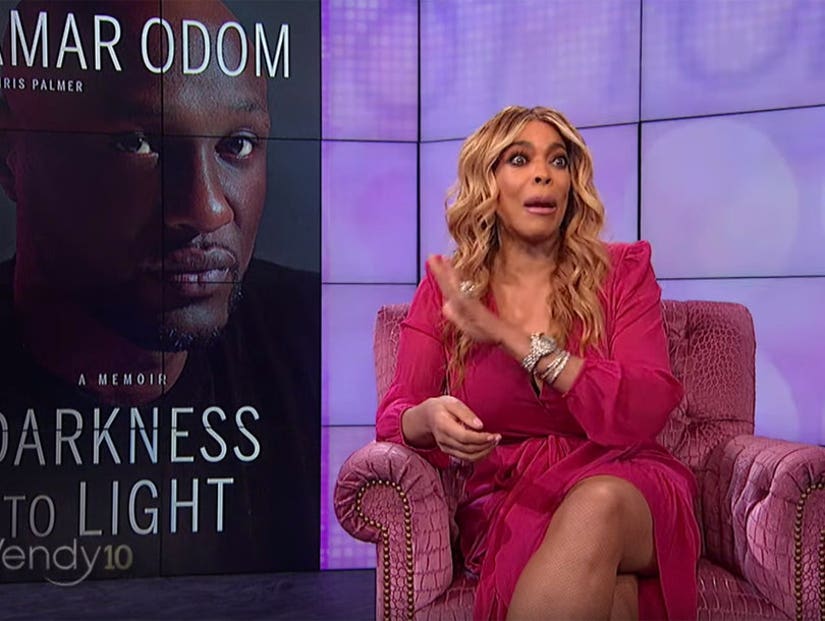 Fox
Wendy also issued a warning to Khloe Kardashian on her show.
Despite her mixed messaging throughout her opening segment, Odom took it all as a positive -- and shared a message of praise to Williams on social media after he caught wind of her comments.
"Hi Wendy, I love you too. Thanks for telling your audience that my book should be #1 in the universe and I really can't agree more," he wrote on Instagram. "I think that US being both recovering addicts, we get to see the world from a different perspective and are actually DECIDING to use our celebrity status and influence to inspire people and sell a message of hope. A message of change and self love."
"I love you for that and I love you for not forgetting about a small act of kindness towards you very far in the past," he continued. "I love you for using that little act of kindness to show the world what I am too, beside being an addict. Can you join me on my new mental health movement, LET's change together? Love, Lamar Odom."
He added, with a wink, "And how about I give you an exclusive on Book #2"
During her show on Friday, Williams said she has always had a soft spot for Lamar, before sharing a personal interaction she had with him before her TV days.
"I'm conflicted. I love Lamar Odom, as you know. The first time I ever met Lamar, what did he buy me? Jeans. He left his credit card on the counter he bought me some jeans," she revealed to her studio audience. "I didn't follow any basketball or any sports and at that time I wasn't doing hot. I was on the radio. Who's that big man and why he buy me some jeans?"
"I like Lamar and Lamar is a very nice man, he's a very sweet man and he's a very handsome man when he has himself together," Wendy continued, before explaining that she made everyone on her staff read his book, "Darkness to Light."
Adding that she didn't believe the tell-all was "done from a mean-spirited way," she said she was "really shocked this is not number one all over the universe." Though she said she didn't learn much about him -- despite his relationship with Taraji P. Henson -- she said it was good to hear about his troubles from his own voice.
Williams also said she'd rather talk about Lamar in Hot Topics than interview him on the show, so she could keep it real with her audience. "I love him so much that I couldn't do him dirty," she explained.
She ended the segment by addressing some of his recent comments about Khloe Kardashian, as he called her the love of his life and said he'd still love to get back together with him.
Wendy's advice to Kardashian: "Khloe, you leave that man alone. You leave him alone. Khloe, move on, leave this man alone."
Williams has been very open about her own battle with drug addiction, including her stay in a sober living house this year.
Waiting for your permission to load the Instagram Media.