Host Zachary Levi gets the middle finger from Princess Love, while someone pulls a Kanye, and The Rock, Jada Pinkett Smith and the women of "Surviving R. Kelly" make powerful statements.
It may not have been live, but that didn't stop the "2019 MTV Movie and TV Awards" from being a wild and unpredictable night.
Zachary Levi presided over the ceremony, which was taped on Saturday for broadcast Monday, and the "Shazam!" star brought lots of heart and humor to a mostly positive and uplifting show. Even though his monologue was bright and cheerful, it got some negative reaction from one of his targets -- but he managed to bring an almost annoying positivity to parodies of both "Us" and "Game of Thrones," two projects not exactly known for their laughs.
It was a night of empowerment, with amazing moments from Dwayne "The Rock" Johnson, Jada Pinkett Smith, Brie Larson and many of the women behind Lifetime's explosive docuseries "Surviving R. Kelly."
But there was plenty of levity, too, with Levi setting the tone. "Chilling Adventures of Sabrina" star Kiernan Shipka finally resolved one key question about her on-screen love triangle: who is the better kisser? Elsewhere, Lizzo brought a blast of energy and fun to her performance of "Juice," while "The Challenge" star Johnny Bananas totally tried to steal the show -- and someone else's limelight -- with a Kanye West moment of his own.
Think "Imma let you finish..." Check out all the night's most memorable moments below:
Zachary Levi Gets Flipped Off by Princess Love
Just a few minutes into the show, host Zachary Levi got the two-fingered salute from one of the audience members.
Following a light-hearted joke about Sandra Bullock, he set his sights on "America's other sweetheart Ray J, from Love & Hip Hop." He then added, "Although I'm sure some of you are more familiar with his work as a cameraman."
The led to some groans from the audience and two middle fingers from Ray J's wife, Princess Love. "I had to. I'm sorry. It was collectively a great idea."
Later, he threw himself into a pivotal moment in the final season of "Game of Thrones" that ended about as well for him as it did everyone that Daenerys Targaryen felt betrayed her. In other words, even though he was a man of many, many words as he tried to save his bacon from being crispified, it took only one from the Mother of Dragons to end this sketch.
Johnny Bananas Pulls a Kanye
Getty
One of the most buzzworthy moments of the evening wasn't shown at all on television. While it didn't air, "The Challenge" star Johnny Bananas gave us major flashbacks at Saturday's taping to when Kanye West famously hijacked Taylor Swift's VMA acceptance in 2009 to say that Beyonce should have won instead.
When "Love & Hip-Hop: Atlanta" went to accept their golden popcorn for the Reality Royalty category, John Devenanzio AKA Johnny Bananas jumped on the mic before the actual winners. And "The Challenge" star proved his motives were much more self-serving than Kanye's.
"We finally won! After all these years, it's about time MTV finally gives 'The Challenge' the recognition it deserves," Johnny told the crowd. "All the other shows that got nominated are essentially paying rent in the genre we created." According to THR, the moment was cut to "give the actual winners their moment to shine."
"Surviving R. Kelly Wins Best Documentary
Executive producer Brie Miranda Bryant, was on-hand to accept the Best Documentary award for Lifetime's groundbreaking and monumental docuseries "Surviving R. Kelly," flanked by several of the women interviewed for the project.
"This isn't just a trophy to us, because this really speaks to the important cultural impact that this generated," Bryant said. "This team believes in the power of numbers. 54 individuals sat to tell this story. Entire production teams assembled their shields to tell this story. Survivors walked through the fire and then stood again to tell this story, and parents shared the hell that they still stand in to tell this story."
She went on to add, "Around the world and to millions of people, six months later we are still standing in this room and telling this story, so thank you. To our survivors and parents, we know the journey does not start or stop with this documentary, but the world is listening now. Because of your bravery, other girls and boys, women and men are now speaking without shame and being heard without judgment. Because of your courage, you created change and you survived."
The fallout from the docuseries continues to be felt, with R. Kelly pleading not guilty to 11 counts of sexual assault and abuse earlier this month. He continues to maintain his innocence against all charges and allegations brought in the docuseries and beyond.
Sandra Bullock Relates Parenting to "Bird Box"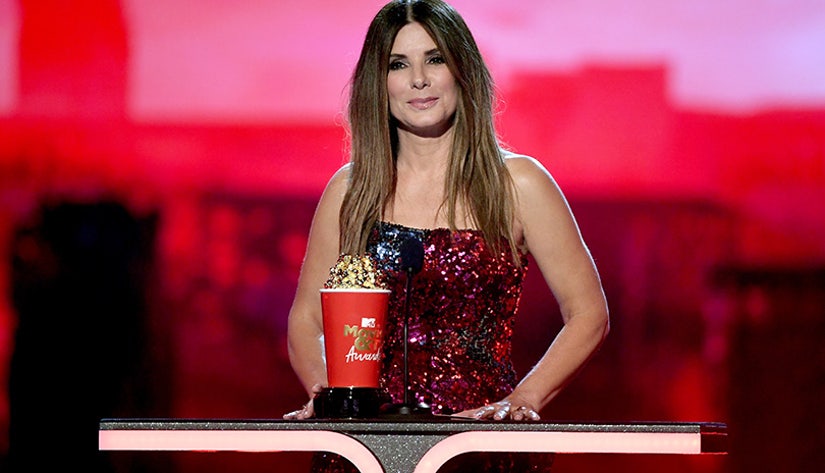 Getty
Even though it was a horror film about a terrifying monster that drives you mad if you look at it, Sandra Bullock saw Netflix's "Bird Box" as more of a story about motherhood, as it was her character who took on that role for two young children throughout the story's terrifying journey.
Speaking directly to her own children -- for whom she ironically said she made the film -- Bullock said, "Even though you can't see it until you're 21 because apparently a movie about being a mommy is a horror film, you will know when you see it that there isn't anything I wouldn't do for you."
The actress went on to crack a few jokes about the real horrors that mothers face every day before giving a shout-out to some of the strong women in attendance she hopes serve as role models for her son, including Brie Larson, Jada Pinkett Smith and Gal Gadot, who presented her with the award.
Jada Pinkett Smith Says We're All Trailblazers
Jada Pinkett Smith may not think she's worthy of MTV's Trailblazer Award, but that could be because she doesn't see the cultural significance of her Facebook chat show "Red Table Talk." The series is unflinchingly raw and she has been so vulnrable and real and raw in a way just not seen in that format ... or many formats at all, for that matter.
She shared her thought process and how she came to accept her own worthiness. "I said, 'Jada, why don't you think you deserve this award?'" she admitted. "It was because I was comparing myself to all the many trailblazers I admire and I realized, 'Okay, maybe we do have something in common.'"
She then broke down the difference between the kind of trailblazing that is obvious and can be seen, and the type that precedes that and that exist inside of almost everyone. "Often we applaud the trails people blaze in the external world that we can see, but very rarely do we applaud the trails that have raised in the hidden rules of the mind that are full of uncertainty, false beliefs and pain. And it's these internal obstacles that must be challenged in order to muster the courage to forge new paths that we can see in the world.
She went on to add, "Then I thought a little more deeply. I was thinking every last person in this room must do that at some capacity. So that means that every single person in this room is trailblazing, whether it's within or without. So as you honor me tonight, I want to honor all of you and I want to say here's to us for all of our trailblazing. Keep it up and thank you."
The Rock Wins Generation Award
Dwayne "The Rock" Johnson took home the venerable Generation Award, and took his moment in the spotlight to spread a powerful message to MTV's young fans. "I want to share a really quick lesson with you guys that I've learned over the years; it's a very valuable lesson about the most powerful thing that we can be is ourselves."
He related this message through his own story, hitting Hollywood from the WWE as a "half black, half-Samoan, six foot four, 275-pound pro wrestler. They, Hollywood, did not know what to do."
In a story we've heard a million times, Johnson then started talking about how Hollywood tried to change him and mold him, saying he was told, "You gotta drop some weight, you gotta be somebody different, You gotta stop working out; stop doing the things that I love." He was even told to stop calling himself "The Rock."
After falling into that trap for awhile, The Rock finally made a choice. "I wasn't going to conform to Hollywood, Hollywood was going to conform to me," he said.
And staying true to his authentic self, Johnson was even introduced with a haka; a ceremonial Māori dance (with a bit of hip-hop flair) which also made a recent red carpet appearance with Jason Momoa.
Waiting for your permission to load the Instagram Media.
Here's the thing that I want to share with you guys and this is for the younger generation, the teenagers, the ones on the second level, third, fourth, fifth," The Rock continued. "So you want to be your most authentic self, but the lesson I want to share with you guys is that's not enough because there's this other side ... yes, it's important to be yourself, but you've got to recognize the joy and the responsibility of bringing everybody with you."
He went on to explain how to do that, "by being kind, by being compassionate, by being inclusive and straight up, just being good to people because that matters. And if you can hit that place, if you could hit that place of being authentic and good to people, that's where the real power is. That's when you become powerful. That's when you become influential. That's where you can have global influence in a positive way. So that's it."
He then summed it up with a quote that he had adopted into his DNA and lived his life by: "It's nice to be important, but it's more important to nice."
Kiernan Shipka's "Chilling" Kiss Diss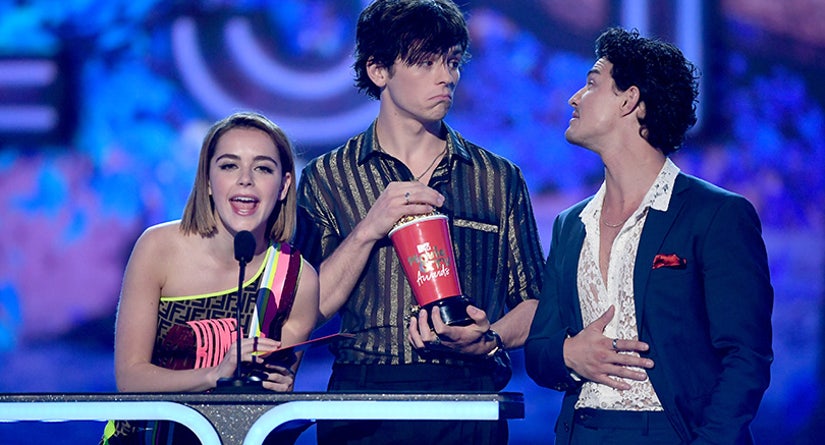 Getty
In Kiernan Shipka's defense, she was totaly put on the spot by "Chilling Adventures of Sabrina" co-stars Gavin Leatherwood and Ross Lynch. The guys who share a love triangle with Shipka's Sabrina on the hit Netflix series, kept pushing her to tell them which was the best kisser.
Did they expect she would actually do it? Well she totally did, and not with a politically correct, safe answer, either. She put it out there.
"It wouldn't be fair to Ross," she said before a very pregnant pause. "To let everyone know what a great kisser he is." Boom! Something to work on maybe, Gavin?
Maybe Lizzo is in on it with Whoopi Golberg, trying to get another sequel to "Sister Act" made, or at least lobby for a role in it, should it ever happen. She gave a huge nod to "Sister Act 2" with her performance, even kicking it off in a choir robe and sampling "Joyful, Joyful."
Then, just like in the film, we cut to backstage to see a stage manager telling her dancers to ditch their own choir robes. When they finally did come out, it was all "Juice" from the top to the bottom, with Lizzo leading the charge.
The up-and-coming superstar was full of bright energy and a little bit of cheeky playfulness as she danced and sang and brought the house down. She even paid tribute to the derriere messaging, which often reads "Juicy," by covering her own rump with her name bedazzled and sparkling. We sense a look.
Brie Larson Steps Aside for Stunt Doubles
After winning the award for Best Fight, "Captain Marvel" star Brie Larson took to the stage, but only to give up her spot behind the podium to her two stunt doubles in the film.
The actress brought Renae Moneymaker and Joanna Bennett with her to accept the award, introducing them as "They're the living embodiment of Captain Marvel." She said, "I could not have made this film without them. They are really the baseline for who she is."
They certainly put their bodies and their talent on the line many times throughout production to bring the film's action to life, and the women were genuinely touched to be sharing this moment with Larson, and to be honored in their own right for all that hard work.
They even took a moment to thank Larson for acknowledging not just them, but the entire stunt community with this moment.