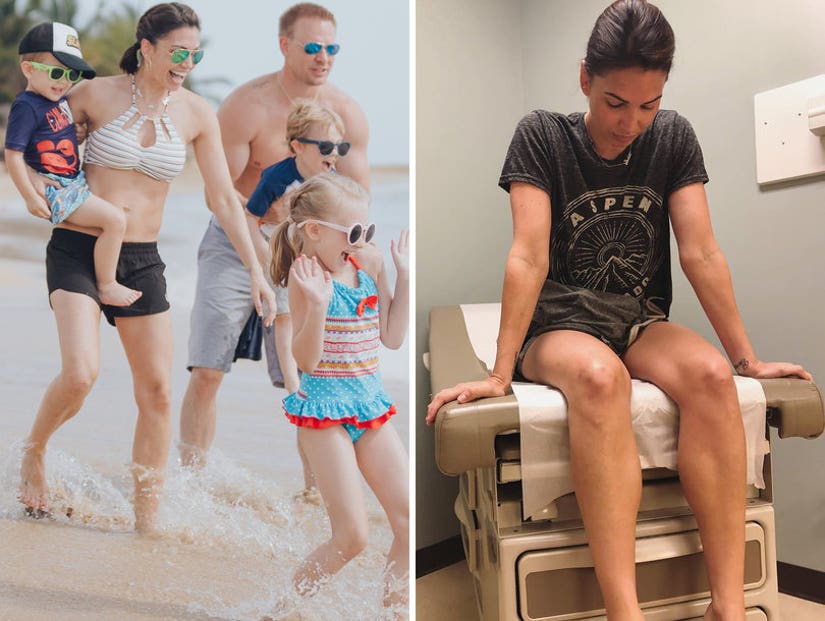 CaribePhoto / Instagram
The mom of three was struck down by severe stomach cramping, vomiting and low blood pressure.
Melissa Rycroft was struck down by a mystery illness following a trip to the Dominican Republic.
"The Bachelor" alum just returned from a family trip to the Caribbean nation, where ten US tourists have mysteriously died in the past year.
The reality star had been staying at the upmarket Nickelodeon Hotels & Resorts Punta Cana, along with husband Tye Strickland and their three children aged eight, five, and three.
But just days into the trip, Melissa began to feel unwell, suffering severe stomach cramps, vomiting and low blood pressure.
Doctors still don't know what happened, and are awaiting test results on Thursday — including one for parasites.
"After a really rough week, I have been put on a liquid diet, and given meds for my severe cramping," she wrote on Instagram. "Fingers crossed this goes away in 3 days - doc says next step is a Parasite test if it doesn't..."
Updating fans on her Instagram stories on Wednesday, she revealed she was getting further blood-work done, but was starting to feel better after new medications.
Ten US tourists have died in mysterious circumstances in the last year alone, each one reported in good health beforehand; some families who reluctantly accepted original pathology findings are now re-questioning what they first believed were suspicious deaths.
Joseph Allen was found dead on June 13 at the Tierra Linda Resort in Sosua, after complaining about feeling too hot by the pool and returning to his room to shower and lie down.
Leyla Cox, 53, died in the Excellence Resorts in Punta Cana on June 11, reportedly of a heart attack, though the family questions this.
Cynthia Ann Day, 49 and Nathaniel Edward Holmes, 63, were found dead at the Grand Bahia Principe La Romana on May 30, after failing to check out.
Miranda Schaup-Werner, 41, died on May 25, at the Luxury Bahia Principe Bouganville, after drinking from the minibar.
Robert Bell Wallace, 67, died on April 14, at the Hard Rock Hotel & Casino in Punta Cana, after drinking scotch from the minibar.
Jerry Curran, 78, died in Punta Cana in January 26, falling ill after dinner and drinks.
David Harrison, 45, died in July 2018 at the Hard Rock Hotel and Casino in Punta Cana, hours after he reported feeling ill; his wife said she faced "pressure" to have him cremated.
Yvette Monique Sport, 51, died in June 2018 at the Grand Bahia Príncipe La Romana in Punta Cana, after drinking from the minibar.
Mark Hurlbut Sr died in Punta Cana on June 15, 2018; his son reported he had green foam coming from his mouth.
Respiratory failure and pulmonary edemas were cited in many of the initial autopsies.
Aside from fatalities, there have been dozens more reported cases of severe illnesses; in June some 40 high school graduates and some parents from Oklahoma flew for a senior trip to DR, with many falling ill after eating at a Japanese restaurant at the Hard Rock Hotel and Casino.
Toxicology specialist Reynold A. Panettieri Jr told People the circumstances of the deaths are "definitely very strange."
"Healthy people don't just die. And the couple dying at the same time certainly tips us off that something is very wrong," he said.
The FBI is currently helping the Dominican Government investigate the recent slew of tourist deaths.
Some of the pathology tests are still outstanding, but one line of inquiry is a tainted batch of bootleg liquor.
"The safety and security of US citizens that live in, work in, and visit the Dominican Republic remains our highest priority," Ambassador Robin Bernstein said in a statement. "These incidents are tragic and we offer our deepest condolences to those personally impacted."
While the numbers may seem alarming, they are statistically not out of the norm; in fact, would-be tourists are still more likely to be killed in the US than DR, NBC reported.
According to the State Department, which tracks US fatalities abroad from so-called unnatural causes (such as auto accidents, suicides, homicides and drownings), in the first six months of the year, 14 Americans died in 2009, 13 in 2016, and 15 died in 2011 and 2015, compared with the seven who died this year (some of which may have been natural causes).
"We have not seen an uptick in the number of US citizen deaths reported to the department," a State Department official told the site.