"Unfortunately this is the truth of what we went through and I wish it could have aired sooner," Kim tweeted during the show.
While the explosive episode, which documented the Kardashian clan discovering that something had happened between Kylie Jenner's former BFF and Khloe's baby daddy, aired on TV, Khloe's sisters Kim and Kourtney, as well as best friend, Malika Haqq, took to social media to offer some commentary on the dramatic events.
"As uncomfortable as reliving this all over again is, we have been so open with everything in our lives from giving birth, marriages, divorces, the good times and the bad and unfortunately this is the truth of what we went through and I wish it could have aired sooner," Kim tweeted during the show. The KKW founder also pointed out the fact that she always seems to be in interviews whenever "drama breaks out".
Meanwhile, Kourtney retweeted a fan's tweet, which read, "This episode makes me so sad but at the same time makes me think about how family support is everything and important. I love to see everything that you guys do for each other ❤️ @KimKardashian @kourtneykardash @khloekardashian @KylieJenner @KendallJenner #KUWTK," and added, "Unconditional love. It's in the hard times when you realize who the real ones are." Momager Kris Jenner also retweeted the sweet message.
The "Poosh" founder interacted with another follower who wrote some kind words about her strong relationship with Khloe. "@kourtneykardash is such a great sister and I love how you stay optimistic for Khloe," the fan tweeted. "She deserves the world," Kourtney wrote alongside the retweet.
When a fan complimented Kourtney on how she helped Khloe through the drama, the mother of the three said, "I feel blessed and thankful to have her."
While Kourtney's messages were more about sisterly love, Khloe's bestie Malika seemed to take shots directly at Tristan when she posted multiple quotes from Steve Harvey to her Instagram stories.
"If a man loves you..he's willing to profess it. He'll give you a title after a while. You're going to be his lady, his woman, his fiancee, his wife, his baby's mama, something," one of the quotes read. Another very timely quote stated, "Listen to what a man says, watch what he does."
Read on for see more of Malika' posts.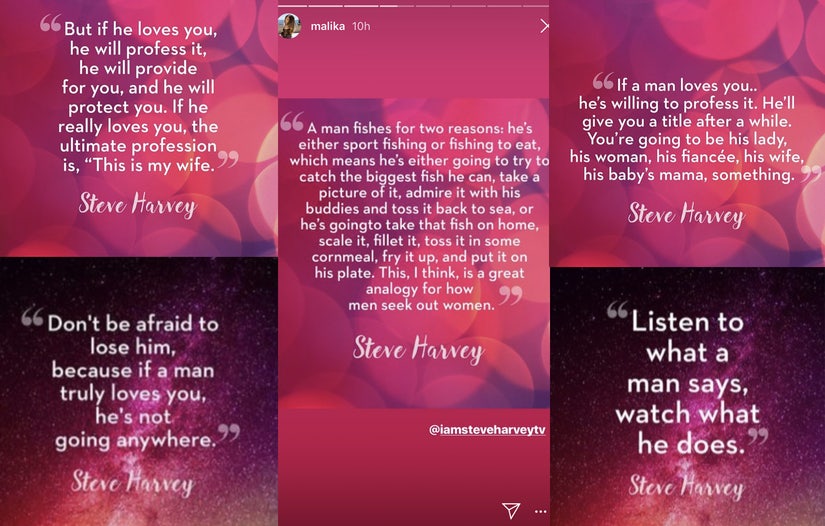 Instagram
Khloe, on the other hand, told her fans before the episode aired that she would not be live-tweeting the episode. However, earlier on Sunday, the "Revenge Body" star shared some cryptic messages on her Instagram Story that seemed to reference what went down.
"I wasn't ready for half the shit I been through, but obviously I'm built for it," one meme read. "Every time I judge someone else, I reveal an unhealed part of myself," another said.
"It's funny how after an argument is over, you start thinking about more clever shit you could have said," a third quote read.
See how Khloe's friends and family reacted to the episode in the tweets below.
As uncomfortable as reliving this all over again is, we have been so open with everything in our lives from giving birth, marriages, divorces, the good times and the bad and unfortunately this is the truth of what we went through and I wish it could have aired sooner.

@KimKardashian