Queer Eye's style guru approves of Sheriff Hopper's new look -- and spills on Season 4 of the Netflix makeover show.
"Queer Eye" is making an impact, not only on its viewers, but pop culture as a whole.
In just three seasons, Netflix's reboot of "Queer Eye for the Straight Guy" has become one of the streaming platform's most beloved series, turning its Fab 5 into a quintet of overnight celebrities.
Sure, maybe you knew Karamo Brown from his season on "The Real World" or Jonathan Van Ness from his hilarious "Gay of Thrones" recaps, but "Queer Eye" has given them and costars Tan France, Bobby Berk and Antoni Porowski a massive boost in popularity.
With the show's success -- Season 4 is already coming later this month -- comes more exposure, a bigger platform and, yes, even a few celebrity fans. For France, it's fantastic ... and just a little bit "weird."
"It's very weird to be in that position," he told TooFab, referring to being stopped by people like Jon Bon Jovi for photographs. "It's lovely when it's on the street, but when it's your peers -- well, actually no, I'm calling them peers but they're actually not, they're people that honestly blow my mind and I've been a fan of for years -- but they get excited when you turn up a red carpet or for an event."
Noting he's felt "the atmosphere change" on a red carpet when the boys all show up, France said "you realize it's because they're excited to see you and it's a very strange feeling, it's a feeling you'll never get used to." And, thanks to the show's success, "people that I could have only dreamt of interacting with or seeing on the street, I get to call friends and that is just the most exciting part of it all."
Meanwhile, fans tuning into "Stranger Things" this weekend were surprised to see Sheriff Hopper (David Harbour) rocking a very Tan-inspired ensemble. Finally free of his uniform, Hopper sported a playful print and, you guessed it, a "French Tuck" on his after-hours.
"I mean, I don't know when that season was shot, but I would like to believe that I helped him for that episode," said France with a laugh. "I think he looks great. He looks like he's been 'Queer Eyed' and I'm very happy about it."
For what it's worth, Harbour was spotted filming the current season in that outfit a month after the second season of "Queer Eye" dropped.
Eagle-eyed fans may have also noticed another "Queer Eye"/"Stranger Things" crossover, as Season 2 "hero" William Mahnken and now-wife Shawna were also featured as extras throughout the new episodes.
"Of course we noticed and I'm so happy," exclaimed Tan. "He's such a nice guy and I know that he wants to be an actor, so that he's given a shot really makes me happy."
Mahnken isn't the only former show "hero" Tan and the rest of the Fab 5 have kept tabs on though. The gang recently attended World Pride with Season 3 alum Jess Guilbeaux and Season 2's Skyler Jay and regularly keep in touch with many of the show's other stars.
"I see them regularly enough at this point, which is what's lovely about what we are able to do on 'Queer Eye' now compared to the original show," said France. "We're in touch with them all via social media, so we see them all regularly too."
Regarding Pride, he added, "It was lovely for them to join us on the float. That moment is something I'll never forget. It felt so powerful ... and seeing the love and support from the crowd for us was just so beautiful."
Waiting for your permission to load the Instagram Media.
A new crop of makeovers are in store when the fourth season drops later this month and one of them gets a little personal. Among the subjects is Jonathan's former orchestra teacher and France promises a very moving episode.
"This one, I have a special and emotional connection to because this woman did help mold Jonathan's life, and she encouraged him to be the person he is today," said Tan. "It felt amazing to be able to give back to somebody who has given so much back to the community. I love that we got to help her. I know it meant so much to Jonathan, so that one has a special place in my heart for sure."
Giving back is something France is really focused on himself right now too, thanks to his new partnership with Men's Wearhouse. The stylist teamed up with the company for their month-long Suit Drive, which collects professional clothing for unemployed men and women re-entering the workforce.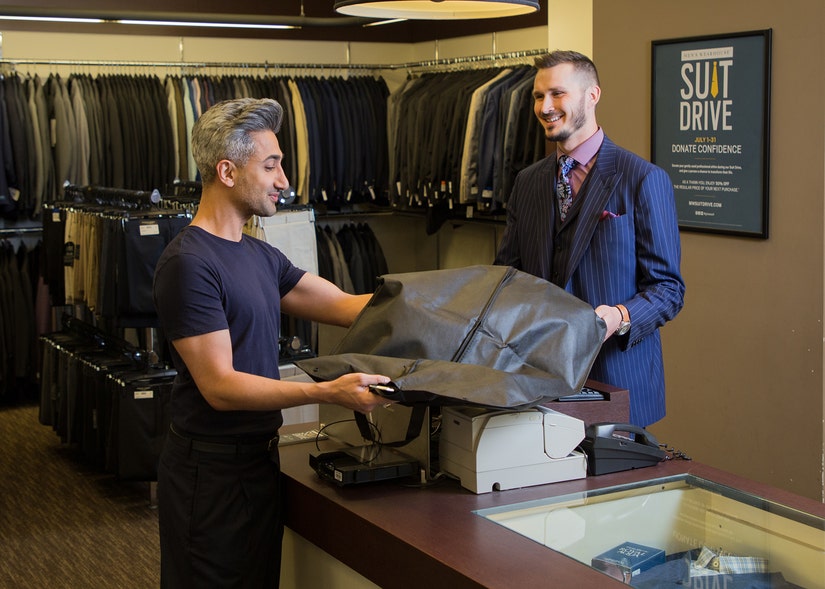 C.Wilson Photography
"The show blew up over the last year and a half since it launched. It's gotten bigger and bigger and it has allowed me to do the work that I want to do," said France. "I would never have thought I'd be in the position to encourage people to help other people the way that I am and that's the not just through 'Queer Eye' now. It's through things like this partnership with Men's Wearhouse. The more I can do projects of this sort, the happier I'll be."
He also offered up this advice to anyone going on a job interview: "Dress up more than you think you might need to."
"Don't see your interview -- unless you're going to an interview at a major fashion magazine -- don't see your interview as a style moment, a fashion moment," he added. "That's not what that's about. You want to be a professional and appropriate. And so I always say to people when they go for interviews, stay classic."
The drive runs all month long. "Queer Eye" Season 4 drops July 18.