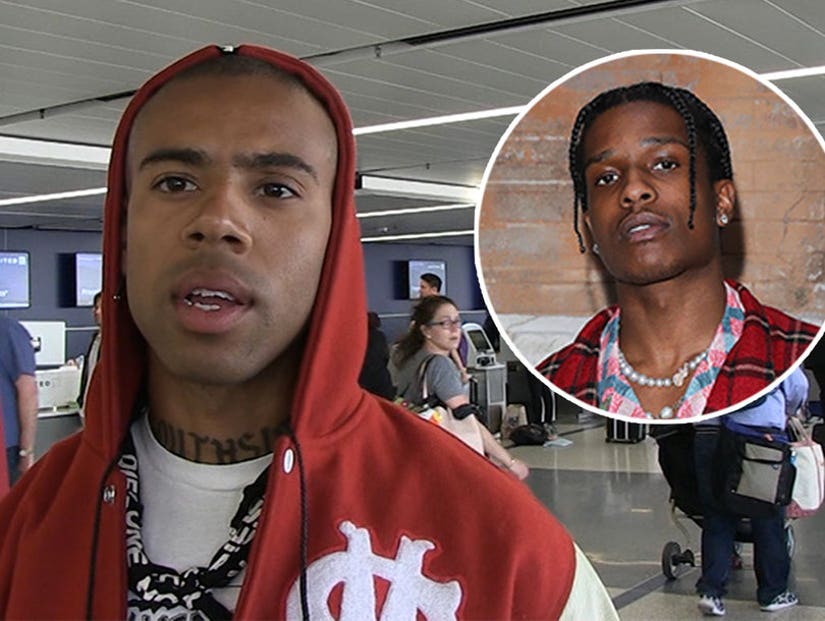 TooFab / Getty
"You're in a sea of whiteness."
Europe is racist, and that's why A$AP Rocky is in the situation he is in, according to Vic Mensa.
The rapper weighed in on his fellow hip hop star's ongoing detention in Sweden, where he continues to be held more than two weeks on without any charges being formally pressed.
"That's how it is being black anywhere in the world, especially in Europe," Vic said at LAX. "Europe is very racist."
"There aren't a lot of people that look like you in Europe, there just aren't a lot of black people most places. You're in a sea of whiteness," he continued. "Especially if you get into an altercation or something happens, you're going to be the first to get singled out."
Vic has been to Sweden and never had trouble there, but revealed he did have a run in with German police.
"They was on me in Munich. They was following me all through the train station," he said. "I was just looking for a Belgian waffle. I had dreads and tats though, so they was up on me, sticking their hands in my pockets, searching the shit out of us for no reason."
A$AP — whose real name is Rakim Mayers — was arrested in Stockholm on July 3, one day after headlining a hip hop festival there, on "probable grounds for serious assault" after allegedly being involved in a street brawl.
Videos circulating online show the altercation, but also appear to show Rocky's entourage asking the men to stop following them shortly beforehand.
He was denied bail after being deemed a flight risk. He could face up to six years in prison if found guilty of assault.
Mensa concluded: "A$AP is a strong dude. You gotta hold your head. We praying for you, thinking about you out here, we know you're gonna be Gucci. Asap is a good dude above all, he ain't even on that drama, that's not even him."
The ordeal has even reached the White House, with President Trump vowing to get involved.
"Just spoke to @KanyeWest about his friend A$AP Rocky's incarceration," the POTUS tweeted on Friday. "I will be calling the very talented Prime Minister of Sweden to see what we can do about helping A$AP Rocky. So many people would like to see this quickly resolved!"