"This is so gross," Thorne wrote. "WE JUST LET THIS SHIT SLIDE ALL THE TIME IT AINT OK."
Stars are speaking out against celebrity photographer Marcus Hyde following accusations of sexually inappropriate behavior.
Hyde, who has worked with multiple A-listers including Kim Kardashian and Ariana Grande, came under fire this week after Los Angeles-based model Sunnaya shared screenshots of what she claimed was a direct message conversation she had with Hyde, where the photographer allegedly told the model he'd shoot her for free if she sent nude photos.
When Sunnaya refused and said she was only "comfortable shooting lingerie and partial nudity," Hyde allegedly said the charge would be $2,000.
Waiting for your permission to load the Instagram Media.
"I have been reading all of the messages and stories from women regarding inappropriate and inexcusable behavior of a photographer that I have worked with in the past," she began in a lengthy statement on her Instagram Stories Tuesday.
"My own experiences have always been professional, and I am deeply shocked, saddened and disappointed to learn that other women have had very different experiences," she continued. "I stand in full support of every woman's right to not be harassed, asked or pressured to do anything they are not comfortable with. We cannot allow this type of behavior to go unnoticed and I applaud those who speak out."
Similarly, Grande also shared a lengthy message to her Instagram Stories condemning Hyde's alleged behavior. Like Kim, Grande didn't mention Hyde by name and urged her followers to not shoot with photographers that make them "uncomfortable."
"i have just read some shocking and really heartbreaking stories," the singer wrote. "i hate that this is a conversation."
"please do not shoot with photographers who make you uncomfortable or make you feel like you need to take your clothing off if you don't want to. if you want to, sick," she added. "but if you don't, please don't. if they tell you you have to pay more money if you're clothed that's f--ked and i'm sorry that has happened to you. i promise there are so many respectful, nice, talented photographers out there."
Actress Bella Thorne also weighed in on the controversy. The former Disney star commented on Diet Prada's Instagram post, which contained screenshots of Hyde's alleged conversation with Sunnaya.
"This is so gross," Thorne wrote. "WE JUST LET THIS SHIT SLIDE ALL THE TIME IT AINT OK." She added in another comment, "So normal tho and that makes it MORE GROSS."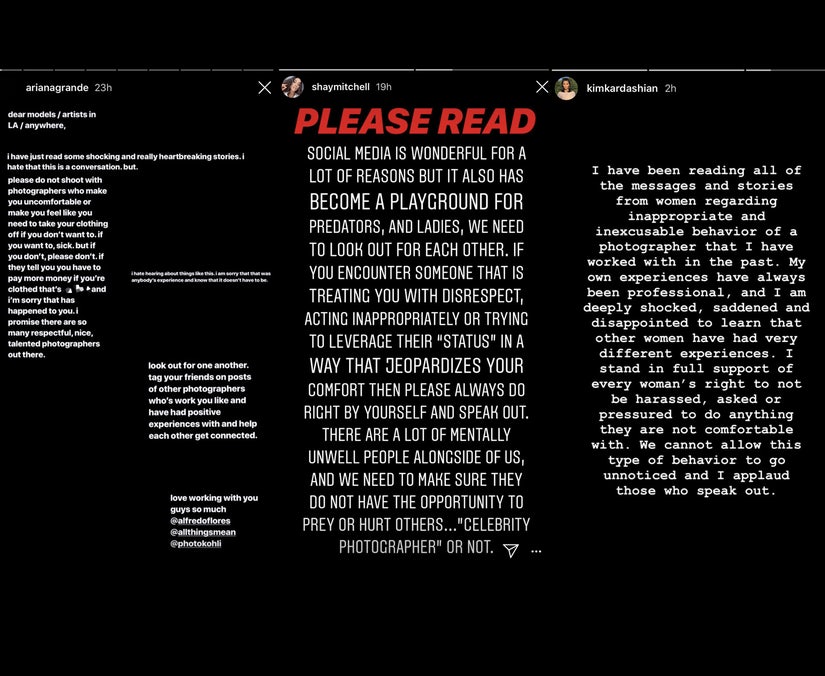 Instagram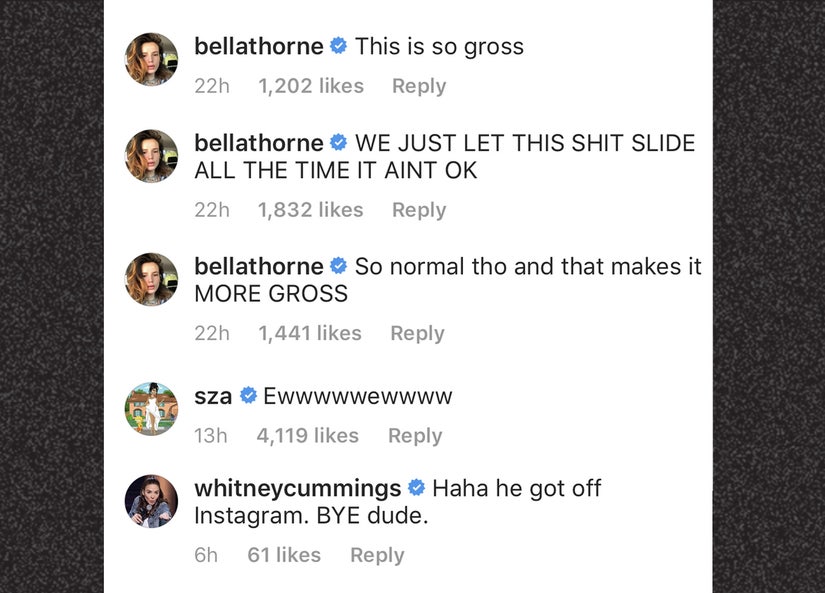 Instagram