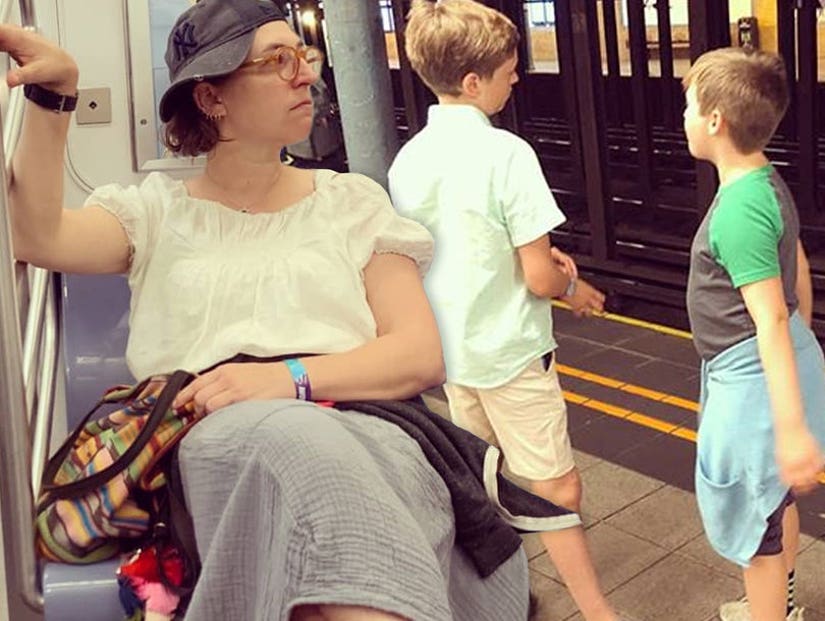 Instagram
"It was a very powerful moment of unity and understanding."
Mayim Bialik took to Instagram to share a profound moment of anti-hate on the NYC subway.
"The Big Bang Theory" star posted a photo of a fellow passenger rubbing out the word "nazi" from a subway seat as her boys watched.
While in the Big Apple for the Fortnite World cup with her sons, 13-year-old Miles Stone and 10-year-old Frederick Stone, the trio were surprised by a touching lesson on compassion, sensitivity and unity from a stranger sitting nearby.
Bialik, a devout member of the Jewish faith was with Miles and Frederick when they noticed and pointed out the word "nazi," which had been scrawled on one of the seats in their subway car. Other passengers also noticed the offensive graffiti and without word, the stranger next to them pulled out hand sanitizer and began rubbing the word off the seat. Bialik recognized this as an appropriate and important moment to capture, pulling out her phone to snap a pic of the stranger with her boys witnessing the gesture.
Posting to Instagram, she described the encounter as, "a very powerful moment of unity and understanding."
"While in NYC for the #FortniteWorldCup this past weekend, something truly amazing happened on the subway. Someone had written the word 'Nazi' on a seat. My boys noticed it. But so did the other passengers. They took out some hand sanitizer and began removing the marking.THIS is America. It was a very powerful moment of unity and understanding, and I'm grateful that my boys got to witness it in action. ❤️" she captioned the post.
Waiting for your permission to load the Instagram Media.
The post hit home for many of Bialik's fans, who took to the comments to share their gratitude and praising Bialik for her stellar parenting.
"This post makes me happy in so many ways. ❤️ Have a great time, guys!" one fan wrote. Another added, "Everyone can do their part to eradicate hatred. Thank you to your boys for doing theirs!" While another wrote, "You are an Awesome person!!! And what wonderful boys you have...Great jobs raising your kids!"
While it was a touching post with an important message, Bialik also used it as an opportunity to humorously defend the NYC subway, which to this day still carries a reputation for being dangerous and unsavory.
"Also, yes, I ride the subway with my kids. The most dangerous thing about it is wearing a Yankees hat into Queens 😂"