"We weren't looking for it," Delevingne says of her relationship with Benson. "It was really just very authentic and natural."
In getting candid about the subject, as the 26-year-old London-born model often does, she felt it made sense to discuss Ashley Benson as well as her awkward introduction to the topic of sex at age 14.
"I'm not just talking about sex for sex. I'm talking about experience, whether it's abuse or confusion, positive or negative," she explained. In the past, Delevingne's joked about being a member of the mile-high club and said she finds it easier to give oral sex than to receive it.
She winced recalling her unconventional introduction to the subject at 14 years old. "My mom decided to tell me that Father Christmas wasn't real," she said. "And in the same conversation, she said, 'By the way, let's talk about the birds and the bees.' I was like, 'This timing is terrible.'"
"We weren't looking for it," Delevingne said of their relationship. "It was really just very authentic and natural."
When the Marie Claire reporter noted that the term "sex bench" had been introduced into the American vernacular after Delevingne and Benson were photographed carrying a piece of erotic furniture into the model's home back in May, she rolled her eyes and said, "Definitely not on purpose."
Once past the "Beware of Dog" sign posted up on Delevingne's front gate, the reporter got to meet the subjects of said warning: a big Pomeranian-husky named Leo and a small Chihuahua-terrier named Alfie, who the model described as "psychopaths." She made sure to note she had two other dogs, not present at that moment, which belong to "my girlfriend." Those two she described as "f--king adorable" with the "f--king calmest dispositions."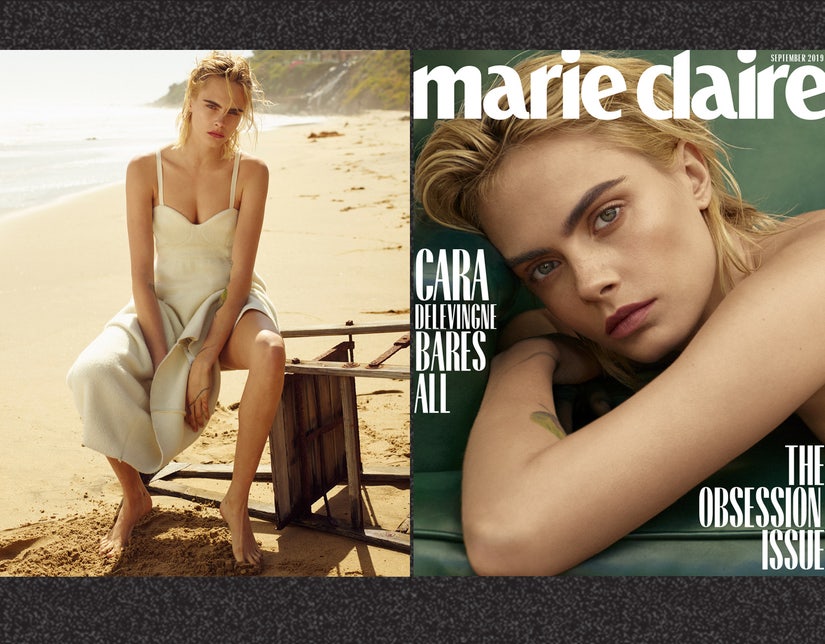 Thomas Whiteside / Marie Claire
In addition to being a model, actress, singer, author, activist and daredevil, Delevingne was also one of the several dozen women to lodge sexual misconduct allegations against once-movie mogul Harvey Weinstein. She first described the incident on Instagram, recalling the time the producer allegedly lured her up to a hotel room and tried to kiss her. When other women came forward, "I was like, Oh my God, that means I was abused? I don't think he'll ever be able to repay what he's done."
Although Delevingne is now open and honest about most aspects of her sexuality, that wasn't always the case. She spent years denying her attraction to women because she "didn't want to feel different, even though from an early age I always felt I didn't belong."
While most of her pre-teen peers were busy trying to figure all that out, her focus was on caring for her mother, Pandora, who struggled with a heroin addiction.
"I was a nurturing child and wanted to make sure everyone was OK. It didn't feel wrong. But looking back, I'm like, 'Oh, maybe I shouldn't have been put in that position,'" she said, before clarifying, "But I wasn't put in it; it just happened."
When she was 15, "everything I hadn't dealt with bubbled up to the surface." Delevingne recalled experiencing a severe mental breakdown: "I had no coping skills. Instead of being able to breathe or take a moment, I tried to smash my head into a tree to knock myself out."
Although medication got her through her darkest days, it numbed her. Her budding career, she said, served as an outlet.
"Work to me was such an escape. I don't like using it that way anymore," Delevingne explained. "I want to use it as a platform, where I'm not just running from my problems."
To see the model's full profile for Marie Claire's September issue, click here.