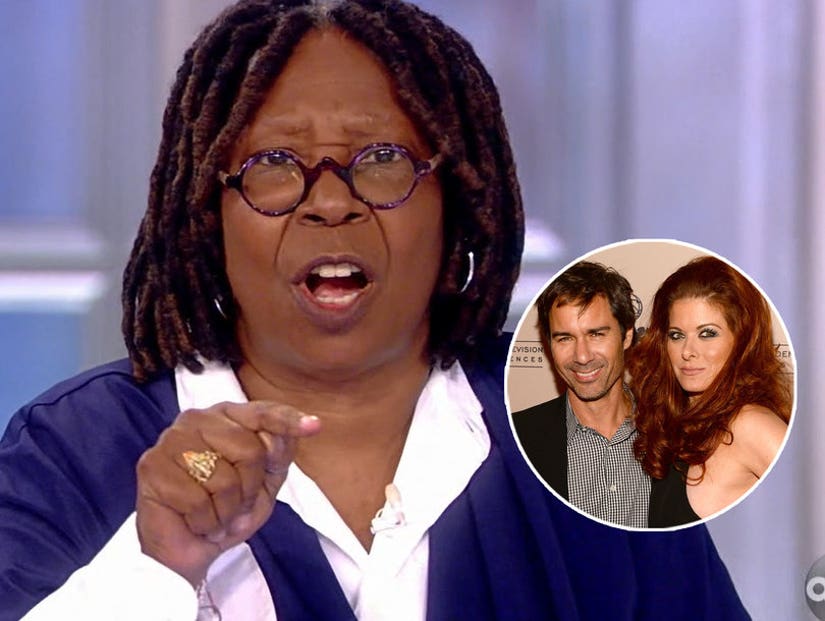 ABC / Getty
"Last time people did this, people started killing themselves. This is not a good idea," says Whoopi.
UPDATE at 3:45pm PT on 9/3/19: Eric McCormack took to Instagram to say his original post about Trump had been "misinterpreted in a very upsetting way" following Goldberg's comments. Debra Messing re-posted his statement, adding, "My friend @eric_mccormack posted this today. It perfectly explains the intent behind each of our posts concerning the fundraiser. I am posting it here because, honestly, I couldn't have said it better."
Waiting for your permission to load the Instagram Media.
The two "Will & Grace" stars came up after the panel began discussing the pair's tweets regarding an upcoming Beverly Hills fundraiser for the president.
SHOULD HOLLYWOOD TRUMP DONORS LIST BE RELEASED? Debra Messing and Eric McCormack called for an attendees list for a Beverly Hills Trump fundraiser be made public so they know who not to work with — the co-hosts discuss if the public has the right to know. https://t.co/cVclFZQmjA pic.twitter.com/YnliQuNdfK

@TheView
Over the holiday weekend, Messing retweeted The Hollywood Reporter's post about the event, asking the publication to "Please print a list of all attendees please. The public has a right to know." McCormack shared the same post, writing, "Hey, @THR, kindly report on everyone attending this event, so the rest of us can be clear about who we don't wanna work with. Thx."
For Goldberg, the suggestion seemed eerily reminiscent of the Hollywood blacklist from the 1940s and 50s, which named alleged communists or sympathizers during the Cold War.
"Last time people did this, people started killing themselves. This is not a good idea," said Whoopi. "Your idea of who you don't want to work with, is your personal business. Do not encourage people to print out lists, the next list that comes out, your name will be on and people will be coming after you."
"We had something called the blacklist and a lot of really good people were accused of stuff," she continued. "Nobody cared whether it was true or not. They were accused and they lost their right to work. You don't have the right, in this country, people can vote for who they want to, that is one of the great rights of this country. You don't have to like it, but we don't go after people because we don't like who they voted for. We don't go after them that way."
"We can talk about issues and stuff, but we don't print out lists. I'm sure you guys misspoke when you said that because it sounded like a good idea," she concluded. "Think about it, read about it, remember what the blacklist actually meant to people and don't encourage anyone, anyone to do it."
Both Meghan McCain and Joy Behar were in agreement with Whoopi, with Behar cracking, "It's a list of Trump supporters giving money. They're calling it a blacklist, they should call it a whitelist."
"I happen to be against that kind of thing," she added, saying she does, however, think it's okay to know if a company supports a particular candidate. "When it's individuals, I think then you're stalking and you're starting to endanger that person's life," she explained, "I don't approve of that."
When Sunny Hostin said donations are public record, Joy conceded that, yes, "if they're out there and they look them up, fine."
Hostin said that she was not "condoning violence against anyone," but did wonder why anyone who donated wouldn't also be proud of their support. That sentiment is something Messing herself brought up after her initial tweet.
"I am proud to be a donor when I contribute to a campaign," she tweeted. "I am happy to be listed when I attend a fundraiser. I am assuming anyone who donates to Trump's fundraiser would feel the same. Why wouldn't they?"
As for Trump, he actually addressed Messing's tweet on Twitter himself, alluding to it by claiming she once thanked him for "helping NBC's failed lineup" with "The Apprentice."
"I have not forgotten that when it was announced that I was going to do The Apprentice, and when it then became a big hit, helping NBC's failed lineup greatly, @DebraMessing came up to me at an Upfront & profusely thanked me, even calling me 'Sir,'" he said. "How times have changed!"