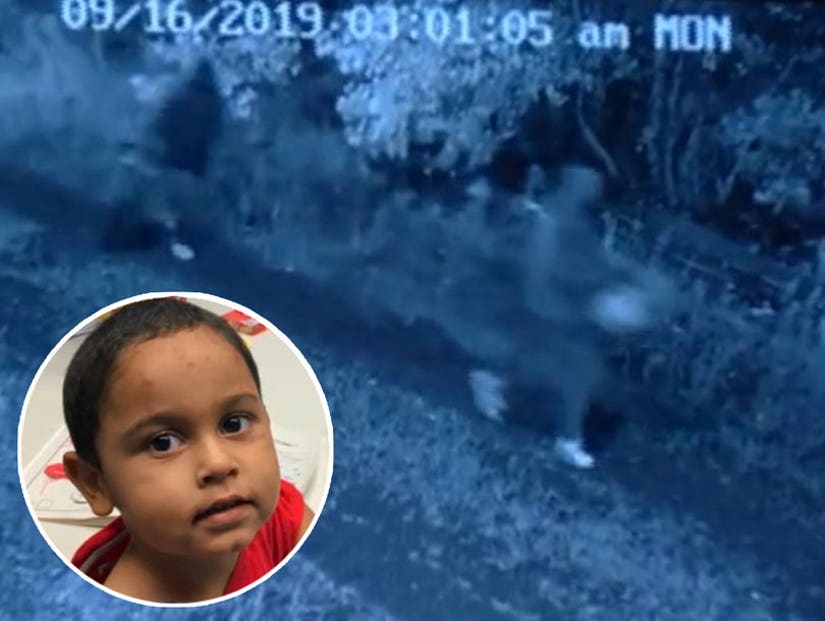 WKBW/Facebook
Buffalo police confirmed two people were killed — but three went missing.
The case of the Florida boy found sleeping on a New York stranger's porch took yet another sinister turn on Thursday as police upgraded it to a homicide investigation.
Sharing several new updates at a press conference, Buffalo PD confirmed two people were killed and burned in the vehicle found one mile away from where three year-old Noelvin was found in a cardboard box on Monday morning.
They confirmed the car was the same one that was rented by Noelvin's missing parents, 24-year-old Nicole Merced Plaud and 31-year-old Miguel Anthony Valentin-Colon, as well as 29-year-old family friend Dhamyl Mirella Roman-Audiffred, before they drove from Flordia to New York, for reasons still unknown.
But they still could not determine which of them — if any — were found inside.
Police Captain Jeff Rinaldo revealed two chilling security videos; the first showed a man walking towards the secluded industrial area at 2:54AM on Monday morning, exactly three minutes after the car arrived.
A second video at 3:01AM, exactly seven minutes later, shows two men fleeing the scene — one of them holding the child's hand as he ran beside him; the other holding gas canisters. A bright flash in the background marked the very moment the car burst aflame.
Waiting for your permission to load the Facebook Video.
By the time police found it at 8AM that morning morning, car and its contents were completely incinerated.
Captain Rinaldo said that while they could determine there were two bodies inside, it could take up to four weeks to identify the victims. Thus, all three missing persons remain just that.
He also told the press conference that the two individuals seen fleeing the scene did not match the descriptions of any of the three missing; however he added that because the area was in complete darkness and the CCTV used infra-red, the ethnicity or clothing color of the "persons of interest" should not be concluded from the footage.
The police chief described the crime as "beyond disturbing."
"Clearly that little boy was inside of that vehicle, and there's two human beings that burned in that vehicle," he said. "This is a horrific, horrific crime."
But he added: "I guess we should be thankful that the little boy is alive and safe, it could have been another tragic outcome."
Original story below 1:15PM 9/19/2019:
The story of a Florida boy found sleeping on a New York stranger's porch just took another turn.
Zenaida Colon has been temporarily denied custody of her three-year-old grandson Noelvin, and must wait at least three more weeks before she can bring the child home.
Mystery still surrounds how the tot ended up sleeping in a box left out for stray cats on Monday morning. His parents — 24-year-old Nicole Merced Plaud and 31-year-old Miguel Anthony Valentin-Colon — have been missing since Sunday night.
When woken, the boy could only tell the homeowner "the car was on fire"; police discovered a burnt out car one mile away with human remains inside, but so far have not been able to say for certain if the vehicle is linked to either the missing parents or the child.
After seeing her grandson's picture on Facebook, Zenaida immediately flew to Buffalo — but she wasn't initially allowed to see the youngster. The boy must now remain in Erie County Child Protective Services for at least three weeks while legal requirements are met for her to take custody.
Authorities must complete a background check, and must send an officer to review Zenaida's home to make sure it is suitable for the little boy. She must now await a custody hearing on October 9.
As the frantic grandmother waits for the red tape to untangle, she was allowed to visit her grandson for two hours on Wednesday — the first time she and his other grandparents were allowed see the boy since his ordeal began.
"He looked good, he looked happy," she tearfully told WKBW. "He recognized us, hugged us, kissed us. It was a good visit."
"My plea right now is to please help me get him home. I have people in my home now ready to accommodate them. So, my home is ready. it's been ready," she continued. "I'm thankful for Buffalo, New York for taking care of him for a few days, but I think it's time for us to head home."
A GoFundMe has been set up to assist the family's efforts to bring Noelvin home.