LaBeouf made the revelation during a spicy chicken wing-eating competition.
Shia LaBeouf broke down in tears during an eating contest while making a startling revelation on Thursday, but it wasn't because he was overcome with emotion.
The actor was the latest guest on Hot Ones, a YouTube show about hot sauce and even hotter wings. The premise is simple: answer questions while eating chicken wings that get progressively spicier.
And the "Transformers" star, crying from the intense heat of the snacks, told host Sean Evans he once ended up wrestling naked with Tom Hardy.
Here are the most revealing moments from his time on the show:
Wait, what about this nude competition between the two A-list actors?
In 2012, Shia and Tom were both shooting the drama "Lawless." During some downtime between filming, Tom ran into Shia's room while Shia and his girlfriend happened to be in their birthday suits.
"He picked me up and I didn't have nothing on so now I'm naked, on his shoulder, we're in the hallway, we're wrestling around," Shia explained."We used to f--k with each other all the time. He was a big f--king person, especially then, he was getting ready for Bane," he continued.
"He wound up hurting his back so for the rest of the shoot, he told everybody I knocked him out but that wasn't the case. We were having some weird cutey wrestling match," he added.
How did Shia get started acting?
In the most Shia LaBeouf way possible. At 11, he called up an agent he found in the Yellow Pages and pretended to be the British manager of an actor named Shia LaBeouf. Incredibly enough, the tactic worked, according to Shia.
"She's still part of the tribe. Every time I have a movie coming out, she's there. She's still trying to hit on co-stars. She's in the midst of it, man," he said.
"I'm not a method actor... I'm more like an escapist. I like to run away. I like to fall into something else. That's why I've had my troubles too," Shia said referencing his struggle with alcoholism and mental health.
The actor was charged with public drunkenness, disorderly conduct and obstruction in 2017. "My way of running is to drink. I'm a good old-fashioned drunk -- whiskey and beer -- and have been since I touched alcohol," he told Esquire in 2018. He also revealed that he was diagnosed with PTSD while in rehab.
What's Shia's favorite meme of himself?
"Clapping seems really pleasant, and joyful, and people always throw it in when it's pleasant and joyful. So maybe the clapping one," he explained.
Does he believe memes are art?
"Definitely. Anything that moves you is art," he detailed.
What in the world was the deal with those pink pants?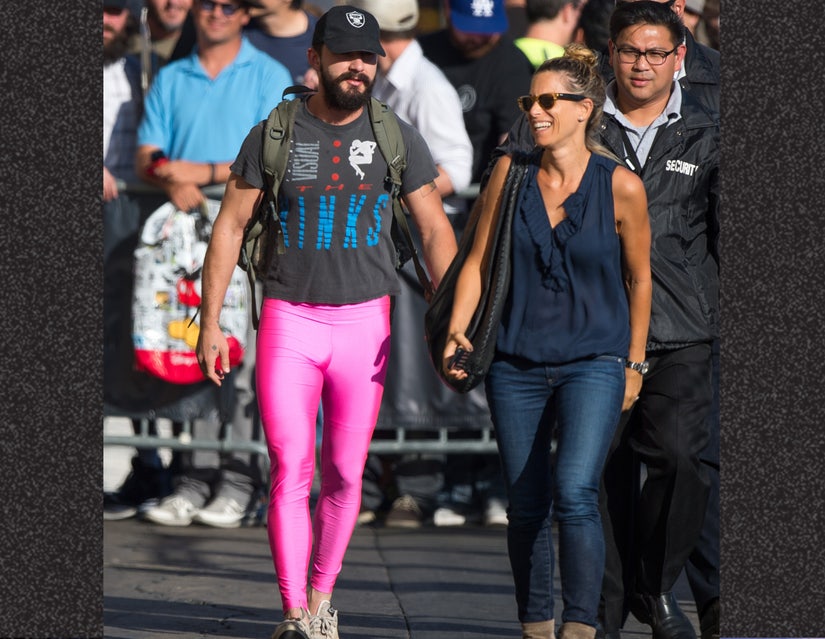 Getty
"Ellen DeGeneres was like 'Hey, you wear these pants, I'll put $500 into a breast cancer charity,'" Shia explained.