"There was a gorgeous sunset and I was inside on my phone 'serving content,'" Miley commented. "But is it bad if I like the pic and wanna post?"
Miley Cyrus certainly appears to be spending her vacation to Utah with plenty of fun in the sun, but we only know that because she's been serving up her fans almost constant updates on her Instagram throughout the trip.
So much so that Miley's mom Tish even called her out for "serving content" rather than enjoying a picture of the sunset. The singer shared the commentary from her mother, who said what she was doing was "disgusting" alongside a pic of Miley sitting inside, hunched over her phone, her face lit up by its display.
If this isn't peak millennial stereotypying, then there is no such thing. And yet, Miley -- who definitely falls within that generation category -- is totally owning it. For one, she's the one who unironically shared even this to her Instagram, though she relegated it to her Stories, where it would disappear in due time.
Or it would if eagle-eyed fans and reporters (guilty) weren't capturing the image and putting it on the internet for all to see.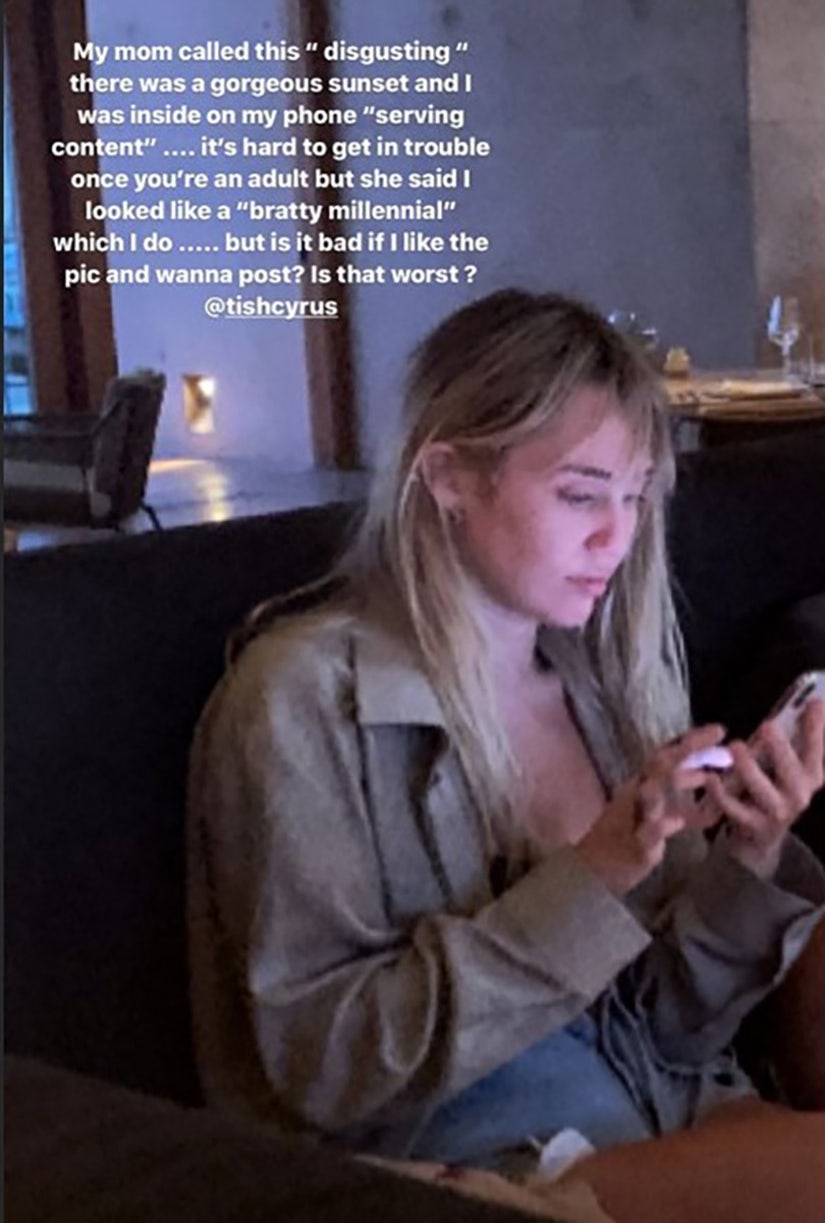 Instagram
"It's hard to get in trouble when you're an adult but she said I look like a 'bratty Millennial,'" Miley wrote on the grainy image, quickly conceding, "Which I do."
But then, in true Millennial fashion, she quickly defended her choice. "But is it bad if I like the pic and wanna post?" she asked. In the past two days, Miley has liked and wanna posted a dozen different times to her Instagram, with several posts comprising more than one image.
We've seen her in the desert, on the rocks, in a canyon, overlooking a beautiful river valley, on the water, and getting cheeky poolside in skimpy bikini bottoms. She even shared at least one sunset with her dog Bean.
She's clearly having a good time, and based on the sheer volume of pics being shared, she's definitely not missing out on all of these experiences.
But she is apparently missing out on at least some of them as she takes the time to share all of these beauties with her nearly 100 million followers. But she's not the only one who isn't just "in the moment" at all times. After all, someone has to be taking all of these pictures, as they're definitely not selfies.
Regardless, it's great to see Miley and her mom, along with sister Brandi, enjoying their time away. We'd say out of the spotlight, but Miley is making sure the spotlight of social media fandom is shining directly on her.