"All that time you been watching 'Martin' and that's been your sister!"
One woman got the shock of a lifetime on "The Real" this morning, after she learned -- in front of a studio television audience -- that her long lost half-sister was none other than guest host Tisha Campbell-Martin.
The woman, Ellen Lindsey, was brought on the show under the guise of connecting with a sibling she had never met before, but had no idea her sister would be the "Martin" and "House Party" actress.
Sitting down with the show's hosts and a genealogist, Lindsey said she only learned she had been adopted last year, when she was just 49 years old. After a DNA test confirmed she was related to a woman looking for her, Lindsey agreed to finally meet her at the taping.
Not telling her that she was, in fact, the sister in question at first, Tisha asked Ellen how she felt about meeting her family member for the first time.
"I'm nervous for you, because if it was my sister, if it was me, I would be like, I hope she ain't no crackhead. Then second, I would be like, I hope she likes me," said Campbell-Martin. "Do you feel that way? What would you want to tell your sister?"
"It's strange, it's like a dream," said Ellen. "All these years I've known who I was raised with, but to find out today I'll meet who's actually my blood, it's kind of like ..." Asked Tisha, "You'd be happy?"
"I know what I would tell my sister: I hope you like me," she said, revealing the big news. "I'm your sister. I'm your sister!"
The two then hugged and broke down in tears. "Are you serious?" asked Ellen, after the initial shock hit. "All that time you been watching 'Martin' and that's been your sister!" exclaimed Loni Love.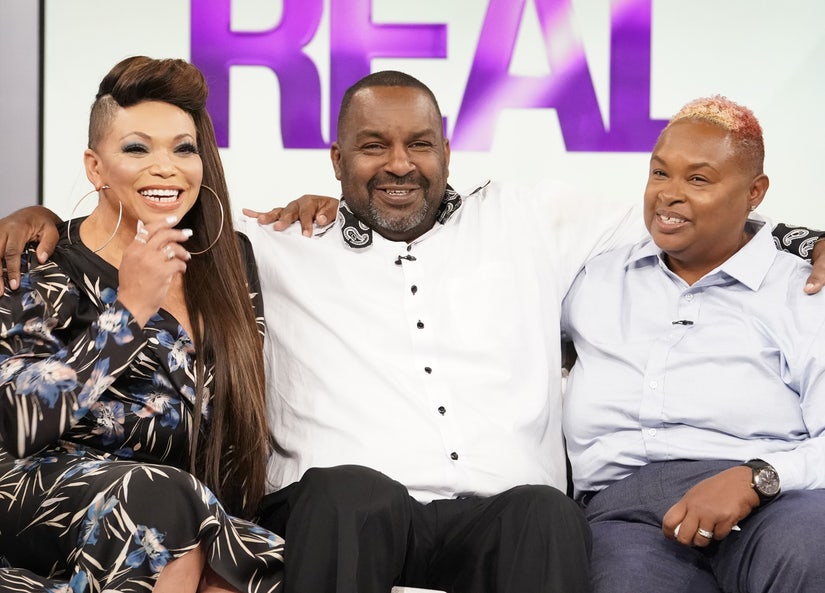 Robert Voets/Warner Bros. Television
After a commercial break, the two were joined by Ellen's full-blood brother, Duane, who was actually the one who spearheaded the search for her. Tisha revealed that they all share the same father, but Ellen and Duane also shared the same mother, a woman named Laverne.
"Duane is first born. Then my mother got pregnant with me and he married my mother," explained Tisha. "Then you came and Laverne never wanted to give you up for adoption. She cries on your birthday every single year. You look exactly like your birth mother."
"She knew she couldn't give you the life with just being a single mom that she really wanted to give you and she had to give you up for adoption," Tisha continued. "And before she passed away, we wanted to find you so that you guys could meet and he's been searching since he was 18 years old for his sister."
Tisha said Ellen's mother was still alive.
The actress added she didn't learn about Ellen until she was 33, but because the adoption agency that organized the adoption and the hospital where she was born didn't exist anymore, they kept hitting dead ends.
They then asked Ellen what her life had been like. "My dad's deceased. My mom is 90 now, she did an excellent job raising me," she said. "I went to college. I'm her only child, I'm spoiled."