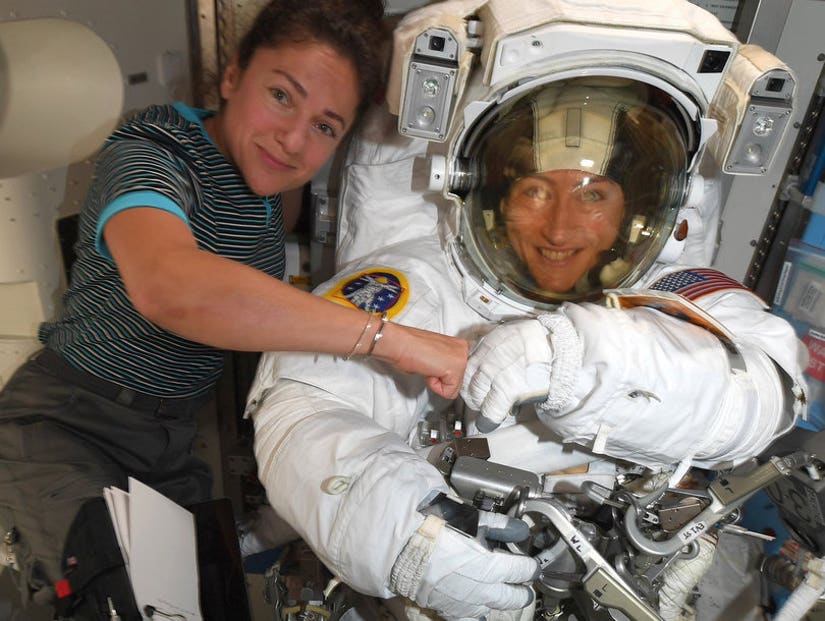 Twitter
Over the last 35 years, just 12 American women have set foot into space.
At 7:38 a.m. Eastern Time on Friday, astronauts Jessica Meir and Christina Koch strapped on their space suits and left the safe harbor of the International Space Station.
While this might sound like a routine day in the life of an astronaut in space, it's actually a historic moment for women at NASA and across America -- Koch and Meir conducted the first all-female spacewalk in history.
This comes at a time when NASA's female representation is under scrutiny. Currently, women make up only about a third of NASA's workforce, 28 percent of senior executive leadership positions and 16 percent of senior scientific employees, according to an internal survey.
You can watch the spacewalk here:
Koch and Meir stepped out today to replace a charge-discharge unit that "regulates the charge to the batteries that collect and distribute solar power to the orbiting lab's systems," according to NASA.
NASA originally announced the all-female spacewalk with Koch and another astronaut, Anne McClain, earlier this year. Unfortunately, though, that project was shelved due to a lack of appropriately sized spacesuits.
Over the last 35 years, just 12 American women have set foot into space. The first woman to go on a spacewalk was Russian cosmonaut Svetlana Savitskaya in 1984.
In a news conference about the spacewalk, Meir and Koch spoke about the historic nature of their mission.
"I think it's important because of the historical nature of what we're doing and that in the past, women haven't always been at the table," Koch said. "It's wonderful to be contributing to human spaceflight at a time when all contributions are being accepted, when everyone has a role and that can lead, in turn, to increased chance for success."