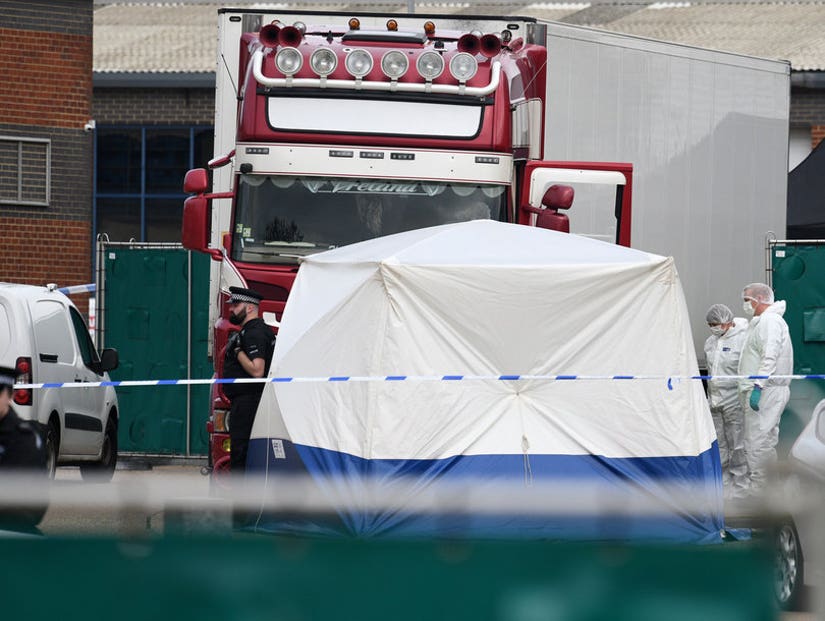 Getty
A murder investigation is now underway.
39 people have been found dead in the back of a truck in the UK.
The grim discovery was made in an industrial park in Essex shortly after 1:30 a.m. local time on Wednesday morning.
The driver, a 25-year-old man from Northern Ireland, has been arrested on suspicion of murder, the BBC reported.
The victims, 38 adults and one teenager, were found in the lorry container; the cause of death has not yet been revealed, nor has their nationality.
The vehicle is believed to have traveled from Bulgaria and entered the United Kingdom via ferry at the port town of Holyhead in Wales on Saturday.
Investigators believe that because of increased security in the English Channel ports, the truck may have taken a longer "unorthodox" route to avoid detection, coming through the Republic of Ireland and across the Irish Sea.
The Bulgarian foreign ministry has said the truck is registered in Bulgaria by a company owned by an Irish female citizen, RTE reported.
Police in Ireland meanwhile believe the truck entered the UK directly, via the Netherlands.
UK Prime Minister Boris Johnson said it was an "unimaginable tragedy and truly heartbreaking", adding: "all such traders in human beings should be hunted down and brought to justice."
Europe has been experiencing a migrant crisis for the past four years, as refugees — forced out by war, poverty or religious persecution — attempt dangerous journeys from Eastern Europe, Africa, the Middle East to more stable counties in Western Europe.
In 2000, the bodies of 58 Chinese people were found in a container at Dover, Kent.