While the trip was short, Gia hinted that the "Real Housewives of New Jersey" family wouldn't be apart for long.
Teresa Giudice and her four daughters -- Gia, 18, Gabriella, 15, Milania, 14, and Audriana, 10 -- left Salerno, Italy, on Sunday after spending four days visiting Joe Giudice, according to several media outlets.
"Love you see you soon," she captioned a mirror selfie of herself with her dad and Audriana, which she shared on her Instagram Story. She also posted a photo of Joe sporting a Rutgers University sweatshirt with the caption, "reppin love you @joe.giudice." According to Us Weekly, Audriana also shared videos from inside an airplane that appears to be soaring over the Italian coastline.
TooFab has contacted the Giudice family seeking comment.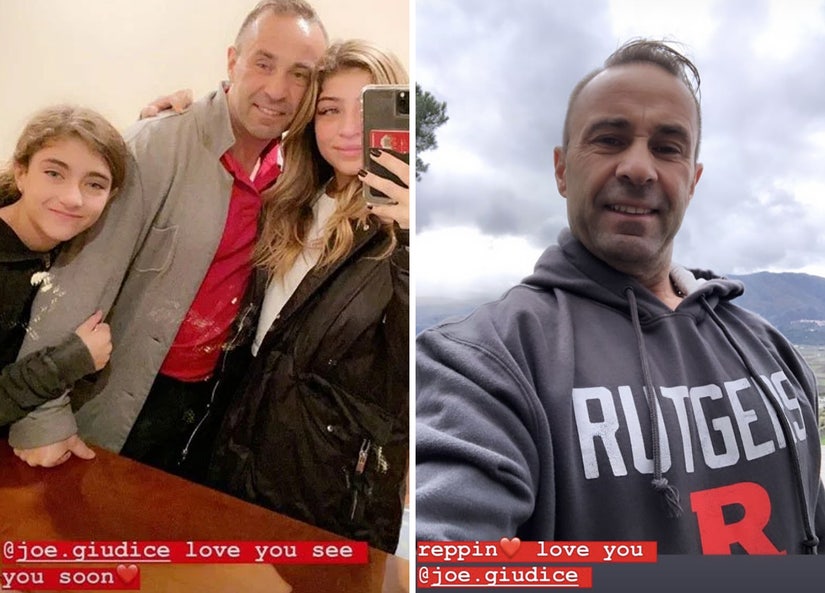 Instagram
The whole family -- including Joe, who's new to Instagram -- had been documenting the heartwarming trip since Thursday, with photos of all six of them together as well as individual shots with Dad. They spent time exploring his new home in Salerno, bonding with family members they hadn't seen in years and visiting the Amalfi Coast.
It's been almost four years since all six Giudices have been in the same place at the same time due to financial crimes that landed both parents in prison.
In January 2015, Teresa spent 11 months behind bars for her participation in the wrongdoing. In March of the following year, Joe began his 41-month sentence for mail, wire and bank fraud. In March of this year, he was released from prison and transferred directly to an immigration detention center, where he spent seven months. Then in mid-October, Joe was granted permission to await the fate of his deportation case in his native country.
After Joe's wife and children left Italy, he posted several videos of himself getting used to life in Salerno. After sharing two videos of himself kickboxing in a gym -- "My therapy" -- he also shared footage from a party showing who we presume to be family members or friends dancing to salsa music.
Waiting for your permission to load the Instagram Media.
Waiting for your permission to load the Instagram Media.
Waiting for your permission to load the Instagram Media.
"The Real Housewives of New Jersey" airs Wednesdays at 8 p.m. on Bravo.