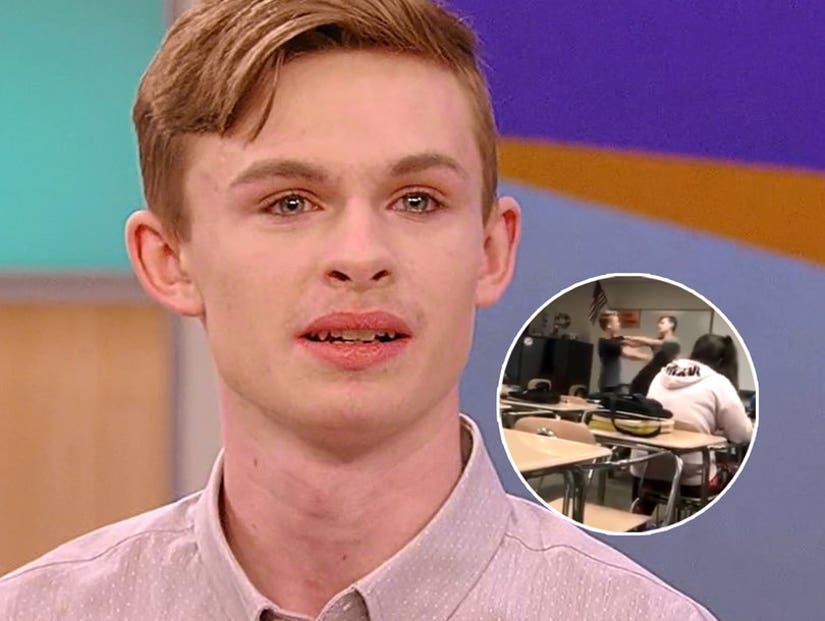 Tamron Hall/Twitter
The teen's mother also says she's "happy he stood up for himself," even if she doesn't approve of son's language or hitting.
16-year-old Jordan Steffy went viral over the weekend for a video in which he's seen standing up to and getting into a physical confrontation with an alleged bully. Now, he and his mother, Angie, are speaking out about the incident in a new interview with Tamron Hall.
Appearing on her show this morning, Steffy said his physical attack on the other student came after years of bullying came to a breaking point.
According to Jordan, he had been experiencing "constant" homophobic taunts from his classmates about "how I love and what I prefer, love-wise." He continued, "I've been called f----- at least 10 times a day and it's just constant over and over again, it doesn't stop, it's repeated."
He added that the taunts began in the second grade, even before he came out.
When asked to explain the backstory for the video in question, Steffy said he didn't even know the other student personally, but saw from a friend that the other teen had posted something about him on social media. "It was a picture of me with the caption, 'I still hate gays though,' with a few emojis after that," he claimed.
"I was walking into class and I had the post already on my phone because I was going to ask him why he posted it and I walked to his desk and I showed him, I said, 'What is this,'" he continued. "He said, 'It's just a post.' I said, 'About me, right?' And he said, 'Yeah and what are you gonna do about it?' I shoved him first, then he goes, 'Don't put your hands on me, f-----.'"
When asked if the shove was triggered by this incident or from of years of bullying, Jordan said, "It was years and years, built up."
Hall then asked the teen's mother, Angie, how she felt watching the footage back herself. "It just makes me mad. I'm tired of it," she said, adding that she was "happy he stood up for himself." That being said, she said she wasn't "happy he was cussing like that, I don't like him hitting, but he had enough. He had enough."
Since the incident, both students were suspended and Jordan's mother now plans to homeschool him. "We are supposed to talk to the school, but we just think it would be best to finish at home," she said.
Tearing up as he spoke, Jordan said he hopes to return to the school to say goodbye to his classmates. "I at least want to have my last day there to say bye to my friends, things like that, give out information, clean out my locker, say goodbye," he said. "It's hard."
He also called for others to stop attacking the other teenager on social media, saying he has "no idea what's going on in his life" or whether the taunts were "a heat of the moment thing" or "what he truly believes."
The school released a lengthy statement on Facebook on Wednesday, saying they were "troubled by the recent student incident that was posted on social media and we are actively investigating the circumstances."
Waiting for your permission to load the Facebook Post.