The SNL star is the latest to Break the Internet.
The "Saturday Night Live" comedian appears as a nearly nude Ken doll for the publication's annual Break the Internet issue, where he opened up about the unique situation of dating in the spotlight, what he's learned from his past relationships and, briefly, commented on Ariana Grande.
First thing's first, what's the deal with these photos? The shoot was apparently conceptualized by "13 Reasons Why" star Tommy Dorfman, a friend of Pete's. "He'd told me he slept in a car bed as a kid and I saw it immediately: this Staten Island Ken Doll version of Pete stuck in a Barbie nightmare, pills everywhere," said Dorfman.
"'You'd be like depressed Ken,' I said. 'Yeah! And d-ckless, like, with Ken-d-ck,' [Pete] said, and the whole car exploded with laughter," he explained.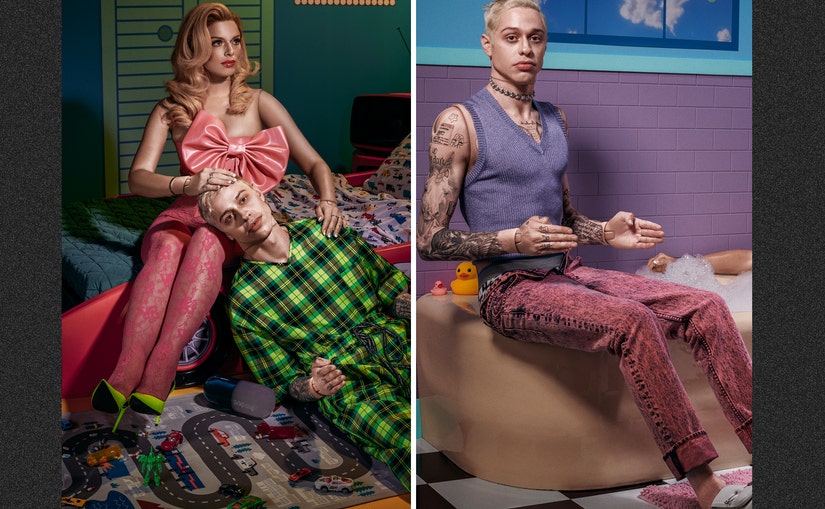 PAPER Magazine/Tommy Dorfman
The photos also seem like a comment on his "Big Dick Energy," which Ariana referenced multiple times before and after they dated. Reacting to the BDE term, he said it's "weird" to be sexualized in the public eye and is something he doesn't "really pay attention to" himself. That being said, he said he also knows people either love him or hate him.
"It's either like, 'Oh, that guy's awesome,' or it's like, 'I hope that guy f--king falls off of a cliff,'" he explained. "But it's sad and it sucks. When enough people call you ugly, it definitely gets to you. For me, personally, I can't block that stuff out. That's why I had to get rid of the Internet and stuff. But you definitely have to get to a place where you're just like, 'This is how I look. Alright.' You know?"
When asked if he had anything he wanted to say about Grande, he kept it brief. "I don't ever make public statements about relationships 'cause I just don't think it's right, you know?" he told the magazine. "I usually express how I feel about anything through work. So, I hope she's well. I hope she's very happy. And that's pretty much it. And print doesn't usually age well."
Speaking more generally, however, Davidson did talk about what it's like to date him.
"My love language, when I'm in a relationship, is I treat the person I'm with like a princess," he said. "I try and go as above and beyond as possible, because that's what you're supposed to do? If you're in a relationship with someone, you're just supposed to make that person feel as special as possible."
That approach has also scared people off, he explained. "Sometimes when you put so much on someone, it overwhelms them, and then they don't know if they could come close to that," he added," "It's very off-putting to some."
He said that's a realization he "had to learn in a past relationship, which sucked to learn through that person, but it makes you better."
When asked what else he's learned from his past lovers, he plainly added, "That it's nobody's business."
"The second [the public] knows you're together, it's already against you," he elaborated. "You're losing. Because now they know you're together, if you're not [seen together], they know something went wrong. As opposed to like... people date. People date and are friends."