Hint: It has something to do with Eilish being vegan and Gaga's iconic meat dress.
Cancel culture knows no bounds.
After a video of Billie Eilish, a known vegan, vaguely disapproving of Lady Gaga's iconic meat dress went viral, the latter's fans -- called Little Monsters -- took to Twitter to cancel the 17-year-old singer, using the hashtag #BillieEilishIsOverParty.
During the interview in question, Billie and brother Finneas were talking to Variety about their incredibly successful year, creating the chart-topper "Bad Guy" and Billie's six Grammy nominations, which she humbly said was "an honor."
"I grew up watching the Grammys. We all did. We used to judge all the girls' dresses. That's all I did. I barely paid attention to the music..." she explained, as her brother interjected to wonder, "Was the meat dress a Grammys event?"
"Eee...yikes," Billie let out (around 3:15 in the video below).
To clarify, Gaga actually wore the dress to the 2010 MTV Video Music Awards, explaining that the garment "has many interpretations. For me this evening, if we don't stand up for what we believe in and if we don't fight for our rights, pretty soon, we're going to have as much rights as the meat on our own bones."
"And," she added, "I am not a piece of meat."
Gaga explained she was also using the dress as a nod to a speech she had made, titled The Prime Rib of America, in which she urged the U.S. military to abandon its "don't ask, don't tell" policy, which discriminated against LGBTQ people.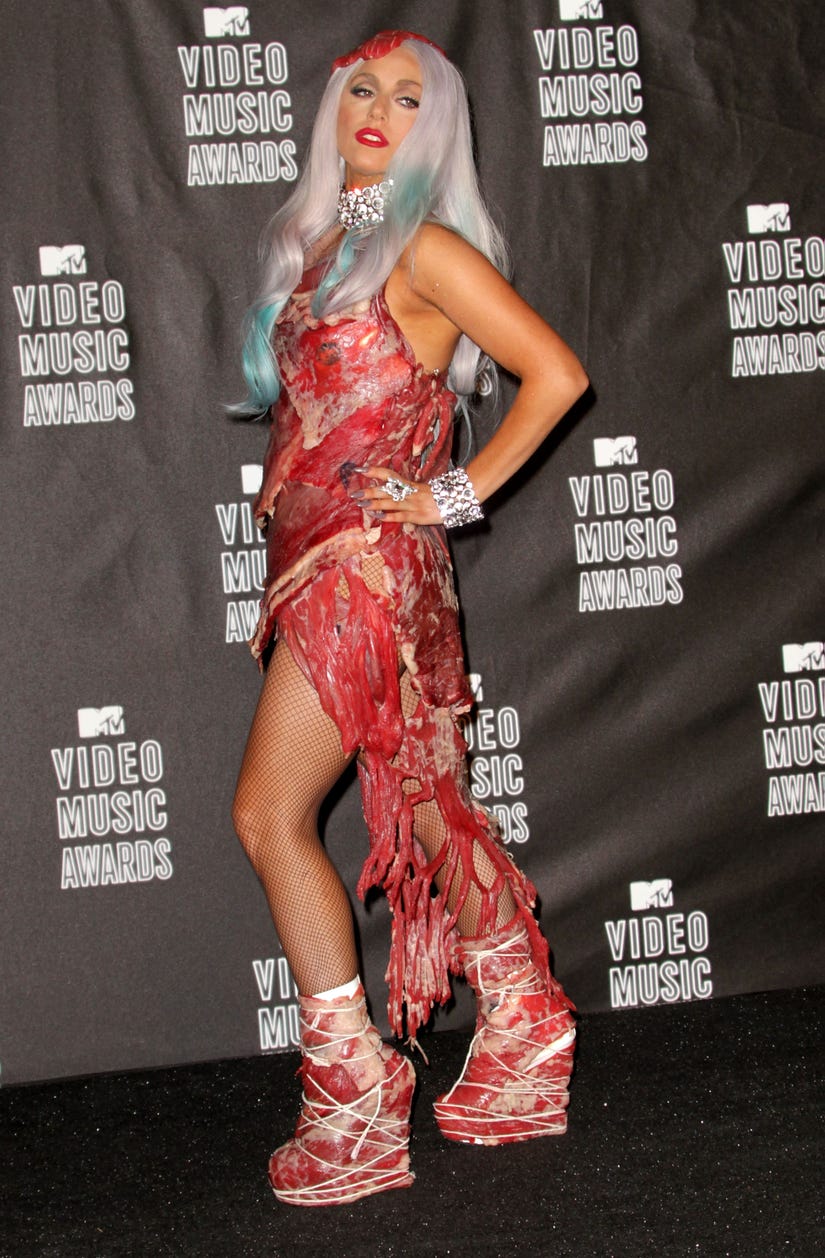 Getty
However, the hashtag soon became a means for Billie's fans to defend her.
"Dude I've been a Gaga fan since the beginning. & even I'm not mad at Billie Eilish," one person tweeted. "Y'all are just sad for trying to cancel a 17 year old VEGAN for her own opinions/beliefs. Like you think Gaga was bothered by all the opinions back then, let alone now?"
Another added, "Gaga fans really out here saying vile shit about Billie cuz she said Gaga's meat dress was weird. Breaking news: IT WAS F--KING WEIRD and we spent a solid year roasting her for it," while a third wrote, "yall wildin over a VEGAN not liking a MEAT dress. did you know vegans dont eat animals?"
LMFAO for once I need stan twt to drop fancams all over this #BillieEilishisoverparty hashtag. gaga fans really out here saying vile shit about Billie cuz she said Gaga's meat dress was weird.

Breaking news: IT WAS FUCKING WEIRD and we spent a solid year roasting her for it.

@KSpenceMedia
is people really gonna bully a 17 years old teen for just saying a MEAT dress was weird😭😭😭 she is so right like everyone roasted gaga for a whole ass year come on. Also let's not forget billie is a KNOWN vegan anyways go watch the new music video 🚬🚬#BillieEilishisoverparty pic.twitter.com/vKNchAhjW5

@hatimypunto