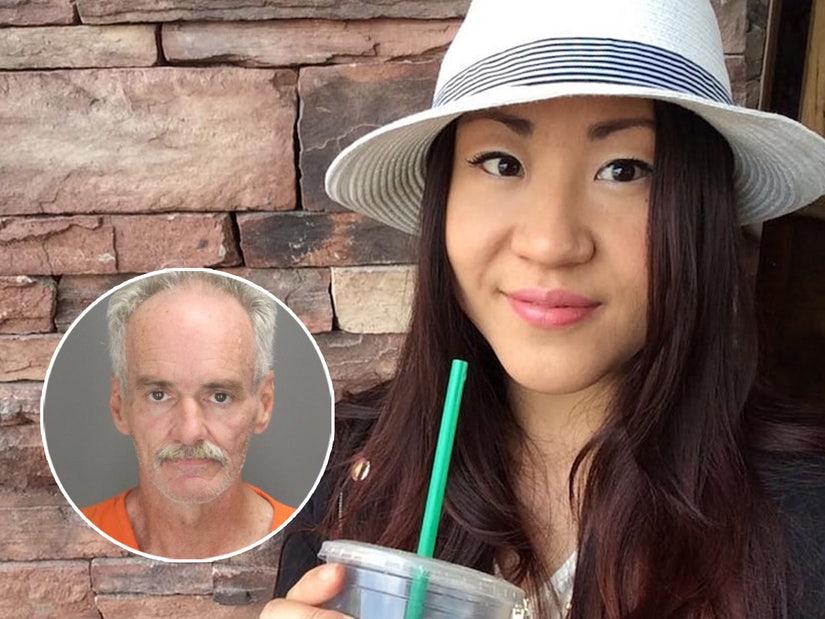 Facebook/Oakland County Sheriff's Office
She was zip-tied, sexually assaulted and burned alive.
Police have released gruesome new details on the manner in which Susie Zhao died.
According to court documents obtained by 7 Action News, she was bound with zip ties, sexually assaulted with a large object, before being "lit on fire until she died."
Cell phone records show she met with her accused murderer, Jeffery Morris, the night before she died.
Morris, 60, told police he had picked up the 33-year-old in his car and that they had both checked into a motel shortly before 9:30 PM.
He said they left together at one stage to buy alcohol at a party store before returning to the motel; he said Zhao eventually left at midnight, and "took all of her belongings including her cell phone with her."
However cellphone records show Zhao's phone did not leave the motel until 5 AM.
Surveillance footage shows Morris leaving the motel around that time and driving to the secluded park where her body was eventually found; evidence shows he spent approximately seven minutes there.
Among the items investigators recovered are a duffel bag with Morris' ID, as well as a fitted bed sheet and a wooden baseball bat, both apparently stained with blood; the items are currently being forensically tested.
The motive for the murder is still being investigated — as is the reason Zhao and Morris met up.
Police have charged a convicted sex offender with the murder of professional poker player Susie Zhao.
Jeffrey Morris was arrested on Friday, but his identity was withheld; on Tuesday he was charged with first degree murder.
The 60-year-old was arraigned from a hospital bed, after he suffered an undisclosed, non-life-threatening medical issue earlier in the day.
Investigators believe the victim and the suspect had encountered each other at a motel in Waterford Township the night she was killed.
At a press conference on Wednesday, White Lake Township Police Detective Lt. Christopher Hild said Zhao had stayed at the motel many times before; it is not known if the two knew each other.
Police had been investigating if Zhao's profession as a high stakes poker player had been a factor in her murder, but it no longer appears that is the case.
Morris, described as a homeless transient, has an extensive criminal history including multiple domestic violence charges and sex offenses.
He was arrested after his vehicle was pulled over on an outstanding warrant; he was on probation for retail fraud at the time.
A former landlord of his told Fox2Detroit she had recently rented her basement to him, but soon evicted him because he was "a creeper."
"He answered an ad to rent from me and I rented a basement to him for four months," Dawn Carr told the site. "He seemed like a real creeper to me so I had to get him out of here, so I evicted him."
Morris is currently being held without bond.
original story 7/24/2020 11:51 am
Professional poker player Susie Zhao has been found dead.
The charred remains of the 33-year-old were discovered in a park near Pontiac Lake on the outskirts of Detroit, Michigan on July 13.
It took police more than a week to identify the badly burned remains, eventually piecing it together through fingerprints and a distinctive tattoo.
They have yet to determine the cause of death — or the motive.
The Beijing-born player, who was known as Susie Q on the pro circuit, had amassed more than $250k in career winnings, and police believe her profession may have had something to do with her killing.
"You have to determine whether or not this is a cover-up, or this may be some sort of retaliatory incident because of her profession," said Detective Chris Hild of White Lake Township Police.
Zhao was last seen by her mother the night before at 5:30 p.m.; investigators believe she was murdered some time after midnight that night.
"We still are looking for anybody that may have seen or talked to Susie between Sunday at about 5:30 p.m. and early hours of Monday morning," police said.
Born in China, she had moved to Michigan as a child and grew up there, before moving to LA for more than a decade where she was a regular in high-stakes games.
But according to friends, she had very recently moved back to her home town to be with her parents and "confront challenges in her personal life," WXYZ reported.
"It's hard to picture her having enemies," former roommate Yuval Bronshtein told the broadcaster.
"Everybody loved her," agreed friend Michelle Lagrou. "Nobody ever remembers her fighting with anybody ever, no conflict, no drama."