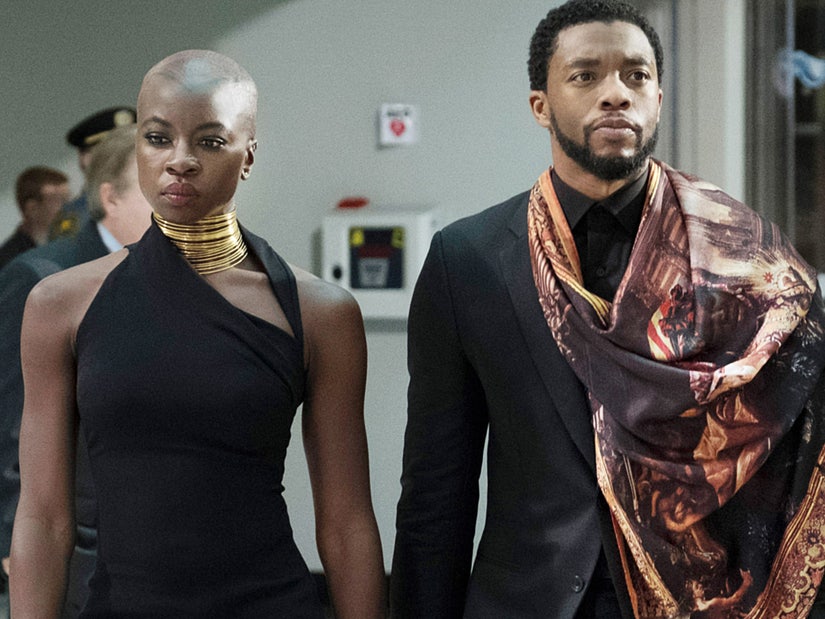 Everett Collection
"This young man's dedication was awe-inspiring, his smile contagious, his talent unreal."
On Friday, Boseman's death after a four-year battle with colon cancer was confirmed via a statement on his social media pages. The actor was 43.
Revealing that even he was unaware of the health battle Boseman was fighting during their filming of what would become the highest-grossing film by a Black director, Coogler said in a lengthy statement received by The Hollywood Reporter, "It is with a heavy heart and a sense of deep gratitude to have ever been in his presence, that I have to reckon with the fact that Chad is an ancestor now. And I know that he will watch over us, until we meet again."
"Because he was a caretaker, a leader, and a man of faith, dignity and pride, he shielded his collaborators from his suffering," he continued. "He lived a beautiful life. And he made great art. Day after day, year after year. That was who he was. He was an epic firework display. I will tell stories about being there for some of the brilliant sparks till the end of my days."
The director took a moment to talk about Boseman's powerful presence on set and on the screen, writing, "He was calm. Assured. Constantly studying. "But also kind, comforting, had the warmest laugh in the world, and eyes that seen much beyond his years, but could still sparkle like a child seeing something for the first time."
"I haven't grieved a loss this acute before," Coogler wrote. "I spent the last year preparing, imagining and writing words for him to say, that we weren't destined to see. It leaves me broken knowing that I won't be able to watch another close-up of him in the monitor again or walk up to him and ask for another take. It hurts more to know that we can't have another conversation, or facetime, or text message exchange."
Bassett, who played Queen Ramonda, the mother of Boseman's King T'Challa/Black Panther, posted a photo of herself and Boseman sharing a warm embrace in character. In her emotional tribute, the actress recalled her first memory of Boseman, revealing the words he said to her when she gave the commencement speech at the actor's graduation from Howard University.
"It was meant to be for Chadwick and me to be connected, for us to be family," Bassett began in the caption. "But what many don't know is our story began long before his historic turn as Black Panther. During the premiere party for Black Panther, Chadwick reminded me of something. He whispered that when I received my honorary degree from Howard University, his alma mater, he was the student assigned to escort me that day."
"And here we were, years later as friends and colleagues, enjoying the most glorious night ever!" she continued, before recalling more memories. "We'd spent weeks prepping, working, sitting next to each other every morning in makeup chairs, preparing for the day together as mother and son. I am honored that we enjoyed that full circle experience."
Bassett concluded, "This young man's dedication was awe-inspiring, his smile contagious, his talent unreal. So I pay tribute to a beautiful spirit, a consummate artist, a soulful brother..' thou aren't not dead but flown afar...'. All you possessed, Chadwick, you freely gave. Rest now, sweet prince." #WakandaForever
Waiting for your permission to load the Instagram Media.
The general of the Dora Milaje, T'Challa's king's guard, penned a heartbreaking tribute alongside an image of Boseman giving her a warm embrace. "How do you honor a king?" she asked.
"Reeling from the loss of my colleague, my friend, my brother. Struggling for words. Nothing feels adequate," she continued. "I always marvele at how special Chadwick was. Such a pure hearted, profoundly generous, regal, fun guy."
"He was the epitome of kindness, elegance, diligence and grace. On many an occasion I would think how thankful I was that he was the leading man that I was working closely with. A true class act. And so perfectly equipped to take on the responsibility of leading the franchise that changed everything for Black representation."
"I can't even wrap my head around this loss. A loss resonating in my own heart as well as around the globe," she concluded. "The children he inspired, my heart aches for them, to lose their hero just as they finally found him. I am so thankful to have taken the Black Panther journey with him. TO have known him, spent time in his light and leadership and to call him forever a friend.
Meanwhile, Brown, who played N'Jobu in "Black Panther," posted a message to Twitter, writing, "I don't have words. Rest In Peace, Bruh. Thank you for all you did while you were here. Thank you for being a friend. You are loved. You will be missed."
"Black Panther" stars Andy Serkis and Forest Whitaker also reacted to the news of Boseman's death.
"It is inconceivable to think you are no longer with us Chad. This world needs you, perhaps more than ever," Serkis said in a statement. "Your quiet steel and raging fire beautifully tempered by the fact that you are an honorable, generous, humble human being."
"A natural leader who eloquently and passionately seeks and stands for truth, whose art and life will shine as a beacon of inspiration for generations to come," he continued. "Peace and love to you, and to your family."
Whitaker. wrote, "Your light brightened our days. It will continue to brighten our hearts and minds. Let the heavens be blessed as you illuminate the sky. Sending my love and prayers to the family. May god continue to hold you in his everlasting embrace. RIP Chadwick"
Your light brightened our days. It will continue to brighten our hearts and minds. Let the heavens be blessed as you illuminate the sky. Sending my love and prayers to the family. May god continue to hold you in his everlasting embrace. RIP Chadwick pic.twitter.com/wIUaooHLqq

— Forest Whitaker (@ForestWhitaker) August 29, 2020 @ForestWhitaker