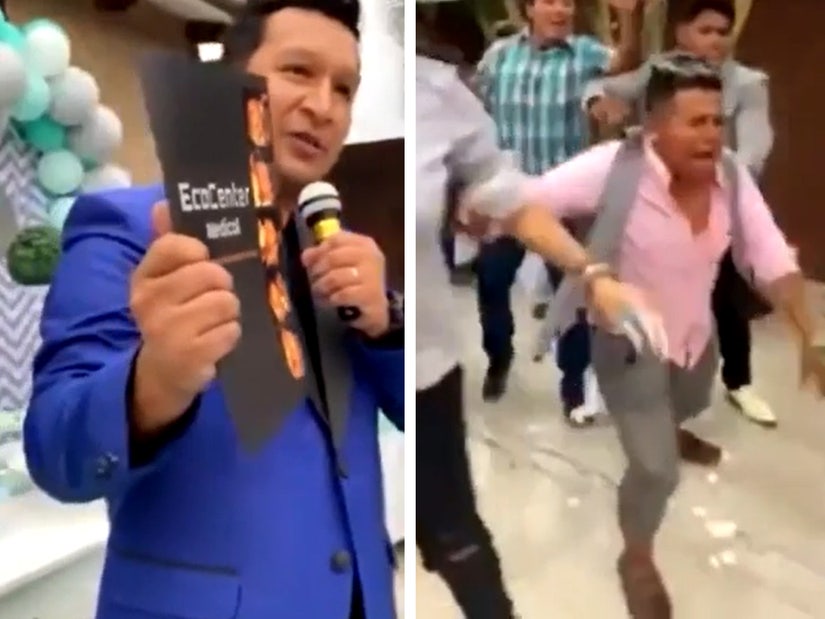 Reddit
The viral video plays out like a telenovela — causing some to wonder if the whole thing was a set-up.
Scripted or no — this Spanish language drama had social media glued to computer screens on Monday morning.
The video, shot in Bolivia and posted on Reddit, showed the moment the father announced at a baby shower that he was, in fact, not.
With his heavily-pregnant partner smiling in anticipation of a surprise, the husband announces to the intrigued family and friends that his mystery guest is... his lawyer.
Producing receipts, he confirms what everyone there already knows: they are expecting a boy. But there's an additional "small detail": "It says that you're six months pregnant, not four."
The wife's face drops, as she likely knows where this is going — she quietly pleads for them to discuss it in private; her father sitting beside her demands an explanation.
The husband obliges him, claiming that his wife has been cheating on him for the past three years of their relationship.
But the drama doesn't end there: the "real" father of the unborn is one of his friends — sitting right behind him.
The lawyer then produces a video of the two supposed adulterers dressed in nothing but towels, and chaos erupts.
"Don't leave — this party is for them and not me. I'll leave it there," the betrayed husband announces before dropping the mic.
His sheepish ex-friend meanwhile is hounded out of the party, and has a cake smashed over his head for good measure.
While the vast majority online drank the drama up, some were skeptical, specifically of the flawless camera work.
Other red flags included the fact no one interacted with the cameraman at all or attempted to stop him recording the embarrassing scenario; the fact that all the main characters were conveniently color coded; and the fact that nobody got hurt, including one outraged guest in pink who demanded to be let go, but then did nothing.