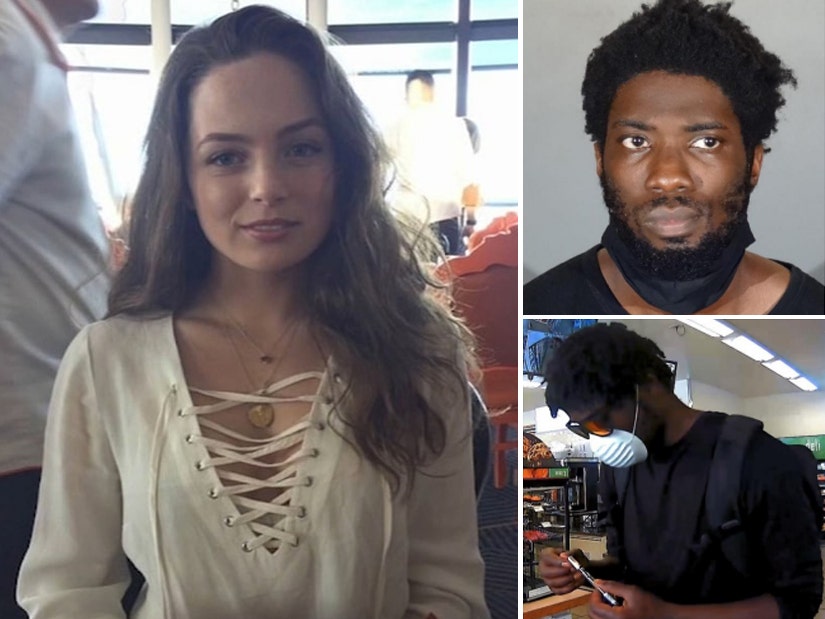 LAPD
She texted a friend she was getting a "bad vibe" from someone in the furniture store — moments before she was stabbed to death.
update 1/19/2022 7:03 AM pst
A $250,000 reward is being offered to catch Brianna Kupfer's killer.
The city is offering $50k for information leading to an arrest, while a further $200k has been donated from the community.
On Tuesday, LAPD identified a suspect: 31-year-old Shawn Laval Smith, a career criminal with more than a dozen arrests — who was out on $1k bail at the time of the killing.
He is described as a Black male, 6'3" tall and 190lbs.
"He should be considered armed and dangerous, if seen do not approach call 911," police warned in a bulletin.
"Smith has been in Pasadena, Santa Monica, West Hollywood, Covina, San Diego, San Francisco and several other locations around southern California," it said. "He is highly likely to be using public transportation. Special attention should be given to bus stops and train platforms."
Police also released surveillance footage from a nearby 7-Eleven, showing the suspect casually buying a vape pen — and even returning to exchange it for another — 30 minutes after the slaying:
Another tragic detail emerged at Tuesday's press conference: at 1:36 PM on Friday, while working alone in the store, Brianna texted a friend to tell her there was someone inside who was "giving her a bad vibe."
"Regrettably, that person did not see the text immediately," Lt. John Radke told reporters.
Exactly 14 minutes later, a customer walked in to find Brianna laying on the floor lifeless, covered in blood.
Despite his well-kempt appearance, investigators believe the suspect is homeless because, in part, he travels on foot and wears a backpack, likely filled with spare clothes.
Lt. Radke confirmed the suspect had entered other stores before the killing, but only Croft House had an employee working alone. "That probably played into this," he said.
original story 1/17/2022 11:12 AM pst
A 24-year-old UCLA student is dead after a homeless man randomly walked into the furniture store where she worked and stabbed her, police say.
Brianna Kupfer was working at high-end store Croft House in Hancock Park on her own on Friday afternoon when she was attacked.
According to LAPD the suspect — who is still at large — did not know the victim and was a "random walk in to the store."
After stabbing Kupfer, he fled from the custom furniture store through a back door. He was last seen on surveillance camera casually strolling northbound through the alley at the back of the store.
"There is no known motive at this time," investigators said.
The victim was found by a customer who walked into the store and found her lying on the floor. An ambulance was immediately called, but by the time first responders arrived, she was already dead.
"The suspect is described as a male Black, unknown age, tall, thin, wearing a dark hoody, sunglasses, a white N-95 mask, dark skinny jeans, dark shoes and carrying a dark back pack," LAPD said. "Based on evidence discovered by detectives, the suspect is believed to be homeless."
Dr. Jennifer Botelho, who owns a chiropractic practice next door, told CBS that the suspect walked into her business just moments before the attack.
"He came in and asked a couple of questions: 'Do you do orthopedics here?' What kind of care we provide and then he left. So he was just here for a few minutes," she recalled.
"It's terrifying. It's horrible. She's such a young girl. … We feel so horrible for Brianna's family, and hope we can catch this guy."
Waiting for your permission to load the Google Map.
Because of rising crime rates in the supposedly-upmarket Fairfax district, Dr. Botelho told the broadcaster that within the last year, she had already beefed up security and added a door buzzer.
"We've had at least four people or so in the last year who've come into the office – by their actions and words were just not right and did not have good intentions," she said.
Brianna, who lived in Pacific Palisades, was a graduate of Brentwood High School and the University of Miami, who returned to California to pursue a degree in architectural design.
She is survived by her devastated parents, two brothers, and a sister — who was also her best friend.
She texted a friend she was getting a "bad vibe" from someone in the furniture store — moments before she was stabbed to death.