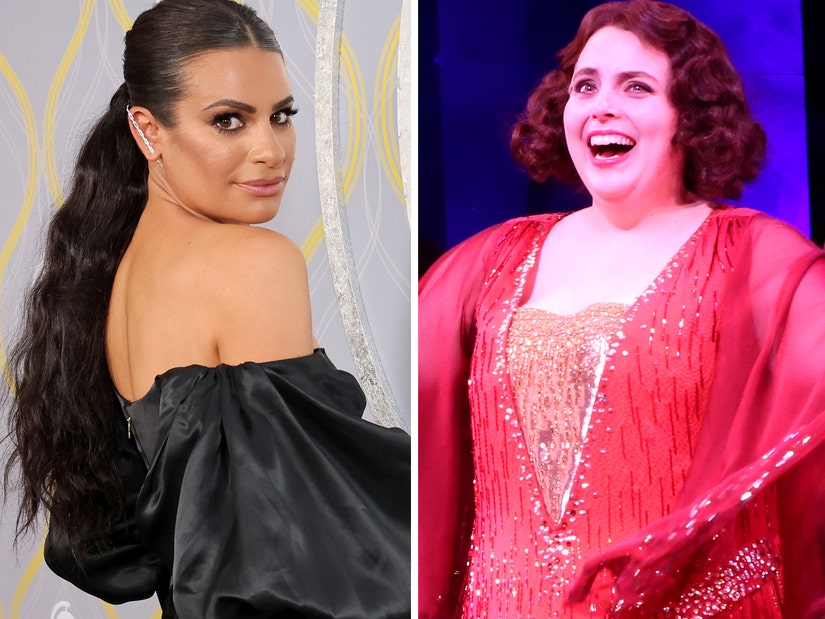 Getty
"Glee" star Samantha Ware says "Broadway upholds whiteness" with Michele's casting; Feldstein blamed her exit on the show going in "a different direction."
update at 3:05pm pt on July 13, 2022
One detail that did not escape eagle-eyed "Glee" fans about the announcement that Lea Michele was set to replace Beanie Feldstein in Broadway's "Funny Girl." And that's the fact that Jane Lynch was leaving, too.
Lynch had starred alongside Feldstein and was scheduled to stick around past the date Michele was announced to be taking over. Instead, she's leaving before Michele starts, killing any dreams of a "Glee" reunion.
While some fans speculated shade, Lynch put the kibosh on all of that when she finally broke her silence about her departure, and the timing of it. Lynch is being replaced by Tovah Feldshuh.
"You know, it was just a really strong idea to have Feldshuh and Lea premiere together. That's the only reason," Lynch told Deadline on Tuesday.
Affirming that she and Michele "have been in touch about it," Lynch added, "I adore her. She's just going to take this show and make it her own. I'm so glad she's getting the opportunity in real life to do the show and not just on 'Glee.'"
update at 1:50pm PT on July 11, 2022
"Yes, I'm online today. Yes, I see y'all. Yes, I care. Yes, im affected. Yes, I'm human. Yes, I'm Black. Yes, I was abused. Yes, my dreams were tainted," she tweeted. "Yes, Broadway upholds whiteness. Yes, Hollywood does the same. Yes, silence is complicity. Yes, I'm loud. Yes, I'd do it again."
She added, "Also. My name is not Amber Riley or Alex Newell. Their experience was not mine and mines was not theirs." Ware also liked a post which read, "If Lea Michele proves anything is that: Cancel culture is not real. Being white and racist means you can still achieve your dreams!"
In 2020, Ware made headlines when she reacted to Michele's #BlackLivesMatter support by tweeting, "Remember when you made my first television gig a living hell? I believe you told everyone that if [you] had the opportunity you would 'shit in my wig!' amongst [sic] traumatic microaggressions that made me question a career in Hollywood."
Speaking with Variety at the time, Ware also said Michele threatened to have her fired for "goofing around" off-camera while Lea was filming. "Am I calling Lea a racist? No," added Ware. "Does Lea have racist tendencies? I think Lea suffers from a symptom of living in this world in an industry that is tailored to white people."
At the time of the initial controversy, both Riley and Newell appeared to support Ware. Riley later said she didn't believe Lea was racist and had no "hatred or ill will" toward her.
Lea later apologized, saying the reaction to her post "made me also focus specifically on how my own behavior towards fellow cast members was perceived by them."
"While I don't remember ever making this specific statement and I have never judged others by their background or color of their skin, that's not really the point, what matters is that I clearly acted in ways which hurt other people," she continued. "Whether it was my privileged position and perspective that caused me to be perceived as insensitive or inappropriate at times or whether it was just my immaturity and me just being unnecessarily difficult, I apologize for my behavior and for any pain which I have caused."
Lea Michele is taking over Beanie Feldstein's role in "Funny Girl," after the latter announced her early exit from the Broadway show over the weekend.
"A dream come true is an understatement," Michele wrote on Instagram on Monday as the news broke. "I'm so incredibly honored to join this amazing cast and production and return to the stage playing Fanny Brice on Broadway. See you September 6th."
Beanie's last night will be July 31, before Julie Benko steps in until Lea's debut in September.
Waiting for your permission to load the Instagram Media.
Jane Lynch had also been starring in the revival as Mrs. Brice, Fanny's mother -- but don't expect a "Glee" reunion between her and Michele. While Lynch will stay onboard a little longer than Feldstein -- appearing through September 4 -- it was also revealed Monday that Tovah Feldshuh will take over the role starting on Lea's first night.
Both Feldstein and Lynch were originally set to star on the show until September 25th.
Beanie announced her exit on Sunday, saying playing Fanny Brice on Broadway "has been a lifelong dream of mine, and doing so for the last few months has been a great joy and true honor."
"Once the production decided to take the show in a different direction, I made the extremely difficult decision to step away sooner than anticipated," she added. "I will never forget this experience and from the bottom of my heart, I want to thank every single person who came to the August Wilson for the love and support you have shown me and our amazing cast and crew."
She went on to praise her coworkers and urged fans to "continued to join them on Henry Street after I depart."
The actress was met with mixed reviews when the show debuted back in April and failed to score a Tony nomination for her performance.
Waiting for your permission to load the Instagram Media.