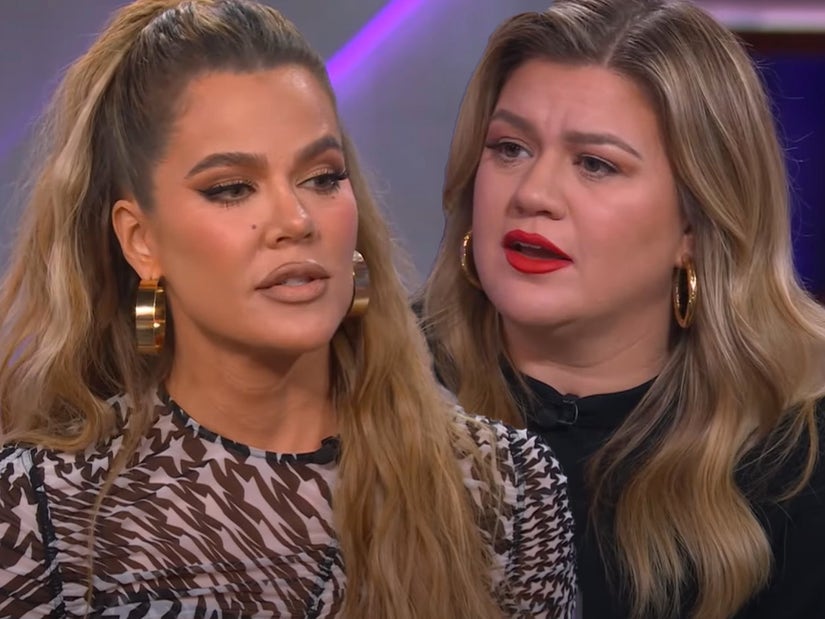 NBC
Khloe also opened up about how her surrogacy journey was different from sister Kim's.
As Kelly brought up how Khloe talked about learning to "un-love" Tristan Thompson on "The Kardashians," she joked, "How'd you do that? Asking for a friend. Just if you have any paper or a pen?"
While Khloe has had brutal breakups with both ex-husband Lamar Odom and Tristan -- who both cheated on her -- Clarkson recently settled her divorce from Brandon Blackstock, with whom she shares two kids, earlier this year.
"It's hard. I think it's the most ridiculous thing sometimes when something doesn't work out and you're in a relationship and you're so deeply in love — and people are like 'Oh yeah, why can't you [move on]," Clarkson continued. "I'm like, I think I might always love that person, I don't know if it goes away."
"No, I don't think it goes away," Khloe told her. "Like, my ex-husband, I genuinely still love and I want the best for him. I'm rooting for him. We all, I think, just change or evolve, or you know sometimes that it's just not a right fit for you. And when I said I'm learning how to un-love Tristan, I think people are like, 'Okay, so move on.' "It's not that easy."
Making it all the more difficult to move on are the habits people build as a couple, said Khloe.
"So learning to just reprogram myself, even though if someone did something bad to me, it doesn't mean there's a wall and I've built it up," she continued. "I know this isn't the right thing for me and I need to slowly heal and move one. But it doesn't happen overnight."
Elsewhere in the interview, the pair also spoke about their children -- where Khloe made it clear she's happy with just True and her baby boy, born in August via surrogate.
"I'm one of both and I think I'm good, shop is closed," she said, as Kelly asked if she was "done" having kids. "Yes, one of each. It's exciting."
"I did surrogacy ... it's amazing. I had reasons why I couldn't carry my second and it's such a blessing we had this," she continued, before she praised sister Kim Kardashian -- who had her two youngest kids via surrogate as well -- for opening her eyes to the process.
"If it wasn't for Kimberly, I definitely don't think I would have been as comfortable. I wouldn't have known as much. I'm so grateful for how open she's always been about her journey," she continued. "Mine was very different from hers. I think she was more ... it was more comfortable for her. For me, I'm such a control freak. You're a stranger and I have to trust you? I love my surrogate, she was amazing, but I'm still like I need you next to me all the time."
Clarkson also tried to get a hint out of Khloe about her son's name, but Kardashian didn't give In.
"Well, my daughter says his name is Snowy. It's not Snowy, so that's the hint," she said, sharing information we all already knew. Of True making up the name, she added, "I swear she just does things to mess with me. But his name is not Snowy."