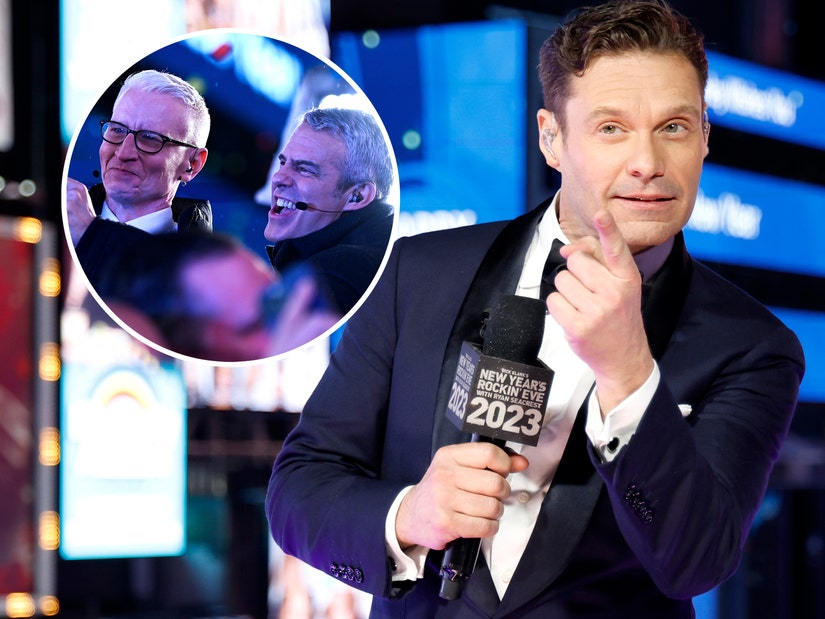 Getty
Cohen called Cooper up live to ask him what the heck happened.
update at 1:15pm PT 1/4/23
On his Radio Andy show Wednesday, Andy Cohen reacted to Ryan Seacrest's claim the Bravo host ignored him while they were both hosting New Year's Eve countdowns on competing networks over the weekend.
"He's got a bug up about me two weeks in a row," said Cohen, who went on to explain that, in years past, if either he or cohost Anderson Cooper saw Seacrest while they were in Times Square, they would tell the other to say hi. He then decided to call up the CNN anchor -- who just got off the phone with him -- to figure everything out.
"I should call him back and ask him about this but I think he'll yell at me if I do," said Cohen. "Usually, if he's waving at Ryan, he'll say to me, 'Hey, there's Ryan' and then I'll turn around and wave. But he didn't do that. Should I call him and yell at him about it? Oh god, he's going to be so mad at me. I'm kinda scared."
"Oh, you're gonna get me involved in a thing with Seacrest?" said Cooper after getting on the line. "This is between you and I," Cohen responded, "Usually, if one of us sees Ryan and turns around and waves, we'll say to the other, 'There's Seacrest.' So I'm saying, you didn't say that to me this year."
Anderson said he happened to see Ryan at one point, waved and wished him a happy new year -- adding that Cohen was talking to someone else at the time and was "involved" in whatever was coming up next on their telecast. "I was dealing with the show," said Cohen.
"It all happened so fast, it wasn't a big deal. I assumed maybe you had previously," Anderson continued, as Andy said if he had done that, he would have also told Cooper to say hello as well.
"No, I did not do that. I'm sorry if that was a failing on my part," said Anderson. "I hope that didn't contribute to anything. I thought I saw you waving or something,"
"I was trying to get Duran Duran's attention," cracked Cohen, before clarifying he didn't intentionally snub Seacrest -- exclaiming, "I didn't see him!"
Ryan Seacrest called out Andy Cohen for allegedly not acknowledging him in Times Square as they both hosted dueling New Year's Eve countdowns.
On Tuesday's "Live with Kelly and Ryan," the duo talked about how they celebrated. Seacrest, of course, hosted ABC's "New Year's Rockin' Eve," while Kelly Ripa's other very good friends Andy and Anderson Cooper were over on CNN.
"It was funny because my big stage was right in front of Anderson and Andy. So, when I was not working, I was trying to get their attention," said Seacrest.
"I thought maybe I was in the shot. I just wanted to wave and say, 'Hi,'" he continued. "They have a great show. And Anderson, the best. He turns around and he says, 'Have a good show.' Class. Andy did not turn around."
Ripa immediately interjected, saying, "That's not true! He said he was trying to get your attention." Ryan, meanwhile, simply joked he was trying to tell them, "Guys, it's me, put me in your shot, put me in your background!"
Cohen had some regrets after hosting New Year's Eve in 2022 for CNN, after he referred to the "New Year's Rockin' Eve" crew as "Ryan Seacrest's group of losers" on air.
"I did wind up kind of throwing ABC under the bus. That is my only regret from the night because I really like Ryan Seacrest and he's a really nice guy," Andy later told Howard Stern, adding that he texted Ryan the next morning.
Referring to Cohen as a friend in a recent interview with EW, Seacrest said he was "sure" that comment came "from the alcohol because I don't think they would say what they said about our performers if they weren't drinking."
While the so-called "rivalry" really isn't all that serious, Ripa at least had it easy this year when deciding which of her friends to watch as she and Mark Consuelos tuned in to all the NYE coverage.
Telling Seacrest they had two TVs going in the same room, she explained, "Oddly enough, usually ABC and CNN go to commercial at the same time and this year they did not, which was enormously helpful. Very helpful. Thank you. You got my notes from last year."