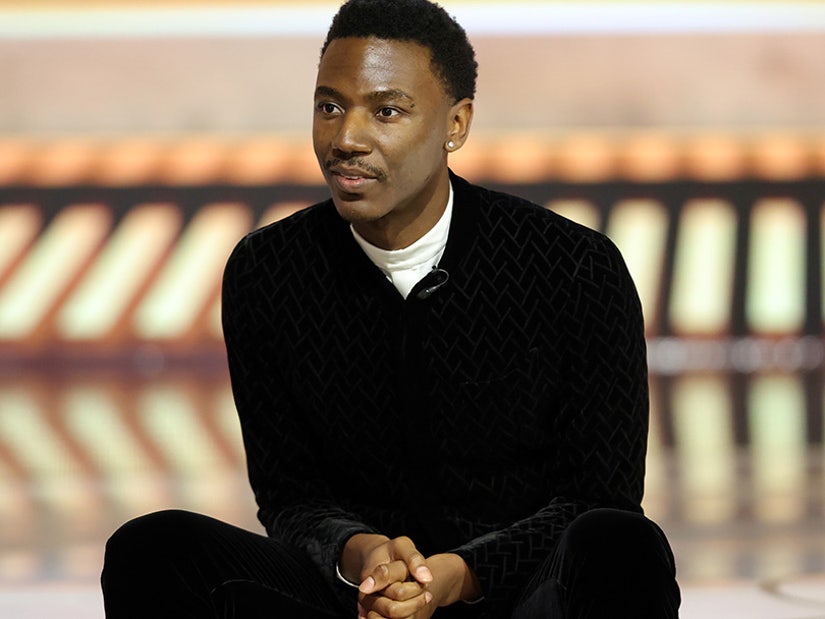 Getty
"One minute you're making mint tea at home, the next you're invited to be the Black face of an embattled white organization. Life really comes at you fast, you know?"
Right off the top, "The 80th Golden Globe Awards" was going to be different. Jerrod Carmichael, who reminded everyone he was the show's first-ever Black host, took the Hollywood Foreign Press Association to the mat in its first televised broadcast after a year away.
While the show went on virtually in 2021 amid the Covid-19 pandemic, The Globes weren't televised in 2022 at all, after a series of very public controversies in the year leading up to the event. The HFPA -- the organization behind the telecast -- was first called out for the lack of diversity among its ranks, after it was pointed out that there were no Black members. Critics also argued this led to some of their more puzzling snubs.
The HFPA was, additionally, accused of unethical practices when it came to how they landed on their nominations, seemingly rewarding projects that offered up access to its stars. In an open letter, publicists across Hollywood later refused to work with the HFPA until they had proof of "profound and lasting change" at the organization ... and people like Tom Cruise even returned their past trophies in protest.
As boycotts continued to grow, NBC canceled the ceremony in 2022 and instead handed out the awards on Twitter. The HFPA also announced an overhaul of their bylaws, introducing new measures to increase diversity and inclusion and address ethics questions.
Immediately at the top of Tuesday's broadcast, Carmichael took the tone of the room and brought it way, way down, calmly pacing back and forth while asking the assembled A-list celebs, "Let's be a little quiet here."
He actually sat at the front of the stage, creating an unexpected intimacy on a night known for its celebrity drinking and carousing, to break down what's been going on with the HFPA and what it means, for him, to be hosting.
"I'll tell you why I'm here. I'm here 'cause I'm Black," he said, to kick things off, before going into some of the racial controversy the HFPA has been dealing with these past two years.
"This show, the Golden Globe Awards did not air last year because the Hollywood Foreign Press Association, which I won't say that they were a racist organization, but they didn't have a single Black member until George Floyd died," he said pointedly. "So do with that information what you will."
He went on to describe the moment at home when he got the call from producer Stephen Hill asking him to host, and how it was a legitimate challenge for him to process what was being asked and if he wanted to take it on.
"One minute you're making mint tea at home, the next you're invited to be the Black face of an embattled white organization," he said. "Life really comes at you fast, you know?"
He said he told Hill that he knows "I'm only being asked to do this because I'm Black." He shared that Hill denied this, but Carmichael thought to himself, "Stephen's Black, so what does he know? Like, he's only producing this show because he's Black. They're not gonna tell him why he's here, either."
Carmichael then shared an anecdote where he spoke to a friend about it, who he said "for the sake of this monologue represents every Black person in America," and was told point blank end of discussion, "Boy, if you don't put on a good suit and take them white people money."
The comedian continued spilling the tea about the behind-the-scenes moves before the broadcast, saying he was invited to meet HFPA President Helen Hoehne, which he politely declined. "I know a trap when I hear a trap," he said.
But when they pushed a second time and said it wasn't really a request Carmichael pushed back. Hard. "Or what? They're gonna fire me? They haven't had a Black host in 79 years? They're gonna fire the first one? I'm un-fireable."
He further said that he doesn't really care about what changes the HFPA has made in the past two years ahead of this awards show, because when he took the gig he did so "assuming they hadn't changed at all."
The host did end on a positive note, though, saying that he took the job because of the assembled artists in the room who inspire him. "whatever the Hollywood Foreign Press Association's past may be, this is an evening where we get to celebrate, and I think this industry deserves evenings like these."