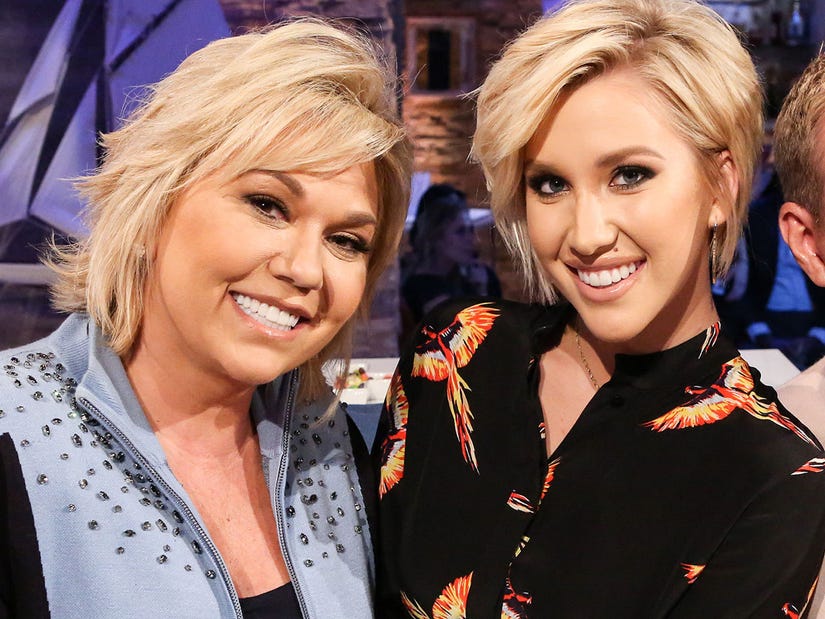 Getty
"We are one of many that the system has failed and I will continue to fight the good fight until we're all home together."
On Thursday, just a few days before Julie is set to begin her seven-year prison sentence, Savannah posted a touching birthday tribute to her mom on Instagram, sharing a compilation video that included clips and photos of the two together.
"Happy Birthday to the most amazing woman that I know❤️," the reality star captioned the video, which was set to the song "Mother Like Mine" by The Band Perry.
Savannah, 25, then continued her caption by sharing a lengthy letter to her mom.
"Dear Mom, I know this isn't the birthday we had imagined but I'll make it up to you," she began. "Unfortunately, we are one of many that the system has failed and I will continue to fight the good fight until we're all home together."
"Thank you for being the mom that every girl dreams of having. For a lot of people…you only exist in fairytales but for me…YOU'RE my real life angel," she continued. "You have a heart that is full of love and kindness. Mom. You are magnificent. You are the most beautiful woman I know. Your beauty is so much more than skin deep. You ooze such extravagant love for human kind that it radiates from every part of you. There have been times in life to where I've hit rock bottom…and you've saved me. Time and time again…you show up."
The "Chrisley Knows Best" star added, "Thank you for being my superhero. Thank you for teaching me love, kindness, grace, and understanding. Oh…and I haven't quite mastered those things haha I'll never be you…But I'll always try to be! Thank you for showing me what a woman of faith looks like…a woman who seeks Jesus even when it's hard."
Waiting for your permission to load the Instagram Media.
Savannah ended her heartfelt message by thanking Julie for the "love" she has for her husband and Savannah's dad, Todd Chrisley.
"And lastly…thank you for loving my daddy so deeply and so beautifully," she wrote. "You've shown me what it means to be a ONE OF A KIND kinda wife. The love you've shown to him has helped to mold the tender love and incredible respect I have for my daddy. There's no greater than you mama 💕 let's fight the good fight!
In November, Julie was sentenced to 7 years behind bars, while Julie was given 12, after being convicted of bank fraud and tax evasion earlier this year. They both received 16 months probation.
On January 17, the couple is to report to their respective Florida prisons. According to People, Todd and Julie will serve their time at Federal Prison Camp Pensacola, and Federal Correctional Institution Marianna, respectively. The institutions are about two and a half hours apart from one another.
Todd and Julie were convicted in June of conspiracy to commit bank fraud, conspiracy to defraud the United States and tax fraud. The pair have maintained their innocence.
The two shared on the December 14 episode of their "Chrisley Confessions" podcast that they have appealed their case.
However, earlier this week, People reported that Todd and Julie's request for bail pending appeal was denied. In addition, their motion to extend their report date by 21 days was also denied.