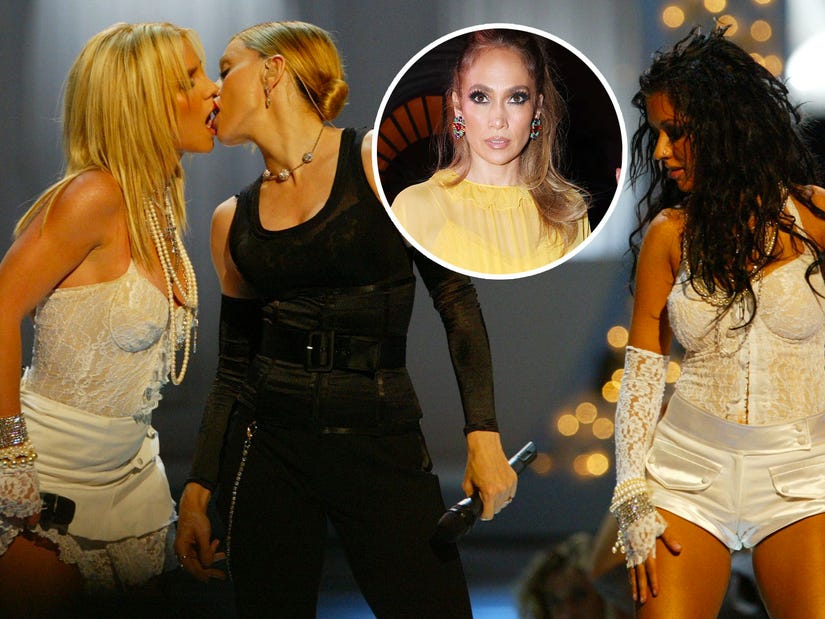 Getty
Christina, it seems, was a late addition to the mix.
Speaking with E!, J.Lo she said, "Yes, that is actually true," as her "Shotgun Wedding" costar John Duhamel expressed shock at her reveal.
"I was filming a movie in Canada, and we had met -- me, her and Britney—to do it at her home," she continued. "And then, I just couldn't get off the film, and so, we couldn't do it. They got Christina Aguilera, I think, to do it and I didn't wind up doing it."
"Yeah, we had talked about it," she added. "I love Madonna. I'm a huge fan. I always have been."
Lopez's comments make it seem like Christina was the last to join the trio fans eventually saw perform on stage.
The rumors of Lopez's involvement started back in 2012, when then-MTV Music Group president Van Toffler told EW her name "was in the mix" originally.
"That didn't happen. And Britney and Madonna, they had history, so it was not easy to get them together on the stage," he added. "[But] Britney and Christina [Aguilera] obviously respected Madonna. Only she could pull that off."